Renew in just 5 mins.
No Inspection.
No Paper Work
* Subject To Underwriting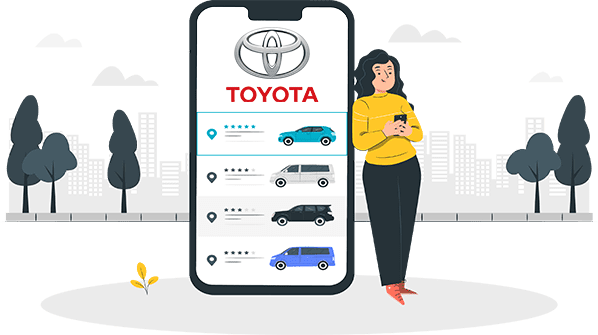 Compare

Car Insurance Plans
Toyota Motor Corporation, headquartered in Japan, is a leader when it comes to the manufacturing of automobiles and commercial vehicles. The organization is well-known for its design and quality and this quality makes them a top manufacturer of automobiles.
Insurance for your Toyota car aims to help car buyers make a safe and secure investment with their Toyota cars. It acts as a protective shield against financial losses that may occur due to damages, accidents, thefts, etc.
Toyota Motor Corporation - At A Glance
| | |
| --- | --- |
| Name | Toyota Motor Corporation |
| Headquarters | Toyota, Japan |
| Area served | Worldwide |
| Established | 28 August 1937 in Toyota, Aichi, Japan |
| Awards | Akio Toyoda, the Chairperson, and CEO of Toyota Motor Corporation, received the 2021 World Car Person of the Year award. |
| Products | ● Automobiles ● Commercial vehicles |
| Number of employees | 3,66,283 (2021) |
| Subsidiaries | Toyota has around 606 subsidiaries and 199 affiliates. |
Five Popular Toyota Car Models
1. Toyota Platinum Etios
The Toyota Platinum Etios is one of the most successfully running hatchbacks manufactured and sold by Toyota Motor Corporation. It was launched in 2011 and continues to be widely appreciated. The car's interiors are spacious and comfortable, while the exterior is sleek and elegant. The car is a value buy with an extremely fuel-efficient engine.
2. Toyota Qualis
Toyota Qualis is one of the first cars that Toyota launched in its SUV segment and is one of the brand's bestselling models. It has a single 2446 cc diesel engine, offering fuel-efficient mileage. This bestselling model has nearly 36 variants.
3. Toyota Innova Crysta
The Toyota Innova Crysta is an upgraded version of their previously launched SUV, Toyota Innova. The Innova Crysta is not only spacious, with a great quality cabin, but also oozes luxury in its design and appeal. With prominent qualities such as low maintenance and spaciousness, this vehicle continues to be a well-liked model by those who travel frequently and large families.
4. Toyota Camry
The Toyota Camry is one of the first hybrid vehicles to be manufactured and sold in India. Apart from the world-class fuel efficiency, the Toyota Camry speaks of utmost luxury in its design and features. In all, the Camry features an appealing mix of luxurious style and fuel-efficiency.
5. Toyota Corolla Altis
Despite ups and downs in the demand for most cars in their segment, The Toyota Corolla Altis maintains its position at the top. It is one of the all-time bestsellers from Toyota, offering reliability and comfort during short as well as long journeys.
Buy Car Insurance For Your Toyota - Why It's The Perfect Choice
Buying car insurance with every car you purchase is a sensible decision for several reasons.
Mandatory by law – It is mandatory by law to have car insurance for your Toyota car. You cannot drive your vehicle on Indian roads without car insurance.
Safeguard yourself from financial risks and losses – You need car insurance for your Toyota to safeguard yourself from any financial losses due to damages caused by accidents, thefts, etc.
Protection from third-party liabilities – Getting car insurance for your Toyota helps you safeguard yourself from any third-party liabilities associated with damages caused to a third party because of your vehicle.
Cashless garages – Most insurance companies have a cashless garage facility. Under this service, you can take your Toyota car to any affiliated garages for repairs and servicing, without having to make the payment for the same. The insurer makes the payment for the repair work.
Quick policy issuance and renewal – Whether it's purchase or renewal, getting car insurance online for your Toyota is a quick, easy, and hassle-free process.
Add-on covers – You can buy several add-on covers along with your standard car insurance, like zero depreciation, no claim bonus protection, etc. which enhances protection.
Features And Benefits Of Car Insurance For Your Toyota That You Can Enjoy
Having car insurance for your Toyota car can prove to be immensely beneficial for you and your family.
Save on premium – By opting for Toyota car insurance online, you can save up to 70% on the insurance premium.
Safeguard yourself from damage and losses – By insuring your car with car insurance, you can protect yourself from any financial risks and losses from damage or theft.
Third-party liability – In case of damage or injury to any third party because of your Toyota car, your car insurance can protect you from unlimited liability.
Cashless insurance claim – Cashless car insurance claims are settled directly with the garage and almost instantly. You just have to make a nominal payment.
Indemnity with third-party – Your Toyota car insurance policy covers up to Rs. 7.5 lakhs (depending on the insurer) worth for any damage to a third-party's property.
Personal accident cover – Toyota car insurance provides personal accident cover for you, the driver, and any other passengers seated in the car during the accident. You can claim up to a total of Rs. 15 lakhs (depending on the insurer).
Inclusions Under Toyota Car Insurance
When you buy car insurance for your vehicle, these are the basic inclusions in every policy.
Protection from losses and damages due to natural calamities like storms, landslides, earthquakes, etc.
Protection from losses due to fire, terrorism, etc.
Protection from financial losses due to theft
Protection from financial losses and damages due to riots and strikes
Personal accident cover of up to Rs. 15 lakhs (depending on the insurer)
Third-party liability cover
Exclusions Of Car Insurance For Your Toyota Vehicle
There are some standard exclusions, they are as follows:
Any financial losses due to damages and accidents if the car was being used in illegal activities or business during the accident.
Depreciation in the value of the car.
Financial losses due to any regular wear and tear and electrical or mechanical breakdowns.
Any damages to the tires due to usage or accident.
If damages were incurred when the driver didn't have a valid driving license.
If damages were incurred when the driver was driving under the influence of alcohol, drugs, or any form of intoxication.
Damages incurred during speed-testing, reliability trials, hire or reward, etc.
Other exclusions as per the terms and conditions mentioned in the policy.
Add More And Get More With Add-On Covers For Your Toyota
Every policy has a range of add-ons you can pick and choose from that enhance your protection. Here are a few standard ones:
Zero depreciation cover – Having a zero depreciation cover along with your car insurance allows you to claim the entire insurance amount without suffering a depreciation on your Toyota car.
Emergency assistance cover – The emergency assistance cover allows you to seek emergency assistance anytime and anywhere in case your Toyota car suffers a mechanical or technical breakdown.
No Claim Bonus protection – Protect your NCB percentage despite making a claim for your car insurance with this add-on.
Return to invoice – In case of theft, you will get the entire IDV from your insurance company. IDV is the current market value of your Toyota car. However, with the return to invoice cover, you can additionally claim the difference between the invoice value and the IDV.
Engine and gearbox protector – This cover helps you claim protection from financial losses due to damage to your engine and gearbox due to heavy rains.
Key replacement cover – In case you lose your Toyota car keys, this cover helps you get a replacement quickly.
Options To Choose From For Toyota Car Insurance
There are two types of plans you can choose from:
Third-party insurance cover
Getting a third-party insurance cover allows you to stay indemnified from any third-party claims against damages or injuries to them involving you and your Toyota vehicle. Any financial losses to the insured are not covered by the insurer under this insurance plan. The insurer will not cover any losses borne by the insured.
Comprehensive insurance cover
Getting the comprehensive insurance cover gives you protection from any third party as well as any financial losses faced because of damage caused to your Toyota vehicle.
Why Choose Probus For Buying Toyota Car Insurance Online?
Buying a car involves a lot of planning as well as sentiments for any individual and family. And Probus understands this. To help make your journey of owning a car safe and stress-free, Probus puts in their best efforts, and here are some of the reasons why insurance with Probus for your car should be your first choice.
Comparison with other plans – With Probus, you get the opportunity to compare different plans from various companies that offer policies and choose the one that is best suited to your needs. You can also opt for any add-ons to your Toyota car for better protection.
Advice from experts – Probus has a team of highly qualified, knowledgeable, and adept experts who are just a call or message away to answer any insurance-related advice or clarifications you may need.
Free premium calculator – You can get instant premium quotes from the top insurers online through Probus' free online premium calculator.
Assistance with claims – Probus has a highly active and motivated team that is always ready to support you through every doubt or query during your insurance claim process.
Quick insurance claims – Probus helps you efficiently prepare all the documentation and information needed for a quicker insurance claim.
Go Online And Purchase Car Insurance With Probus
Buy your Toyota car insurance with Probus in 4 simple steps:
Visit the Probus website
Click on 'buy new policy' and follow the simple steps that follow like entering basic details about your vehicle like RTO and city, car make, car model, vehicle registration year, etc.
Compare the different plans and choose one that suits your needs
Make the premium payment online with a preferred method
You will receive your policy directly in your inbox via email
Easy Breezy Toyota Car Insurance Renewal With Probus
Renewing your Toyota car insurance online with Probus is super easy.
Visit the Probus website
Click on renewal
Choose your insurer
It will redirect you to the official website
Follow the needed steps, make payment, and in seconds your policy will be renewed
Claims A Hassle No More For Your Toyota Car With Probus
You can claim your Toyota car insurance using Probus' support without any stress. Follow these simple steps to claim the amount due to you:
First, you need to inform the insurance company about the incident or situation through email or phone.
Next, file a First information report (FIR) at the nearest police station to make the insurance claim process faster. This step is not compulsory, but very helpful.
After the FIR, you need to post a claim request. Once that is done, the insurance company will send an individual or a team for an independent evaluation of the repairs and damage.
The team submits the evaluation to the insurer, and you can send your car for repairs to the nearest garage for repair. In case your insurance company needs any further supporting documentation, you must provide it at the earliest for a faster claim.
After proper inspection of the documentation and information, the insurer approves your claim. In cases the repairs are being taken care of by a cashless network garage, your insurer will directly pay the garage for the repair work. Otherwise, the insurance claim amount will be reimbursed to your bank account mentioned in your policy document at a later stage.
Insurance Premium For Popular Toyota Car Models
Knowing your premium is important and helps you understand the different plans and their price. With online premium calculators, you can compute the prices for various plans effortlessly.
| | | | |
| --- | --- | --- | --- |
| Toyota Car Model | Model Variant | Insured Declared Value (IDV) | Premium |
| Toyota Etios | Diesel 5-seater | ₹ 7,30,720 | ₹ 16,257 |
| Toyota Fortuner | 2.7 4X2 7-seater | ₹ 25,54,400 | ₹ 92,261 |
| Toyota Innova Crysta | 2.4G 8-seater AT BS-VI | ₹ 12,96,000 | ₹ 51,396 |
| Toyota Camry | 2.5L AT 5-seater | ₹ 22,91,448 | ₹ 37,863 |
| Toyota Corolla Altis | 1.8 G-5 Seater | ₹ 13,16,000 | ₹ 30,678 |
Disclaimer: The insurer used for this calculation is Royal Sundaram Insurance. The place of registration used to calculate these premiums is Delhi and the year of purchase used is 2020. Based on your specifics, the rates may vary.
Frequently Asked Questions
Most frequent questions and answers about on Toyota car insurance
Absolutely! Any Toyota car insurance purchased online from an IRDA-approved insurance company and broker is valid.
Any insurance company takes into account the below-mentioned factors to calculate the Toyota policy rate:
Age of the vehicle
Type of policy coverage chosen by you
IDV of your car
RTO of your Toyota Car
Add-on covers chosen by you
Toyota car model and the variant
Claim history