Renew in just 5 mins.
No Inspection.
No Paper Work
* Subject To Underwriting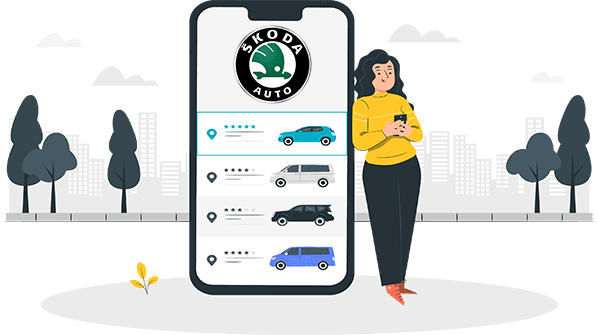 Compare

Car Insurance Plans
Founded in 1895 as Laurin & Klement in Milada Boleslav, Skoda Auto is a car manufacturer selling automobiles in over 100 countries throughout the world. Skoda Auto was formed after Laurin & Klement acquired Skoda Works, an industrial conglomerate, in 1921.
In 1991, the German Volkswagen Group gradually privatized Skoda, which became a subsidiary of Volkswagen in 1994. In 2000, Skoda became a wholly-owned subsidiary of Volkswagen. Skoda Auto India Pvt. Ltd. has been operating in India since 2001.
| | |
| --- | --- |
| Brand Name | Skoda Auto India Pvt. Ltd. |
| Owned By | Skoda Auto Volkswagen India |
| Head Office (India) | Pune |
| Manufacturing Facility | Shendra, Aurangabad |
| Automobile Types | Large family cars, small family cars, subcompact sedan, compact crossover SUV, subcompact crossover SUV |
| Award-winning Cars | Skoda Rapid (2 awards) Skoda Superb (8 awards), Skoda Octavia (6 awards), Skoda Kodiaq |
Some Of The Popular Skoda Models
Skoda Kushaq – The Skoda Kushaq is an upcoming model in the mid-size SUV category and is expected to begin deliveries in July 2021. The model offers manual as well as automatic transmissions with TSI and DSG variants. The car is produced locally in Pune with 95% of its parts being locally sourced. This 5-seater petrol car will be available in four colors. Its features include a 10-inch touchscreen infotainment system, sunroof, ventilated front seats, wireless charging, and touchscreen controls for climate control.
Skoda Rapid TSI – Introduced in India in 2011, the Skoda Rapid is a 5-seater petrol subcompact sedan. It comes with manual or automatic transmissions. All variants of the Rapid come with TSI engines and features like front power windows, an anti-lock braking system, power steering, driver and passenger airbags, and automatic climate control.
Skoda Octavia – This petrol model has a 1984 cc engine and a 7-speed DSG gearbox. The newest versions of the Octavia come with automatic transmissions. Some of its major features include power steering, an anti-lock braking system, driver airbag, front power windows, an engine start-stop button, and a multi-function steering wheel.
Skoda Superb – The Skoda Superb offers two variants, both with automatic transmissions and a 7-speed DSG gearbox and powered by a 2.0L TSI petrol engine. Its features include power steering, an anti-lock braking system, driver and passenger airbags, a multi-function steering wheel, power-adjustable rear-view mirrors, adjustable headlights, and a moonroof.
Skoda Kodiaq Petrol BS6 – The Skoda Kodiaq Petrol BS6 is expected to launch in July 2021. The model comes with a 2.0L TSI engine and a 7-speed DSG gearbox.
Insurance – A must for your Skoda
Life is unpredictable and while you can't safeguard against all that life throws at you, you can protect yourself from unseen expenses due to damage to or loss of your car. An insurance policy for your Skoda car can ensure peace of mind when it comes to expenses arising from accidents or theft. With a range of choices in insurance providers as well as coverage coupled with the ease of purchasing and renewing policies online, ensuring your Skoda car has become easier than ever.
Protects against unseen costs – Expenses from an accident or theft can burn a hole in your pocket. A car insurance policy will protect you against such costs.
Spoilt for choice – With a number of insurance companies providing coverage for Skoda cars, the premium amount and coverage offered are competitive. With research, you can bag the best deal for your Skoda car.
Follow the law – With the Indian Motor Vehicle Act in force, driving your Skoda without a valid insurance policy will attract legal action. The law mandates that vehicles on Indian roads be covered by a third-party policy. Owners have the option of extending the coverage with a comprehensive policy and add-ons.
Add-ons – Insurance companies offer a variety of add-ons that provide extra value to your Skoda car insurance policy. While each company offers different add-ons, some of the standard ones include zero depreciation, invoice protection, roadside assistance, key replacement cover, and no-claim bonus cover among others.
Online processes – With the world going digital, you can purchase or renew your policy online in a jiffy.
Easy claim – All Skoda car insurance providers offer an easy claim filing process.
Cashless facility – With insurance companies tying up with garages across the country, you can avail of the cashless claim facility by using the services of a network garage.
Skoda Car Insurance – What's Covered?
While each insurance provider tailors their insurance policy wording according to their customer and company policy, there are some standard inclusions that are common to all.
Natural disasters – floods, earthquakes, landslides, hurricanes, typhoons, cyclones, hailstorms, thunderstorms, etc.
Fire, lightning, and self-ignition
Riots and strikes
Third-party liability cover – protects against legal liability when a third party is involved
Theft, burglary, and housebreaking
Damage due to accident
Skoda Car Insurance – What's Not Covered?
There are some standard exclusions that are followed by the companies offering Skoda car insurance policies.
Compulsory deductible – This amount mentioned in the agreement is to be paid at the time of a claim by the policyholder and is not covered under the insurance
Electrical and mechanical breakdown
Consequential loss
Wear and tear due to regular use of the Skoda car
Breach of contract
Intentional damage
Driving without a valid license is an offense and is liable for legal action
Driving while intoxicated due to alcohol or drugs – is a legal offense and could attract a hefty fine or even jail time
War and war-like situations
Nuclear risk
Add-Ons, The More The Better For Your Skoda
By picking the right add-ons, you can add value to your Skoda car's insurance policies. Some of the standard add-ons offered by insurance companies are:
No-claim bonus cover – A no-claim bonus is a discount accumulated over time when the policyholder has not filed a claim during the policy term. Starting from 20%, this discount on the premium can go as high as 50% with each consecutive year of not filing a claim. However, when a claim is filed, the policyholder loses this no-claim bonus. An NCB cover protects you from this. If you have purchased this add-on, it gives you the benefit of your no-claim bonus even when you file a claim.
Zero depreciation cover – During a claim, the cost of the spare parts that are replaced are subjected to a deduction based on their depreciating value. With zero depreciation cover, you can claim the full amount without depreciation deduction for the spare parts.
Personal accident cover – A personal accident cover for the driver-owner provides up to INR 15 lakh (depending on the insurer) in case of injury or death. This cover can be chosen for unnamed passengers as well as employees for a lower coverage amount of up to INR 2 lakh (varies from insurer to insurer).
Return to invoice cover – The return to invoice cover bridges the gap between the invoice value of your Skoda car and the insured declared value, which is calculated based on the car's age depreciation. During a claim, this add-on ensures that you receive the invoice amount of your car over its depreciated value.
Key replacement add-on – If you lose the key to your Skoda car or if the automobile is broken into, you will need to get the key replaced. This add-on covers the expenses incurred in this situation.
Roadside assistance – If your car breaks down in the middle of the road, towing and roadside assistance expenses can cost you dearly. With this add-on, these expenses are covered, and help is always on hand.
Coverage Options For Skoda Car Insurance
Car insurance has two options in terms of coverage:
Third-party liability cover – In the event of an accident where a third party – person, property, or vehicle – is involved, the financial liability is covered under your policy. Third-party liability cover is compulsory for cars plying on roads in India.
Comprehensive cover – A comprehensive cover includes third-party liability as well as own-damage cover. The own-damage cover provides protection against expenses incurred to your Skoda car in the case of an accident or theft.
Time For Insurance? Make Probus Your First Choice
Probus's portal is certified by the IRDA and offers Skoda car owners ease and a seamless purchase and renewal experience when it comes to buying car insurance. With Probus, you can research different insurance providers and the coverage they offer, their claims process, settlement ratios, and premium amounts. By comparing these quotes and features, you can opt for the best deal for your Skoda car's insurance.
In addition to research and comparison, Probus enlists market experts to guide you through your insurance needs and claims process. By registering with Probus, you can easily access expert help for your Skoda car insurance.
Purchase Car Insurance On Probus – Easy, Quick And Seamless
For a seamless experience with purchasing car insurance for your Skoda vehicle, Probus can be your best friend. Simply follow the steps to protect your vehicle.
Visit the Probus website
Provide your basic details – name, contact number, and email address.
Furnish details of your Skoda car – registration number, year of registration, the place where it was registered, make, model, and variant.
If your Skoda car was previously insured, you can mention it on the form.
Browse through the policies offered by various insurance companies to see which. coverage fits you best. Since not all companies offer all add-ons, researching and comparing will help you narrow down the best choice.
Once you have selected your insurance provider and add-ons, head over to the payments page to pay your premium.
Once your transaction is completed, you will receive your policy document in your email inbox.
Renewal On The Probus Portal Is As Easy As 1,2,3
Probus helps you renew your existing insurance policy in just a few quick steps.
Login on Probus's portal with your username and password
Click on 'renew' and then various choices will come for different insurers. Select your option and proceed.
If you wish to make changes to your policy coverage, you can do so by selecting the insurance type and then customize your add-ons.
Pay the quoted premium and get your policy document in your inbox.
File A Claim In A Few Quick Steps
Filing a claim is easier than ever. All you need to do is:
Call your insurance company to inform them of an impending claim. If a third party is involved, let them know.
Gather witness information and keep pictures of the car at the accident site handy. The insurance company will send a representative to survey the damage.
File an FIR with the nearest police station. If your Skoda car is stolen and cannot be recovered, the authorities will issue a no-trace certificate that you will need to submit to your insurance provider for a claim.
Submit the relevant documents along with the duly filled claims form and take your car to the nearest garage. If it is a network garage, the claim amount will be disbursed to them directly. If not, you will need to settle the bill with the garage and the insurance company will reimburse the cost.
For the resolution of any doubts or guidance with the claims process, you can easily get in touch with one of Probus's experts who will help make this process easier.
The What And How Of Premium For Your Car
A premium is an amount you pay to an insurance provider to secure your car and yourself from expenses arising from an accident or theft. This amount finalizes the insurance agreement between the Skoda car owner and the insurance company.
While calculating the premium amount, a few factors are taken into consideration. The age of the vehicle, the place where it is registered, its engine capacity, the insured declared value or IDV, model and variant, and the risks that may be involved determine the amount.
Several factors also determine your eligibility to avail a discount on your premium. If you haven't filed a claim in the previous policy term, you can get a no-claim bonus. You are also entitled to a discount if your car is installed with certain anti-theft locking and alarm systems. If you are a member of an automobile association, you can avail of a discount on your premium.
| | | |
| --- | --- | --- |
| Model | Variant | Estimated Premium |
| SKODA – KODIAQ | L AND K 2.0 TDI 4X4 AT (1968CC) | INR 29132 |
| SKODA – FABIA | 1.6 ELEGANCE (1598CC) | INR 13549 |
| SKODA – LAURA | 2.0 AMBIENTE (1968CC) | INR 17514 |
| SKODA – OCTAVIA | 1.4 TSI STYLE MT (1395CC) | INR 13865 |
| SKODA – KAROQ | STYLE 1.5 TSI (1498CC) | INR 17164 |
| SKODA – LAURA | ELEGANCE 1.9 PD (1896CC) | INR 18574 |
Disclaimer: The insurer used for this calculation is Bharti Axa Insurance. The place of registration used to calculate these premiums is Chennai, the year of purchase used is 2018, 0% NCB, and it's a comprehensive policy. Based on your specifics, the rates may vary.
Frequently Asked Questions
Most frequent questions and answers about on Skoda Car insurance