Renew in just 5 mins.
No Inspection.
No Paper Work
* Subject To Underwriting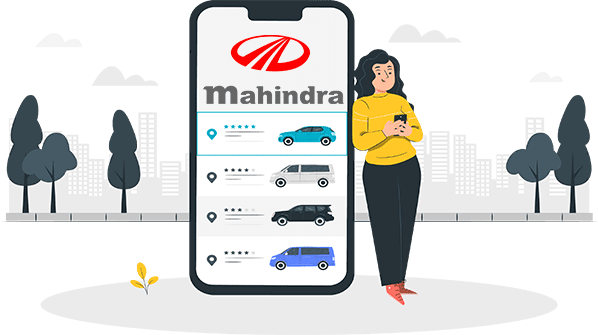 Compare

Car Insurance Plans
The Car Insurance provides Mahindra car buyers with much-needed financial protection from unforeseen damages, accidents, thefts, etc. Securing your car with Mahindra Car Insurance acts as a protective shield so that you can buy your dream car without the risk of any financial losses due to unforeseen situations with the car.
Mahindra & Mahindra Limited - At A Glance
Name

Mahindra & Mahindra Limited

Headquarters

Mumbai, Maharashtra

Area served

Worldwide

Established

2 October 1945 in Jassowal, Ludhiana, Punjab, India

Awards

In the list of top companies in India, Mahindra Group was ranked 17th by Fortune India 500 in 2018

Products

Automobiles
Commercial vehicles
Motorcycles

Number of employees

42,875 (2019)

Subsidiaries

Pininfarina
Mahindra 2 Wheelers
BSA Company
GenZe
Mahindra Electric
Peugeot Motorcycles
Five Popular Mahindra Car Models
1. Mahindra Bolero
One of the most successful models of the brand, the Bolero, is the largest selling utility vehicle of Mahindra in India. This 1.5-liter diesel engine SUV is not only efficient but budget-friendly too, and has been a fast-moving entity for Mahindra for more than a decade now.
2. Mahindra Scorpio 
One of the upmarket models in the SUV segment of Mahindra, the Scorpio continues to be one of the bestsellers in India. This second-generation SUV has a 2.2-liter diesel and comes in a 4-wheel variant as well.
3. Mahindra TUV300
Mahindra TUV300 is another sub-compact SUV apart from the Bolero, offered by Mahindra. The car has plenty of interior space and ergonomic-friendly cabins that make for a comfortable long drive. The 1.5-liter diesel engine has an automatic option as well.
4. Mahindra XUV500
The Mahindra XUV500 became an instant hit with its launch because it gave a modern twist to Mahindra's image of the rough, old-school SUV-maker. This vehicle stands as a proud best-seller in the brand's premium cars segment, with an exhaustive list of equipment and a powerful 2.2-liter diesel motor. The demand for this premium automobile continues to soar even years after its first launch.
5. Mahindra e20
Mahindra is the only manufacturer and retailer of a fully electricity-powered vehicle – the e20. Besides being an eco-friendly replacement to regular fuels, this all-electric hatchback has several features that continue to make it a popular choice among the masses. The vehicle is powered by a 72V battery pack and has the potential of attaining a top speed of 85 km/h, with a driving range of 100 kilometers per charge.
Buy Mahindra Car Insurance - Why It's The Perfect Choice
Buying car insurance with every car you purchase is a sensible decision for several reasons.
Compulsory By Law – Having a third-party insurance cover for your Mahindra car is mandatory according to the motor laws of India. Any vehicle without third-party insurance is legally not allowed to ply on public roads.
Protection From Risks – Car insurance for your Mahindra car protects you and your car from financial and other risks associated with accidents, thefts, etc. If you are the owner and the driver of the car, you can also claim personal accident cover if needed.
Helps Save Money – You can buy car insurance for your Mahindra vehicle at very competitive prices along with the opportunity to avail of special discounts through automobile association membership discount, No Claim Bonus (NCB), security device installation discount, etc.
Cashless Garages – Most car insurance policies come with a cashless garage facility, which allows you to go to any associated garage and get any repair work on your Mahindra car at any time. The repair work is a cashless facility, where the insurer makes the payment.
Quick Issuance – With an online application, you can almost instantly avail of an insurance policy of your choice for your Mahindra car. The process is easy and quick, and your insurance term starts from the moment you pay your first premium online.
Add-on Covers – Along with car insurance for your Mahindra car, you can also avail several add-on covers like zero depreciation, engine protection, NCB protection, invoice cover, etc.
Features & Benefits Of Mahindra Car Insurance
A car insurance policy for your Mahindra car offers several attractive benefits and features for Mahindra car owners.
Up to 70% Discount On Premium – You can save up to 70% on the insurance premium by opting for Mahindra car insurance.
Protection From Damage & Losses – A Mahindra car insurance policy helps you protect yourself from losses due to damages and theft.
Unlimited Liability – Mahindra car insurance offers you unlimited liability in case of third-party injury or claims.
Cashless Insurance Claim – A car insurance policy allows you to get any claims settled permissible under the insurance policy, instantly and cash-free.
Indemnifies Against Third Party Property – In case of third-party property damages, car insurance gives you indemnity up to Rs. 7.5 lakhs.
Personal Accident Cover – Mahindra car insurance provides you with personal accident cover for you, the driver, and any other passengers seated in the car during the accident.
Add-on Covers Under Mahindra Car Insurance
Zero Depreciation Cover – This cover allows you to claim the entire insurance amount without deducting the depreciation value of your Mahindra car.


Emergency Assistance Cover – Availing this add-on cover allows you to get emergency assistance at any time and anywhere in case your Mahindra car breaks down due to mechanical or technical issues.
No Claim Bonus Protection – With this cover, your NCB percentage stays intact despite claiming for the car insurance.

Key Replacement Cover – In case you lose your Mahindra car keys, this cover helps you get a replacement quickly.

Personal Accident Cover – Covers you and your co-passengers in case of an accident.
Cover for Electrical/Non-electrical Accessories – Covers damages to the electrical and non-electrical parts of the Mahindra car, which are not otherwise covered under the regular insurance.
Cover for CNG/LPG Kit in Bi-fuel System – If you have installed the CNG/ LPG fuel in your Mahindra car, this cover protects you from any damage or accidental loss.
All-Round Protection With Mahindra Car Insurance
When you purchase a policy for your Mahindra vehicle, you can expect the following to be included in your coverage.

Any loss or damage due to natural calamities like earthquakes, storms, landslides, etc.
Loss or damage due to fire, terrorism, explosions, etc.
Loss because of theft.
Loss due to riot or strike.
Personal accident cover.
Own-damage cover
Third-party liability cover
A Few Exclusions Of Mahindra Car Insurance
There are some standard exclusions, they are as follows:
Damages or loss when the car is being used for any illegal activities or business. 
Electrical or mechanical breakdown, and regular wear and tear. 
Damage to the tires. 
When the driver was driving with a valid driving license
When the driver was driving under the influence of alcohol, drugs, or any form of intoxication. 
When the insurance claim is outside the geographical limits. 
When the car is used for hire or reward, pace-making, speed testing, reliability trials, etc. 
Damage from nuclear wars.
Other exclusions as per the terms and conditions mentioned in the policy.
Best Suited Plans For Your Mahindra Car
There are two types of plans you can choose from:
1. Third-Party Insurance Cover
The third party insurance cover protects any third party who has faced losses because of damages involving you and your vehicle. The insurer will not cover any losses borne by the insured.
2. Comprehensive Insurance Cover
The comprehensive insurance cover protects the third party as well as you from any financial losses faced because of damage caused by the insured Mahindra vehicle.
Make Probus Your First Choice, Here's Why
Probus understands the sentiments behind buying a new car and puts in best efforts to make the journey of buying and owning a car a safe and secure one. Here are some of the reasons why Probus Car Insurance should be your first choice:
1. Comparison With Other Plans

Probus allows you to compare different plans and choose the one that is best suited to your needs. Different plans under Mahindra car insurance include:
Third-party protection plan
Comprehensive plan
Pay-as-you-drive plan
You can also opt for any add-ons to your Mahindra Car Insurance for better protection.
2. Expert Advice
The team of experts at Probus is just a call or message away to help answer any insurance-related queries or doubts you may have.
3. Free Premium Calculator
You can use our free online car insurance premium calculator to get instant quotes from all the top insurers.
4. Claim Assistance
When claiming your insurance dues, the insurer's highly motivated team is always there to support you in every step of the process.
5. Help To Process Claim Faster
Quick and efficient documentation supports you in getting your insurance claims as soon as possible. The in-house IRDA-certified experts help file your claims.
How To Buy Mahindra Car Insurance On Probus Online?
Buying your Mahindra Car Insurance on Probus online is super easy:
Register on the website and enter all your basic details
Compare between different plans and choose the one best suited for you
Pay the premium online
You will receive your policy directly in your inbox via email.
Stress-Free Renewal Process For Mahindra Car Insurance on Probus
Renew your Mahindra Car Insurance online in 3 simple steps:
Enter your policy number and expiry date
View your policy details and premium
Make the payment online
Seamless Claims Process For Mahindra Car Insurance
Claiming for your Mahindra Car Insurance amount through Probus is easy and hassle-free. You simply need to follow these instructions to claim your due amount:
Inform the insurance company of the incident or situation through email, phone, or app.
Filing a First-information-report (FIR) at the nearest police station is not compulsory but makes the insurance claim process faster.
You need to post a claim request, post which the insurance company will send someone for an independent evaluation of the repairs and damage. 
Once the evaluation is done, you can send your car for repairs to the nearest or a network garage for repair. Your insurance company may need further supporting documentation, which you should provide for an easier and faster claim. 
Once the insurer is satisfied with all the documents provided, the claim is approved. If the garage is affiliated with Mahindra, they will directly pay the garage for the repair work. Otherwise, the insurance claim amount will be sent to the bank account mentioned in your policy document.
Know Your Premium & Calculate It In A Breeze
Knowing your premium calculator is important and helps you understand the different plans and the price attached to them. With online premium calculators, you can compute the prices for various plans effortlessly.
| | | | |
| --- | --- | --- | --- |
| Mahindra Car Model | Model Variant | Insured Declared Value (IDV) | Premium |
| Mahindra Bolero | B4 7-Seater | ₹ 6,85,586 | ₹ 5,059 |
| Mahindra Scorpio | DX 8 Seater | ₹ 4,84,204 | ₹ 10,291 |
| Mahindra TUV300 | Plus P4 9-Seater | ₹ 7,33,867 | ₹ 5,155 |
| Mahindra XUV500 | 2.0 W10 FWD AT 7-Seater | ₹ 13,03,162 | ₹ 7,462 |
| Mahindra Thar | 2.0 AX AC 4WD STD NON MLD MT Petrol 6-Seater | ₹ 7,83,020 | ₹ 11,094 |
Disclaimer: The insurer used for this calculation is Bajaj Allianz General Insurance. The place of registration used to calculate these premiums is Delhi and the year of purchase used is 2020. Based on your specifics, the rates may vary.
Frequently Asked Questions
Absolutely! If you're looking to transfer your policy from one insurer to another, you can easily transfer your no claim bonus points as well. No matter where you shift, you can enjoy your benefits.
This varies from insurer to insurer. Typically, when you add accessories, you need to file a written request with the insurer, which states the amends you've made, a description of the accessories and their cost. If approved, at an additional premium, you can get coverage for this.