Renew in just 5 mins.
No Inspection.
No Paper Work
* Subject To Underwriting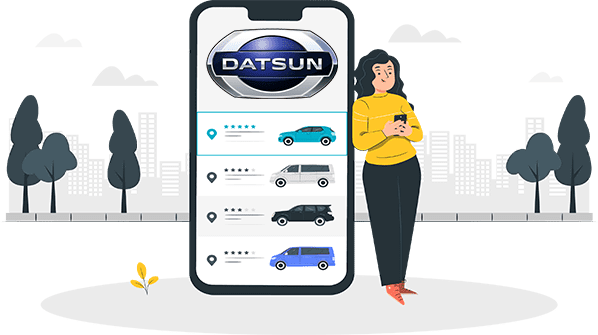 Compare

Car Insurance Plans
Datsun is a popular motor vehicle manufacturer known for making affordable cars. Its beginning dates back to 1914. Nissan took over in 1933 with the intent to assemble an inexpensive yet strong car for the young, first-time purchasers and driving enthusiasts. Datsun began its operation in India in 2014 with the GO hatchback. The Renault – Nissan plant, located in Chennai, manufactures the Datsun car prototypes.
Industry

Automobiles

Owner

Nissan Motor Company

Founded

1931

History

Discontinued (1986)
Re-launched (2013)

Deals in India

Since 2014 with the Datsun GO hatchback

Headquarters

Tokyo, Japan

Key people

Found of Nissan – Yoshisuke Ayukawa President of Nissan – Katsuji Kawamata

Area served

India
Indonesia
Russia
South Africa

Registered office and manufacturing plant India

Nissan Motors India Pvt Ltd Chennai

Products

Cars, and light trucks
Five Attractive Datsun Car Prototypes In Popular Demand
Datsun offers 3 new car models in India and 2 forthcoming ones yet to be launched.
At present, there are two hatchbacks: Datsun Redi Go and Datsun Go and one MUV/Multi-Utility Vehicle Datsun Go Plus on the Indian roads. The main advantages of Datsun cars are that they are reasonably priced, economical, and have high fuel effectiveness. Datsun also has an excellent sales and customer care system.
Name of model
Variant
Ex-Showroom Price, Delhi
Fuel
Mileage
Cubic Capacity of the engine
Datsun redi-GO Hatchback 5-seater
T
Rs. 3.83 Lakh
Petrol
22 kmpl
799 cc
Datsun redi-GO Hatchback 5-seater
T(O) – 1-
Rs 4.44 Lakh
Petrol
22 kmpl
999 cc
Datsun GO Hatchback 5-seater
D
Rs. 4.02 Lakh
Petrol
20 kmpl
1198 cc
Datsun GO Hatchback 5-seater
1.2A
Rs. 6.5 Lakh
Petrol
20 kmpl
1198 cc
Datsun GO Plus 7-seaterMUV
D
Rs. 4.25 Lakh
Petrol
19 kmpl
1198 cc
Datsun GO Plus 7-seaterMUV
T Optional CVT
Rs.6.99 Lakh
Petrol
19 kmpl
1198 cc
Datsun on DO Hatchback
 
Rs. 4.00- 6 Lakh
Expected. Launch : Not Disclosed
Datsun Cross MUV
 
Rs. 4.40 -6.5 Lakh
Expected. Launch : Not Disclosed
Ensure You Insure - Why It's Important To Insure Your Datsun Car?
With innumerable road catastrophes happening every year in India, it is vital to have your car insured. Even if you drive with great caution, accidents may occur due to numerous unforeseen circumstances. Besides, your car is also exposed to damages as a result of natural disasters like flooding, volcanic tremors, hurricanes, tornados, hailstorms, and other such calamities. A good car insurance policy can help you safeguard your car from all such impairment, and at the same time afford protection against any legal answerability.
Also, as per the Indian Motor Vehicles Act of 1988, it is now obligatory for all car and other vehicle owners to possess third-party liability insurance, failure of which can incur fines and even imprisonment.
Benefits Of Procuring An Insurance Policy For Your Datsun Car
It will protect the passengers and driver of the car in case of an accident
Protects you from legal hassles and stops you from transgressing the Indian Motor Vehicles Act
It will bear the cost of damages due to natural and manmade calamities as covered by the policy purchased
 It will bear the cost of revamping or repairing the damage and replacing the losses due to wreckage and theft
You will become eligible to avail of a number of additional accompaniments or add-ons to augment your car's security and performance
Since the purchase and renewal of insurance policies are digital and online, you will be spared hours of official and documental procedures.
Claim applications are deft and uncomplicated.
Ensure You Drive Safely As A Car Insurance Policy Comes With Certain Exclusions
Wearing and degradation due to everyday rough use
Malfunction of the car due to electrical (wiring and fuse) fault or mechanical reasons such as improper steering and brake system issues
Worn out tires leading to skidding
Driving without possession of an appropriate driving license
Driving when intoxicated by alcohol or any drugs
Unlawful and illegal use of the car such as racing, hire, transporting goods, etc.
Driving beyond permissible geographical borders and boundaries
Driving in war zones and other risks
Added Benefits For Your Datsun Car
Including a nominal extra premium to your car insurance policy will let you enjoy the advantages of the following unique add-ons
Zero Depreciation – Also known bumper to bumper cover, this add-on guarantees that in case of a collision the entire claim amount will be paid, and no depreciation will be subtracted for wear and tear of any parts (glass, fiber, or rubber).
Engine Protection – This safeguard must be considered by buyers who live in flood-prone areas to prevent the heavy cost of repair in case the car gets submerged, and the engine is damaged as a result
NCB (no claim bonus) – If you drive cautiously, you can get a 20%-50% NCB for every successive claim-free year. Though, if you make a claim, your discounts will be returned to zero.
Passenger Cover – This add-on offers a financial safeguard to the persons in the car against death or disability due to an accident. Starting from Rs.10,000 it can increase depending on the severity of the injury.
If your car has ARAI (Automotive Research Association of India) approved anti-theft appliance, you can get a further discount of up to 2.5% on your own damage premium.
Membership of the recognized Automobile Associations of India can make you eligible for an extra discount, depending on the insurer.
Types of Coverage Available For Datsun Car
There are two categories of car insurance schemes for Datsun cars:
Third-party liability only insurance
Comprehensive/standard insurance
The Benefits Of The Covers
Third-Party Liability only Car Insurance (Mandatory)
Comprehensive/Standard Car Insurance (Optional)

According to the Motor Vehicles Act of 1988, it is required to compulsorily purchase a third-party insurance
Provides coverage against damage to third-party property/ injury or life
Third-party insurance gives restricted coverage
It does not allow the purchase of add-on safeguards
It does not include the car owners own damage.

In addition to third-party liability coverage, a comprehensive car insurance policy safeguards your vehicle against own damage
Compensates for damage to the vehicle and injury/accidental death of the driver or the owner of the car
Protects against damage because of natural calamities such as cyclones, earthquakes, floods, etc. and due to man-made catastrophes, such as vandalism, riots, fires, etc.
It allows the car owner to purchase add-ons to improve car safety and performance
 Safeguards against the thievery/wreckage of the insured car. The insurance provider will recompense the Insured Declared Value (IDV) of the car.
Looking To Purchase Insurance? Why The Probus Portal Should Be Your First Choice
Are you looking for a reliable insurance provider for your Datsun? Your search ends with Probus, an aggregator company that can provide all the necessary assistance.
Probus aids in the choice of the insurance plan that suits you by an instant comparison of different insurance plans on the website
The Probus team of experts are always available to furnish absolutely up to date, balanced estimation and advice to clear queries of prospective customers and help them purchase a plan that best suits them
The Probus Claims Support Team (IRDA certified) assists in the filing of claims-making the process simple and uncomplicated
Instead of spending precious time checking out different car insurance providers, customers can register directly with Probus on its website and be guided effortlessly to buy the best insurance online. 
Probus offers valuable information on discounts to save on premiums
Probus proffers an online insurance premium calculator absolutely free
Probus respects customer privacy. All personal information and data of customers are secure.
How To Buy Datsun Car Insurance On The Probus Website?
Here are the steps to purchase online car insurance for your Datsun:
Log into the Probus website and select the option that displays 'car insurance'
To buy online car insurance for a new car, click the option 'new car'.
You will be asked to provide personal data as well as information regarding your car like:

Car model and car registration year.
The RTO where your car is registered
Your 10-digit mobile number and e-mail ID

Now select the 'compare quotes' option
A new page will show you car insurance comparisons online. Select the policy of your choice and any add-ons in case of a comprehensive cover
Check out the premiums and make a final choice
The final premium quote will be displayed
Make the payment through a secure gateway to receive your policy document in your mailbox
Purchasing an online insurance policy for your car from a mediator such as Probus makes the process stress-free, economical with easy renewal options, simple claim procedures, and the added benefits of online discounts.
Renewing A Datsun Car Insurance On The Probus Portal
Car Insurance is only applicable for a year. It must be renewed within 30 days of expiry failing which it will lapse which is an offence as it is obligatory to have a valid car insurance policy before it is driven on the road.
Steps By Step Assistance For Car Insurance Renewal
Provide the following car information which will enable the insurance provider to calculate the insurance premium
Car make and model
Car registration number, registration date, registration city,
Owner's name
No-claim bonus eligibility
Make a comparison of quotes offered by different companies.
Select add-ons.
The final renewal premium will be displayed.
Revise the data carefully and make the payment online.
The policy is renewed immediately if it is within the expiry date. You will receive the document in your mailbox.
Claims Process For Car Insurance For Your Datsun Vehicle
In case of an accident
Once you notify the insurance company, they will immediately send a surveyor to assess the situation after which your car can be taken for repairs to an approved garage.
The supporting documents will be needed for approval of a claim.
The cost of repair will be sent directly to the garage as a cashless settlement.
In case of a non-cashless policy, the owner will receive a reimbursement of the money spent on repairs in the account number mentioned in the policy.
If the claim concerns a third-party liability an FIR and the claim form needs to be submitted.
The third-party claims are tackled in the Motor Accident Claims Tribunal. The third-party must file for the claim in the tribunal.
Premium And What You Need To Know About Its Calculation
The insurance premium is the sum of money the insured has to pay to his insurance provider company for providing cover on the vehicle. It can be paid monthly, half-yearly, or annually, depending on the car insurance company. Premium depends on a number of factors such as geographic areas (degree of risk of accidents), type, age, the use of the car and also driving record of the owner.
Premiums for Datsun Car Models
(Own damage cover for 1 year and 3rd party cover for 3 years)
Car Make
Ex Showroom price (Lakh)
Cubic Capacity (CC)
Pin code
IDV (in Rs.)
Premium (incl 18% GST)
Datsun redi-GO T
3.83
799
560001
278113
14839
Datsun redi-GO T(O) – 1-
4.44
999
560001
321600
16122
Datsun GO D
4.02
1198
560001
313835
21367
Datsun GO 1.2A
6.5
1198
560001
313835
21367
Datsun GO Plus D
4.25
1198
560001
476543
26410
Datsun GO Plus T Optional CVT
6.99
1198
560001
592525
30004
Datsun on DO Hatchback
4.00 – 6
Expected launch: Not disclosed
Datsun Cross MUV
4.40 – 6.5
*Disclaimer: The above calculation is from Bajaj Allianz General Insurance company & based upon registration city – Bengaluru, registration year – 2021 and petrol fuel type cars. The insurance price may vary on the basis of customer requirement or add-on selected..
Frequently Asked Questions
Most frequent questions and answers about Datsun Car Insurance