Renew in just 5 mins.
No Inspection.
No Paper Work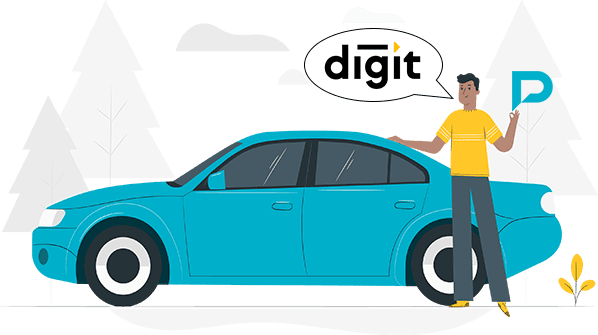 Compare

Car Insurance Plans
Digit Car Insurance Claim
Digit car insurance, offered by Go Digit General Insurance, is a common car insurance plan that reimburses policyholders for expenses incurred for their insured vehicle as a result of a disaster such as a road accident or theft. The policy is specifically designed to simplify the insurance process by offering seamless solutions to its customers.
Digit Car Insurance offers both cashless claims as well as reimbursement claims to your car insurance plan. You can make a cashless claim at any of the more than 5,800 Digit General Insurance-affiliated garages across India. Car insurance products from Digit are designed to safeguard your vehicle from damage caused by risks listed in the policy agreement.
How To Make a Digit Cashless Car Insurance Claim?
The procedure for filing a claim for cashless vehicle insurance coverage is straightforward. You only need to be aware of the insurance company's list of service and repair centers ahead of time.
Step 1: Notification of a Claim
It is critical to notify the insurer as soon as possible after an accident or covered event/uncertainty occurs. All you have to do is dial the Digit toll-free number, 1800-103-4448 or 1800-258-5956, 24 hours a day, 7 days a week, and provide the Digit agent with all the information you have. At this time, no paperwork will be required to be completed.
Step 2: Acceptance of the Claim Request and Vehicle Self-Inspection
Digit is noted for its lightning-fast claim processing. A self-inspection link will be issued to your registered mobile number as soon as you notify the claim. With the help of your smartphone, you can take images of the vehicle's defects and then follow the procedures and instructions required.
Step 3: Evaluation and documentation
The Digit team will evaluate the loss and damage and contact you with an estimate of the costs and claim amount.
Step 4: Claim Settlement And Repair
You can go to any of the 5800+ network garages and provide the details of your cashless car insurance policy. The company will pay the full cost of the claim, and the insurance will return the car after the applicable deductibles have been paid.
Note: Digit is known for its super-fast claims and 24/7 call facility even on national holidays.
How To Make a Digit Reimbursement Car Insurance Claim?
Step 1: Claim Intimation
The policyholder must immediately notify the insurer of the accident or covered incident. Simply dial the toll-free number 1800-258-5956, which is available 24 hours a day, seven days a week, and provide the Digit representative with all of the information you have regarding the accident. At this time, you will not be asked to complete any forms.
Step 2: Vehicle Self-Inspection
Digit does not want to waste time sending human surveyors, therefore as soon as the claim is started, it will offer you a URL to do your inspection. All you have to do is use your smartphone to photograph the damage to your vehicle in a simple step-by-step process.
Step 3: Assessment and Documentation
Digit will investigate the shots you've sent and analyze the damage. Digit's staff will contact you as soon as they get an estimate.
Step 4: Repair and Final Reimbursement
Digit policyholders have the option of using any workshop service of their choice to repair the damage. After the insured policyholder has submitted all invoices and receipts, the company will reimburse the claim amount. After paying the required deductibles, the insured can return the vehicle.
List of Documents Required During Claim Settlement
In Case of Theft
The police have issued a 'No Trace Report' on the insured vehicle.
Forms 26, 28, 29, 30, and 35 must be completely filled out and signed.
Original Certificate of Registration (RC)
Regional Transport Office's declaration of theft
All keys, warranty cards, and service booklets
In Case of an Accident
Original policy documents of car insurance policy
Duly filled and signed claim form
Copy of the Certificate of Registration (RC)
Copy of Driving License
Copy of FIR (First Information Report)
Original tax receipts
Estimation of repair costs
Once the repair is completed, keep the payment receipts or bills.
In Case of Third Party Claims
Duly filled and signed claim form
Car insurance policy (original or copy)
Copy of the Certificate of Registration (RC)
Copy of Driving License
If necessary, a copy of the FIR (First Information Report).
Frequently Asked Questions