Renew in just 5 mins.
No Inspection.
No Paper Work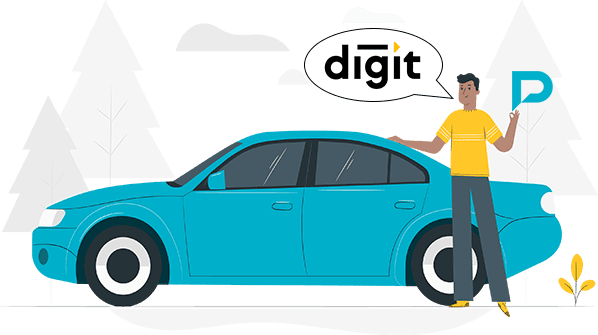 Compare

Car Insurance Plans
Digit Car Insurance Renewal
You may have the best car insurance policies in the market, but it will protect you and your family if you renew the policy on time. For the Digit car insurance policy, the renewal process is pretty simple and easy as the company has designed its website in a customer-friendly way. To know more about the Digit Car Insurance Renewal, have a look at the following content.
Renewal Process Of Digit Car Insurance
Follow the below step by step guide to avail of a seamless and hassle-free renewal of your car insurance policy under this company.
Go to the official website of Digit Insurance Company.
On the top of the homepage, there you will be the 'Renewals' tab. Click on that.
On the landing page, you need to put your registered mobile number in the right place and click on the 'Continue' option. Else, you can also sign in with your policy details.
After you sign in to your online customer portal successfully, the policy details of your car insurance plan and the renewal amount will be displayed before you.
Check the details and the amount carefully. After that, pay the renewal amount using your convenient payment mode available with the insurer.
After successful payment, you will receive a notification regarding the same in your registered mobile number and/or email ID.
Why Is Important Renewing Digit Car Insurance On Time?
Your Digit Car Insurance Policy is precious to you, and so is its renewal. Have a look at the following mentions to understand their importance and value.
To keep your policy active – If you do not pay the renewal amount on time, your policy will expire, and you cannot enjoy any of the benefits and facilities of the policy.
To avoid claim rejection – If your policy is expired due to not renewing it on time, you are not eligible to file a claim against any incident or accident. 
To avoid financial loss – Digit Car Insurance has a cashless claim settlement facility where you do not have to pay the car repair expenses out of your pocket. But without having an active policy, you cannot access this facility, and you have to pay the entire expenses out of your own pocket.
To avoid legal trouble – If you fail to pay, renew your car policy even within the grace period, your policy will be void. Therefore, you will lose the third party liability cover, which is mandatory as per the Motor Vehicles Act of India, 1988. So, in this state, if you are out there on the roads with your car, you may fall into legal trouble. 
To avoid extra expenses – Once your policy expires due to the lack of renewal on time, it takes a time consuming and complex process to revive the policy. Additionally, you also have to pay the late fines along with all the due premiums to revive the policy, and that too is subject to the terms and conditions of the company. 
To get the insurer beside your side – Digit Car Insurance has 24×7 customer service and a doorstep pickup and drop facility in the event of an accident or incident. But, if your policy has lapsed because you have not renewed it on time, you cannot get your insurer beside you in your hard times. 
To have mental peace – Once you have a car insurance policy, and you know that you have renewed it timely, you can drive/ride your car without much tension.
How To Contact Insurer If You Face Problems With Digit Car Insurance Renewal?
Though you should not face any trouble while renewing your Digit Car Insurance policy if you follow the above steps religiously. Even if you suffer any problem, you can contact the insurer using any of the following methods.
You can contact the company by calling them at 1800-103-448 and state your problem regarding your renewal problem.
You can avail of their WhatsApp facility by using their number 7026061234 to have a chat related to your issue. It is to be noted that the WhatsApp number cannot be used for calls.
You can also directly write to them using their mail ID hello@godigit.com stating your renewal problem. In that case, you may need to provide some policy-related information such as policy number, date of birth, etc.
Or else, you can visit the nearest official branch of the company. Their experienced customer executives will guide you thoroughly through the renewal problem.
You can also download the app of the insurer from App Store or Google Play and address your problem.