Renew in just 5 mins.
No Inspection.
No Paper Work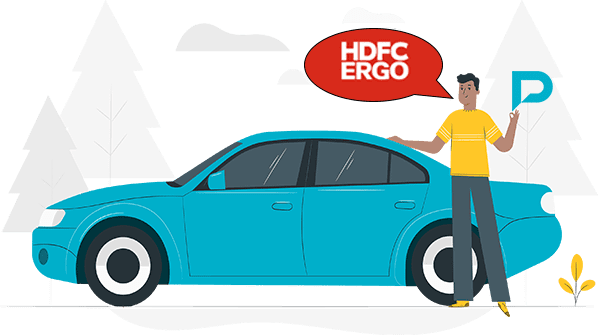 Compare

Car Insurance Plans
HDFC ERGO Car Insurance Policy Download
Owning a car in India has become more of a necessity than a fashion trend. With buying a four-wheeler, you cannot overlook the importance of a car insurance policy. It is a written agreement between an insurance company and a policyholder that outlines the terms and conditions under which the insurance company will offer insurance coverage in exchange for a fixed premium amount. Legal terms like inclusions, exclusions, coverage, add-ons, etc. are used in this legally binding contract. The policyholder may choose to keep both electronic and paper versions of the policy documentation.
Since the internet has paved the way to ease everything (you name it), downloading a policy is not an exception. If you own an HDFC ERGO Car Insurance policy, you can then easily download the policy using the online method in the comfort of your home. It is advised that they thoroughly study all of the terms and conditions of the policy paperwork if they wish to get the most out of their automobile insurance policy at the time of claim settlement.
Read on to know more about HDFC ERGO Car Insurance policy download in detail.
Things Included In HDFC ERGO Car Insurance Policy Document?
To avoid any issues relating to insurance policies, all policyholders are strongly advised to carefully read the policy wording. Each policyholder should also pay close attention to the following significant passages in the Oriental auto insurance policy document:
Type of plan.
Policy number.
Policy duration.
Exclusions from the policy.
Process for resolving complaints.
IDV and premium.
Terms and conditions.
Details about the insured and the vehicle.
How To Download HDFC ERGO Car Insurance Policy Online?
Using the policy number provided to each policyholder, you can download the HDFC ERGO vehicle insurance policy's policy document. To get the policy paper, complete these steps:
Go to the website for HDFC ERGO General Insurance.
Next, you must select the 'Help' tab from the font menu. You must click on "Policy Document" and then "Policy" after that.
After clicking on it, you must enter the policy number, mobile number, or email address to continue. A Time Password (OTP) will be provided for verification to the registered mobile number or Email ID after entering the mobile number or email address.
The next step is for you to click "Continue".
The vehicle insurance policy paperwork will be emailed straight to the policyholder's registered email address upon OTP verification.
Do I Need a Hard Copy of the HDFC ERGO Car Insurance Policy Document?
You are typically not needed to keep your HDFC ERGO auto insurance policy in any tangible format once you have downloaded it. The E-Vahan Bima initiative was started by the IRDAI (Insurance Regulatory and Development Authority of India) to digitize all insurance policies for future use. Consequently, it is no longer necessary to have hard copies of insurance documents. With the aid of HDFC ERGO car insurance download, no one is now required to keep policy paperwork in physical form in this age of technological innovation. The QR code function makes it simpler for policyholders because all pertinent information about the policy is safely kept.
How Can I Make Changes in My HDFC ERGO Car Insurance Policy Document?
If you don't provide the right information when buying your car insurance, you can run into problems when it comes time to pay a claim. However, you are permitted to make the necessary modifications via online mode if you put any wrong information in your car insurance policy.
Follow the given steps to make the changes:
First things first, go to the HDFC ERGO website.
Next, navigate to the 'Help' tab from the menu.
Then, select 'Edit/Cancel Policy' Make Changes.'
Once you opt to make changes, you will be required to submit your registered mobile number/registered email ID/policy number.
Make changes to the insurance policy.
You can also call their number +91 22 6234 6234/+91 120 6234 6234 to take any further help.
A policyholder who is not particularly tech-savvy must go to HDFC ERGO's official website to make modifications to his policy documentation.
Frequently Asked Questions
Here is the list of the frequently asked questions related to HDFC ERGO car insurance policy.
You must have the paperwork in your car while you are driving to safeguard yourself from any potential accidents. You can, however, store your policy documentation on your mobile device in the age of technology. The only thing you must do is obtain your HDFC four-wheeler insurance from the internet.
You can manage all of your insurance policies by downloading the app to your smartphone. Additionally, you can download a copy of HDFC's four-wheeler insurance from the application itself.
For a duplicate HDFC ERGO car download, call HDFC ERGO at their customer service number, i.e. 022 6234 6234.