Renew in just 5 mins.
No Inspection.
No Paper Work
* Subject To Underwriting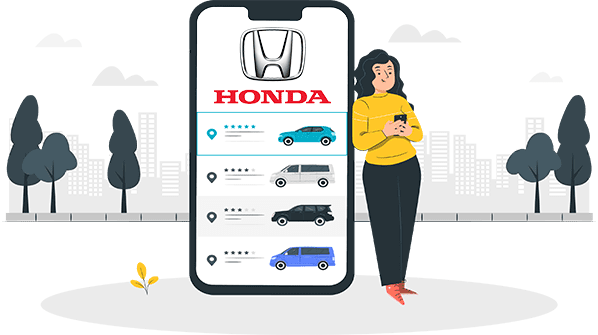 Compare

Car Insurance Plans
Honda Amaze Car Insurance
Honda Amaze is a compact and affordable sedan, making it a popular car among Indian customers. Amaze typically has an engine size of up to 1498 cc and can achieve up to 27.4 km/l fuel mileage. It is offered in 5 colours, and both manual and automatic gearboxes are available. Choosing the driver cover is wise because the interiors are designed to include cutting-edge technologies and trustworthy safety (ABS, engine immobiliser, etc.). The 2021 facelift model has brought minor cosmetic changes and a few key feature additions, with the Honda Amaze E serving as the entry-level model and the top-tier Honda Amaze VX CVT carrying a price tag of Rs. 9.48 Lakh.
Here are the key specifications of Honda Amaze car.
| | |
| --- | --- |
| Parameters | Details |
| ARAI Mileage | 18.6 kmpl |
| Engine Displacement (cc) | 1199 |
| Max Power (bhp@rpm) | 88.50bhp@6000rpm |
| Seating Capacity | 5 |
| Boot Space (Litres) | 420 |
| No. of cylinder | 4 |
| Transmission Type | Automatic/Manual |
| Max Torque (nm@rpm) | 110Nm@4800rpm |
| Fuel Type | Petrol/Diesel |
Honda Amaze Insurance Price (With Different Variants)
| | | | | | |
| --- | --- | --- | --- | --- | --- |
| Name of the City & RTO | Select Car Fuel Type | Registration Year | IDV | Add-Ons (Zero Dep) | Premium |
| New Delhi – D1 | Diesel – 1.5 E MANUAL TRANSMISSION | 2022 | ₹3,40,575 | ₹ 2,316 | Rs. 1, 342 |
| New Delhi – D1 | Petrol- 1.2 EX MANUAL TRANSMISSION | 2021 | ₹3,37,464 | ₹ 2,025 | Rs. 886 |
| New Delhi – D1 | Petrol- 1.2 S MT PLUS (P) (1198) | 2020 | ₹ ₹3,40,200 | ₹ 2,892 | Rs. 4,489 |
Is Anything Included Under Honda Amaze Car Insurance Policy? Let's Find Out!
Honda car insurance protects from a variety of risks. Here is a list of details that clarifies the inclusions included with Honda Amaze car insurance. Look at this.
The car is damaged as a result of natural or man-made disasters.
Damage to the vehicle caused by fire blasts.
Total loss, or damage to a car that cannot be repaired.
Accident-related harm to the vehicle.
It provides coverage under add-on covers.
It protects from losses to the property, health, or life of third parties.
It offers protection in the event of theft.
Note: It is required to purchase third-party liability insurance as well as personal accident coverage with a comprehensive insurance policy.
Things Excluded Under Honda Amaze Car Insurance Policy
War-related damage and other similar circumstances
Damages to one's vehicle are not covered by third-party or liability-only car insurance.
The effects of drunk driving on property damage
Policyholders were either driving while intoxicated or without a licence.
Losses brought on by driving without a licence.
You had a learner's permit and were operating a vehicle without a front-seat passenger with a current driving permit.
Damages that result from inactive coverage
Any harm that wasn't caused by accident directly.
Typical deterioration
Contributory negligence is not covered, such as damage resulting from driving a car in flood, and is not advised according to the manufacturer's driving manual.
Cost of routine maintenance
Add-ons deal with particular scenarios. The associated situations won't be covered if you haven't purchased those add-ons.
Popular Add-Ons Under Honda Car Insurance Policy
Some of the top add-on coverages for the Honda Amaze insurance are listed below.
Zero Depreciation Cover
Insurance companies typically deduct the car's depreciation value. Customers may preserve this depreciation value and submit a claim for the price of a brand-new car with this add-on policy.
Roadside Assistance Cover
If any customer becomes stranded in the middle of their travel, this protection ensures that assistance is close at hand.
Personal Accident Cover
If you or the pillion rider are hurt in a traffic collision, this add-on policy will pay for your medical bills.
Engine Cover Protection
With this add-on cover, policyholders can provide the engine of the automobile with a crucial component and additional security.
How To Buy Honda Amaze Car Insurance?
If a customer is looking to purchase Honda Amaze car insurance online, choosing Probus Insurance will provide a pleasant experience. Here are the steps to be followed.
Step #1: Select "Products" from the menu at the top of this page. When you choose "Motor Insurance," a selection for "Car Insurance" appears. Simply click it.
Step #2: Next, you must type in your vehicle's registration information. Then click "Compare Quotes."
Step #3: Once you've given all the information required, you might need to select the best insurance provider for you.
Step #4: Examine your selections, check prices, and finally make an online purchase to buy Honda Amaze car insurance.
How To Renew Your Honda Amaze Car Insurance Policy?
Looking to renew the Honda Amaze Insurance? Here are the steps that policyholders need to follow to renew their Honda Amaze car insurance policy.
After choosing "Renew Your Policy" on the top, click "Motor Renewal" when the cursor appears over it.
Choose the respective insurer. After that, you will be directed to the relevant insurance website.
You may then be prompted for details such as policy and car registration numbers. Click again to proceed. The website design differs depending on the service provider.
Lastly, the payment must be made with a debit or credit card. You now have updated insurance.
Frequently Asked Questions
Most frequent questions and answers about on Honda insurance
Yes, the insurer will check out your car because it is a must before insuring your car. Nevertheless, we advise you to renew your coverage on time or at least a week before it expires.
From Probus' website, you may purchase Honda Amaze car insurance in a matter of minutes. To receive the Honda Amaze immediately, you must fill out a few details about it and choose the plan that best suits your needs.
Yes, by paying a larger premium, you can raise the IDV, or insured declared value, of your Honda Amaze.