Renew in just 5 mins.
No Inspection.
No Paper Work
* Subject To Underwriting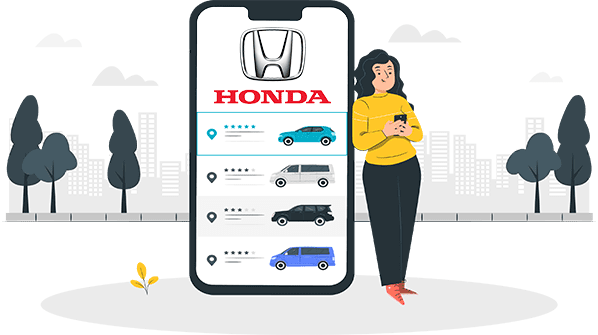 Compare

Car Insurance Plans
One of the most well-liked sedans in India is Honda City. Due to its excellent aesthetic appeal and outstanding performance, it has grown in popularity. Along with giving you a premium experience, the car offers up to 25.6 km per litre of fuel and includes equipment like power steering, automatic climate control, and anti-lock brakes. There are 11 different variations of this attractive Honda automobile that come with both automatic and manual transmissions.
There are 4 variations of the fifth-generation Honda City: the V, VX, ZX, and ZX Sensing (hybrid). While the petrol-manual combination is only offered in the top 3 models, the petrol-automatic combination is offered in all 4. The prices for the petrol-manual models range from Rs. 11.46 lakh to Rs. 13.91 lakh.
Here are the key specifications of Honda city car:
| | |
| --- | --- |
| Parameters | Details |
| ARAI Mileage | 18.4 kmpl |
| No. of cylinder | 4 |
| TransmissionType | Automatic/Manual |
| Max Torque (nm@rpm) | 145Nm@4300rpm |
| City Mileage | 16.28 kmpl |
| Engine Displacement (cc) | 1498 |
| Seating Capacity | 5 |
| Boot Space (Litres) | 506 |
| Body Type | Sedan |
Honda City Insurance Price (With Different Variants)
| | | | | | |
| --- | --- | --- | --- | --- | --- |
| Name of the City & RTO | Select Car Fuel Type | Registration Year | IDV | Add-Ons (Zero Dep) | Premium |
| New Delhi – D1 | Diesel- VX (O) MT DIESEL (1498 cc) | 2021 | ₹5,85,375 | ₹ 5,292 | Rs. 2, 162 |
| New Delhi – D1 | Petrol-1.3 EXI (1343 cc) | 2022 | ₹4,95,952 | ₹ 2,728 | Rs. 1, 221 |
| New Delhi – D1 | Diesel-zx idtec (1498 cc) | 2022 | ₹ 8,17,200 | ₹ 5,557 | Rs. 3, 108 |
What are the Inclusions & Exclusions Under Honda City Car Insurance?
Every car insurance provider specifies a list of circumstances under which the policyholder may submit a claim. These are known as inclusions. To avoid having a claim denied, one must read through this list on their car insurance policy. The cost of Honda City insurance will go up with more coverage. Here is a list of some typical Comprehensive insurance inclusions.
Damages to third party
Damage brought on by accident, whether it was natural or man-made.
Insurance Against Theft
Total loss, in which the car is beyond repair
Burn or explosion damage
Coverage under further relevant add-ons
Personal Injury Supplement (bought separately)
Here are the following things that Honda automobile insurance does not cover:
Depreciation-related losses to your Honda vehicle are not covered under warranty.
Loss or damage to your Honda car resulting from using it while under the influence of alcohol or drugs is not covered.
The insurance provider will not cover the cost of fixing your Honda vehicle's electrical and mechanical failure.
Your insurance company won't come to your aid if you are caught driving your Honda without a valid licence.
Loss or damage to your Honda vehicle resulting from normal wear and tear is not covered.
Your Honda vehicle will not be covered if it is damaged or lost as a result of hostilities, nuclear dangers, or associated actions.
Any intentional damage to your Honda vehicle will not be reimbursed.
Any loss or damage to your Honda private vehicle resulting from using it for business activities is not covered.
What are the Add-on Covers of Honda City Car Insurance Policy?
Here are some of the add-on covers of the Honda city car insurance policy. 
No-Claim Bonus Protection
With the NCB Protection cover, you may file minor insurance claims for things like damaged tyres or windscreen glass while still keeping your accumulated NCB bonus. The first two claims are covered by the NCB Protection add-on.
Depreciation Reimbursement Cover
You can request payment for the price of replacing certain car parts that may have been harmed in an accident with the depreciation reimbursement cover. You are permitted to submit a maximum of two claims under this add-on coverage.
Total Cover
The registration fee, octroi, taxes, and any other fees assessed by the government are covered under the total cover. Therefore, in the event of theft or total loss of the vehicle, the insured shall be compensated for the full value of the vehicle.
Roadside Assistance
If the car breaks down unintentionally, this add-on coverage is activated. You can rely on the 24-hour roadside help service if an unexpected breakdown, such as an engine failure, flat tyre, or battery-related technical issues, has left you stranded.
How To Buy Honda City Car Insurance?
There are numerous ways to buy Honda City car insurance online, but working with Probus Insurance will save you time, yield prompt results, and make for a positive experience.
Step #1: Select "Products" from the menu at the top of this page. When you choose "Motor Insurance," a "Car Insurance" option appears. Click on it.
Step #2: After that, you must enter the vehicle registration number. Click "Compare Quotes" after that.
Step #3: After providing all the necessary information, you might need to choose the finest insurance company for you.
Step #4: To purchase Honda City car insurance, assess your options, evaluate pricing, and then conduct an online purchase.
How To Renew Your Honda City Car Insurance Policy?
Customer can quickly renew their Honda City car insurance by contacting Probus Insurance. The procedures they must follow to renew their Honda City auto insurance coverage are listed below.
From the menu at the top of this page, choose "Products." An option for "Car Insurance" shows when you select "Motor Insurance." Just click it.
After that, you are required to click on "Probus Renewal". After that, you are required to enter your vehicle registration number and the policy number.
After clicking on "Load Details", you will see the sites of different insurers. From one service provider to another, the website layout varies.
Finally, you will need to make the payment. Once done, your policy will be renewed.
Frequently Asked Questions
Most frequent questions and answers about on Honda insurance