Renew in just 5 mins.
No Inspection.
No Paper Work
* Subject To Underwriting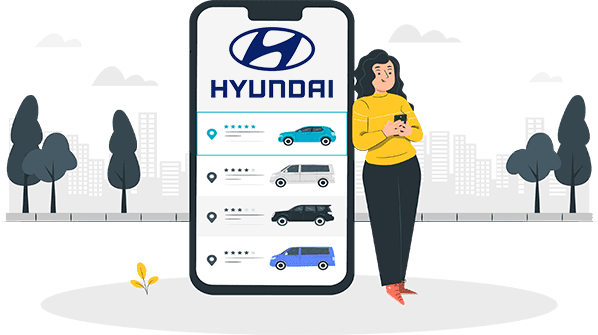 Compare

Car Insurance Plans
Hyundai Kona Electric Car Insurance
The Hyundai KONA is one of the first all-electric vehicles released in the Indian market. It is a little hatchback with a robust engine and excellent performance. So, whether in the city or on the roads, getting behind the wheel will be an exciting experience. The Hyundai Kona is the country's first electric SUV. Hyundai Kona Electric's pricing ranges from Rs. 23.84 Lakh to Rs. 24.03 Lakh. Hyundai Kona Electric is available in 2 trim levels: Premium, which is the entry-level model, and Hyundai Kona Premium Dual Tone, which has a starting price of Rs. 24.03 Lakh.
Continue reading if you own a Kona electric car and want to get a car insurance policy. The cost of insurance for a Hyundai Kona is covered in full in this post.
Key Specifications of Kona Electric
| | |
| --- | --- |
| Parameters  | Descriptions |
| Charging time | Approx 6 h 10 min |
| Seating Capacity | 5 |
| Max Power (bhp@rpm) | 134.10bhp |
| Battery Capacity | 39.2kWh |
| Range | 452km |
| Body Type | SUV |
| TransmissionType | Automatic |
| Gear Box | Single-speed reduction gear |
Hyundai Kona Electric Insurance Price (With Different Variants)
| | | | | | |
| --- | --- | --- | --- | --- | --- |
| Name of the City & RTO | Select Car Fuel Type | Registration Year | IDV | Add-Ons (Zero Dep) | Premium |
| New Delhi – D1 | HYUNDAI KONA AUTOMATIC PREMIUM (100 KWH) | 2022 | ₹16,19,200 | ₹ 10,201 | Rs. 13, 368 |
| Bangalore – KA 01 | HYUNDAI KONA AUTOMATIC PREMIUM (100 KWH) | 2021 | ₹14,16,800 | ₹ 10,201 | Rs. 7, 311 |
| Mumbai – MH-01 | HYUNDAI KONA AUTOMATIC PREMIUM (100 KWH) | 2021 | ₹14,16,800 | ₹ 10,201 | Rs. 5,483 |
Things Covered Under the Hyundai Kona Electric Car Insurance Policy
Hyundai Kona car insurance provides coverage against the following risks:
Accidental damage to the Hyundai Kona vehicle.
Theft-related partial or complete loss of the vehicle.
The Kona automobile was harmed by natural disasters including earthquakes, floods, cyclones, etc.
The Kona vehicle was damaged as a result of hazards that were created by humans, such as vandalism and public unrest like riots and strikes.
The Hyundai Kona's harm to a vehicle or piece of property owned by a third party.
A third party was injured physically as a result of an accident involving a Hyundai Kona.
The Kona automobile was to blame for an accident that resulted in the death or permanent disability of a third party.
Things Not Included in Hyundai Kona Electric Car Insurance Policy
Here is the list of the things not covered under the Hyundai Kona Electric Car Insurance Policy. 
Damage arising due to war and similar conditions
Damages to one's vehicle is not covered by third-party or liability-only car insurance.
Damages that arise when driving under the influence of alcohol
Drivers were either driving while intoxicated or without a license.
Damages that arise when driving without a valid licence
They had a learner's permit and were operating a vehicle without a front-seat passenger with a current driving permit.
Damages that arise when the policy is not active
Any harm that wasn't caused by accident directly
Any contributory negligence (such as damage resulting from operating a vehicle in flood, which is not advised according to the owner's manual, will not be covered)
Regular servicing expense
Add-ons deal with particular scenarios. The associated situations won't be covered if a customer hasn't purchased those add-ons.
What Are Add-on Covers of the Hyundai Kona Electric Car Insurance?
Zero Depreciation / Nil Depreciation:
One of the most popular add-on coverages that pay the full cost of replacing the parts without calculating depreciation is zero depreciation. Zero depreciation allows policyholders to collect the entire sum without taking any deductions for depreciation, in contrast to the conventional motor insurance plan that only reimburses the depreciated worth of the car.
Engine Protection Cover:
For owners of high-end, branded vehicles, the engine protection cover is a worthwhile purchase. The protection cover's objective is to provide reimbursement for engine-related repairs unrelated to accidents.
Return To Invoice:
When a car is stolen, having return to invoice coverage assures that the owner will receive the full amount stated in the policy. The price includes both the registration fee and the amount of road tax already paid. The sum given must be equal to the price of the automobile that is on the market.
NCB Protection Cover:
If policyholders did not file any claims for damages throughout the year, they might get a no-claim bonus on their auto insurance coverage. The NCB can increase from 20% to 50%, which will lower the premium in upcoming years. Even if a claim was filed throughout the year, the NCB add-on bonus aids in maintaining the accumulated bonus.
24 X 7 Roadside Assistance Cover:
Policyholders are always covered under this insurance, whether customers are travelling or just driving around. They are covered by insurance for things like towing, fueling, changing a flat tire, repair services in case of a car breakdown, etc.
Key Replacement Compensation:
This payment is only made when someone accidentally misplaces or loses their keys. Even though a police report must be filed in the event of theft, a driver is reimbursed for the expense of replacing the vehicle's lock and key if it is broken into.
Consumables Cover:
If the car is involved in an accident, this reimbursement is granted for the cost of replacing the nuts and bolts, screen washers, bearings, and engine oil. Regular motor insurance does not cover the expense of replacing consumables. Cars older than three years are not eligible for this compensation.
How To Buy Hyundai Kona Electric Car Insurance?
While there are many ways to purchase Kona car insurance online, going with Probus Insurance will save time, produce quick results, and provide a pleasant experience.
Step #1: Select "Products" from the menu at the top of this page. When you choose "Motor Insurance," a "Car Insurance" option appears. Click it.
Step #2: Click "Compare Quotes" after providing the registration number of the vehicle.
Step #3: Customers might need to choose the best choice after providing all the necessary information.
Step #4: To purchase Hyundai Kona electric car insurance, evaluate all options, compare pricing, and then make an online purchase.
Renew Hyundai Kona Electric Car Insurance
If a customer wants to renew their Hyundai Kona Electric Car Insurance, they can easily do it via Probus Insurance.
Select the "Renew Your Policy" on the top. Hover the mouse over "Motor Insurance" and then click it.
Next, decide on the insurance depending on the needs and financial resources. You will then be sent to the appropriate insurance website.
Following that, customers could be asked for information such as policy and vehicle registration numbers. To continue, click.
(Each insurer may have a different format for entering information about the vehicle.)
Use a debit or credit card to make the payment. The car insurance policy has been renewed.