Renew in just 5 mins.
No Inspection.
No Paper Work
* Subject To Underwriting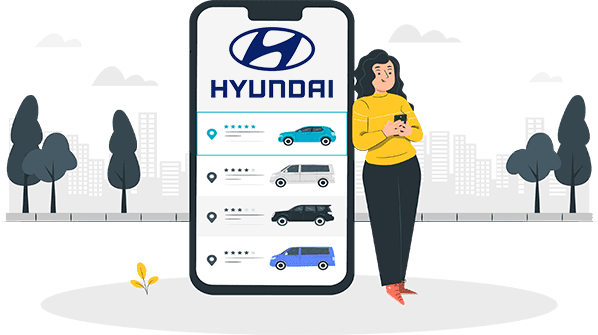 Compare

Car Insurance Plans
Hyundai Venue Car Insurance
Hyundai Venue is a subcompact crossover SUV produced by a South Korean company known as Hyundai. Prior to the release of the Casper, the Venue made its premiere at the 2019 New York International Auto Show as Hyundai's smallest worldwide crossover. 
This model, which comes with cutting-edge linked mobility, is loaded with exceptional features, including completely connected Blue Link technology, fashionable design, great performance, and distinctive looks that change this SUV and elevate it to the top of the Hyundai Motor lineup.
The price for the Hyundai Venue ranges from Rs. 7.62 lakhs to Rs. 12.86 lakhs. There are 16 variations of Venue. The price for the top model at the venue is 12.86 lakh rupees. The cost of the Venue base model in diesel is Rs. 10.15 lakhs. While the automatic version of the Venue starts at Rs. 10.15 lakhs.
Key Highlights Of Hyundai Venue
| | |
| --- | --- |
| Mileage | 17.5 to 23.4 kmpl |
| Engine | 998 to 1493 cc |
| Fuel Type | Petrol & Diesel |
| Transmission | Manual, Clutchless Manual (IMT) & Automatic (DCT) |
| Seating Capacity | 5 Seater |
| Max Power (bhp@rpm) | 118.41bhp@6000rpm |
| Fuel Tank Capacity | 45.0 |
| Max Torque (nm@rpm) | 172Nm@1500-4000rpm |
Sample Premium Illustration Of Hyundai Venue Car Insurance
| | | | | | |
| --- | --- | --- | --- | --- | --- |
| City & RTO | Fuel Type | Registration Year | IDV | Add-Ons | Premium Amount |
| Delhi (DL3) | Diesel (1.4 CRDi Dual Tone (1396 cc)) | 2010 | Rs. 1,96,614 | Zero Depreciation | Rs. 4,726 |
| Bangalore (KA41) | Petrol (S 1.2 Petrol (1197 cc)) | 2012 | Rs. 1,29,600 | 24 X 7 Roadside Assistance | Rs. 4,097 |
| Ahmedabad (GJ27) | Diesel (E 1.4 CRDi (1396 cc)) | 2014 | Rs. 1,35,625 | 24 X 7 Roadside Assistance & Zero Depreciation | Rs. 9,830 |
| Hyderabad (AP09) | Petrol (SX 1.0 Petrol (998 cc)) | 2016 | Rs. 2,31,935 | 24 X 7 Roadside Assistance & Zero Depreciation | Rs. 6,457 |
| Chennai (TN13) | Diesel (SX (O) 1.5 DUAL TONE CRDI (1493 cc)) | 2018 | Rs. 3,88,058 | Zero Depreciation | Rs. 9,305 |
Inclusions & Exclusions Of Hyundai Venue Car Insurance
Here are the following expenses that are covered by Hyundai Venue Car Insurance:
Natural OR Man-Made Calamities: The insurance assures that the policyholder is financially secure against any occurrence, including rioting, vandalism, earthquakes, and fires.
Theft: If the policyholder's car is stolen, it might cause him psychological and financial stress. However, since theft is protected by the Hyundai Venue car insurance, there is no need to be concerned.
Third-Party Liability: This covers any financial obligations in the event that the insured's car hurts or damages someone else's person or property.
Accidental Coverage: A comprehensive Hyundai Venue car insurance comes in handy in situations where damage to the insured's car is unavoidable, preventing significant out-of-pocket costs.
Personal Accident Coverage: To cover the insured's medical needs in the event of an accident, the Hyundai Venue car insurance coverage also includes a personal accident cover of Rs. 15 lakhs.
Unfortunately, the plan does not cover the following expenses:
Regular wear and tear
Driving with an invalid driving license
Mechanical and electrical breakdown
Depreciation value
Driving under the influence of alcohol
Add-On Covers That Comes With Hyundai Venue Car Insurance
The following are some of the most important add-on covers that come with the Hyundai Venue car insurance policy:
Zero Depreciation: Zero Depreciation Cover is a supplementary add-on rider that allows the automobile owner to receive a greater claim amount while sharing the expense of depreciation of the vehicle and its components. It makes sure that the cost of depreciation is not subtracted while paying the claim amount at the time of claim settlement.
Roadside Assistance: In the event that a car breaks down in the middle of the road, this cover is a supplemental add-on cover that offers roadside help to the owner of the vehicle. With just a phone call, the insurance provider will set up a mechanic to examine the vehicle and offer assistance.
Engine Protection Cover: The Engine Protection rider insures against loss of or damage to the vehicle's engine as a result of issues like a mechanical or electrical failure, water intrusion, oil leakage, etc. It offers financial support for the replacement of a car's engine and related components.
No Claim Bonus Protection Cover: No Claim Bonus rider is used to safeguard the car owner's No Claim Bonus (NCB) even if they submit a claim during the duration of the policy. It allows the insured to lower his premium rate regardless of whether a claim is filed by employing NCB.
Consumables Add-On Cover: Consumables are extra add-on covers that are not included in a basic car insurance policy. It covers various consumable items that include air conditioner gas, grease, bearings, lubricants clip, engine oil, fuel filter, oil filter, washers, break oil, screw, nut and bolt, etc.
Purchasing Process Of Hyundai Venue Car Insurance
There are several online platforms where one can buy Hyundai Venue car insurance, but Probus Insurance has streamlined and made the procedure as simple as possible. The following steps must be taken in order to obtain the policy from the website of Probus Insurance:
Scroll up the page or go to the page's top.
Click "Car Insurance" from among the several insurance tabs.
Type the vehicle's license plate number in the box provided and select "Compare Quotes."
Fill in the remaining fields and click "Next" after choosing the car's model and year of registration.
A website containing details about the Hyundai Venue vehicle will appear. Once the necessary information has been provided, click "Information Is Accurate."
A list of several insurers and their premium costs will be displayed on the page. Choose a source of insurance and purchase coverage straight now.
Renewal Process Of Hyundai Venue Car Insurance
The insured must follow the below-mentioned steps in order to renew his Hyundai Venue car insurance policy with Probus Insurance:
Move the cursor up the page.
From the list of tabs at the top, choose "Renew Your Policy."
After clicking it, go to the drop-down box and choose "Motor Renewal."
Select an insurance company from the list that is presented.
After providing the necessary details, the insured must now pay online to renew the car insurance and complete the process.
Most frequent questions and answers about on Hyundai Venue Motors insurance