Renew in just 5 mins.
No Inspection.
No Paper Work
* Subject To Underwriting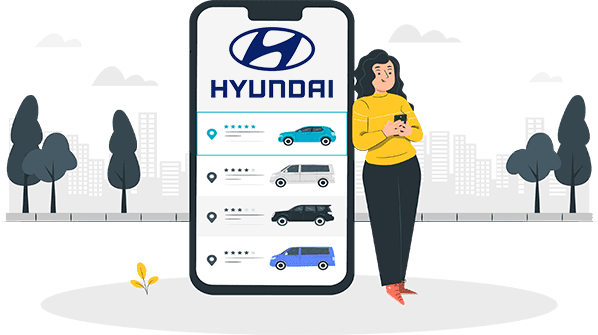 Compare

Car Insurance Plans
Hyundai Verna Car Insurance
Hyundai Motors India initially debuted Verna in 2015, taking the position of the Hyundai Accent vehicle. The car is well-liked for its attractive features, safe performance, and beautiful look. Currently, the vehicle is priced between Rs 9.44 lakh to Rs 15.53 lakh (ex-showroom Delhi) and offered in 4 variants- E, S+, SX and SX(O). With a boot space of 480 litres, up to 6 air bags, tyre pressure monitoring system, ventilated front seats and more, the vehicle is an amazing choice among the 5 seater vehicles in the market.
Here are the specifications of Hyundai Verna car.
| | |
| --- | --- |
| Categories | Specifications |
| Engine | 998 to 1497 cc |
| Estimated average service cost/year | INR 4113 |
| Transmission | Manual, Automatic (CVT), Automatic (TC) & Automatic (DCT) |
| Max Torque (nm@rpm) | 250Nm@1500-2750rpm |
| Fuel Type | Petrol & Diesel |
| Mileage | 17.7 to 25 kmpl |
| Max Power (bhp@rpm) | 113.45bhp@4000rpm |
| Body Type | Sedan |
Hyundai Verna Insurance Price (With Different Variants)
Name of the City & RTO
Select Car Fuel Type
Registration Year
IDV
Add-Ons (Zero Dep)
Premium
New Delhi – D1

Diesel

1.5 CRDi VGT (1493 cc)

2020
₹ 4,16,308
₹ 4,043
Rs. 4, 634
New Delhi – D1
Petrol- XXI_ABS (1599 cc)
2021 (Mar)
₹ 5,20,465
₹ 3,643
Rs. 1, 397
New Delhi – D1
Diesel- CRDI_ABS (1493 cc)
2021
₹5,73,840
₹ 3,730
Rs. 1, 470
Things Covered Under Car Insurance For Hyundai Verna
The legally required Third-Party Insurance Plan and the Own Damage cover are included in the Comprehensive Car Insurance Plan if you choose it to buy. The following is a list of what the Hyundai Verna insurance includes:
An accident causes damage to the Verna.
Losses to third parties resulting from accidents or damage to their property.
Natural disasters cause losses (storms, floods, cyclones, etc.).
Losses result from anthropogenic calamities (strikes, riots, vandalism, etc.).
Loss if the car is stolen or if the damage is too severe to be repaired.
Losses are brought on by fire or explosions.
Also, take note that either the Third-Party or the Comprehensive Insurance Plan must be acquired to obtain the required Personal Accident (PA) coverage. When buying or renewing the plan, they can purchase the PA cover.
Things Not Included Under Hyundai Verna Car Insurance
The Hyundai Verna is subject to the following losses or damages that are not protected by the Comprehensive Car Insurance Plan:
Operating a vehicle without a proper licence to do so (DL).
Operating a vehicle without current auto insurance.
Mechanical or electrical failure.
Operating a vehicle while intoxicated by alcohol or another substance.
Carelessly operating the car.
What Are The Add-on Covers of the Hyundai Verna Car Insurance?
Insurance companies offer add-ons to help policyholders out, given the list of exclusions. As a result, they can choose from a variety of add-ons for an additional cost.
Spare Car Clause: If the car needs to be repaired for longer than anticipated, it will pay for its travel costs. It is often known as Daily Allowance Benefit.
Tyre Cover: It will safeguard the tyres by enabling customers to file a claim if a tyre or tube needs to be repaired or replaced. Several scenarios are applicable, including impacts brought on by cuts, bursts, sidewall bulging, and flattening brought on by abrupt braking.
Automobile Accessories Cover: This coverage enables policyholders to claim the accessories on their car if they need to be repaired or replaced.
Personal Belonging Cover: It covers everything about the driver's goods, including laptops, smartphones, and other items.
NCB Protector: This add-on ensures that their car's no-claim bonus is preserved when a policyholder files a claim. With this feature, their discount will still apply even if they file a claim (only 2 allowed in a policy year).
Key and Lock Replacement: If their car key is broken or lost, Key and Lock Replacement can help them get a new one.
How To Buy Hyundai Verna Car Insurance?
Though there are several ways to buy car insurance for Verna online, selecting Probus Insurance for the same will save you time, give fast results and offer a smooth experience. 
Step #1: Select "Products" from the menu at the top of this page. When you choose "Motor Insurance," a "Car Insurance" option appears. Click it.
Step #2: Click "Compare Quotes" after providing the registration number of your vehicle.
Step #3: After submitting all the required information, you might have to decide which option is best for you.
Step #4: To acquire your Hyundai Verna car insurance, compare prices, weigh your options, and then complete an online transaction.
Renew Hyundai Verna Car Insurance
If a customer is looking to renew their Hyundai Verna Insurance, then they can easily do it via Probus Insurance.
You can "Renew Your Policy on the Top" option when you are on Probus Insurance's official website. Click "Motor Insurance" by hovering the cursor over it.
Next, choose the insurance based on the requirements and financial capabilities. You will then be taken to the website of the relevant insurance.
Customers could then be required to provide details like policy and vehicle registration numbers. Click to continue.
(The format for entering information about the car may vary from insurer to insurer.)
Make the payment via credit card or debit card. Your policy has been renewed.
Most frequent questions and answers about on Hyundai Verna Motors insurance