Renew in just 5 mins.
No Inspection.
No Paper Work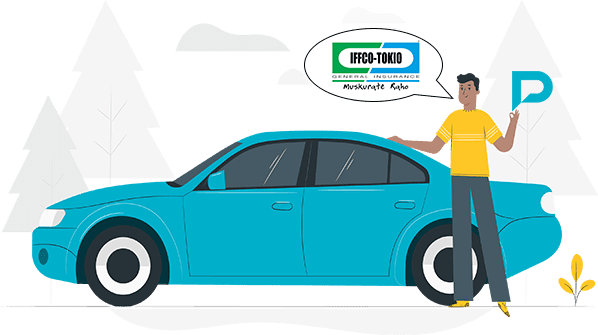 Compare

Car Insurance Plans
IFFCO Tokio Car Insurance Claim
Congratulations, you have purchased your car, great! But do you think that's enough? Well, not! Besides having a four-wheeler to cater to your daily needs, you need to have a car insurance policy. After an accident/loss/damage, a car insurance policyholder can make a claim to receive reimbursement/compensation for the expenses/damage suffered. When you have a car insurance policy, you can easily claim the unforeseen accident that happens.
IFFCO-Tokio General Insurance is a leading insurance solutions provider that offers a hassle-free car insurance claim process to the policyholders. Instead of expecting anything surprising to happen, it's a good idea to learn everything you can about IFFCO-claim Tokio's filing process before you buy car insurance. Moreover, the company has a dedicated 4300+ network garages that offer a seamless and convenient claim settlement process.
IFFCO Tokio Car Insurance Claim Process
You don't have to pay for your car's repairs up front with cashless claims. Register a claim and take your damaged vehicle to one of the insurer's network facilities for repair. Your insurance company will pay the garage directly. Please keep in mind that this service will only be accessible at your insurer's network garages.
Step 1: Inform the Company
If you, unfortunately, met with an accident, then you first need to inform the company and make sure you provide them with all the necessary details like time, location, etc. You can file a claim by calling their toll-free helpline at 1800 103 5499 or visiting their website.
Step 2: Getting the Confirmation
Once you are done informing the company, you'll get a claim number and confirmation that your claim settlement request has been processed. In addition, IFFCO-Tokio will notify you of the following actions that must be completed.
Step 3: Towing Service Arrangements
Towing Service for the damaged car can be requested from IFFCO Tokio, or you can arrange for your towing service to transport the insured vehicle to an IFFCO Tokio-approved cashless garage.
Step 4: Inspection and Repairs
Your car will be inspected by an insurance company surveyor who will determine the degree of the damage. Following the survey, your car will be fixed at the workshop. The investigator will provide you with a claim form.
Step 5: Claim Settlement
After the repairs and other formalities are completed, you will be responsible for paying your portion of the liabilities with the insurance company paying the rest directly to the workshop.
If you are unable to transport your car to one of the insurer's network garages for some reason, you can have it fixed at any of the garages. You will have to pay for the damages out of pocket first, and then your insurer will refund you. Original repair bills are required to file a refund claim.
Step 1: Make Contact with Your Insurer
To file a reimbursement claim, you will first need to notify IFFCO Tokio about the accident or mishap. You can contact the insurer via toll-free number 1800 103 5499 and request that the reimbursement claim settlement process be started. Alternatively, you can file a claim directly on their website.
Step 2: Provide a reference number.
After that, the company will contact you regarding the claim and then provide you with a claim number, as well as information about the documents that must be submitted and the next steps to follow. You need also to fill out the claim form, which you may get from their website.
Step 3: Bring Your Vehicle to a Garage
Take your car to the nearest mechanic for maintenance. A surveyor will be dispatched by the company to inspect your vehicle, after which it will be repaired at the workshop. If the accident is serious, the insurer will have a surveyor evaluate the vehicle before bringing it to the workshop.
Step 4: Documentation
After bringing your vehicle to the garage, you will then need to submit the completed and signed claim form, as well as any additional papers requested by the representative. Also, to achieve a final settlement of the claim amount, present all receipts/bills of repairs.
Step 5: Claim Amount Disbursal
You must for the entire cost of the repairs at the garage. However, after deducting the deductible and relevant depreciation, the corporation will refund you for the charges.
What All Documents Are Required To Make IFFCO Tokio Car Insurance Claim?
The following are the documents that you will need to make IFFCO Tokio Car Insurance Claim:
A claim form that has been fully completed and verified.
Certificate of Registration for a Car (RC)
Authentic driver's license
Authentic banknotes (in case of reimbursement)
(Note: If necessary, the insurer may request more papers.)
In Case of Theft
Listed below are the documents that you will require to claim in case of theft.
Immediately file an FIR with the nearest police station.
Make contact with IFFCO-Tokio and inform a representative about the theft. Make sure to include the following documents in your submission:
A copy of the vehicle's registration certificate is required.
Also, you need to attach a copy of the FIR.
A photocopy of your driver's licence
A copy of your auto insurance policy's first two pages
Address the letter to the RTO.
Things To Remember While Making a Car Insurance Claim
Here's the list of things that you need to keep in mind while making car insurance claim:
Never flee the scene of an accident.
One of the most important factors to consider that leads to their vehicle insurance claim being denied is fleeing the scene of the accident. According to experts, you should never escape the scene of an accident and should not move the vehicle from its current location. If your automobile has been damaged, it is best not to drive it any further because it may cause more damage and cause the insurance provider to discount or reject your claim.
Gather the evidence at the scene of the accident to back up your claim.
Taking pictures and gathering sufficient proof is one of the finest strategies to support your vehicle insurance claim. You can submit the images as legitimate proof while filling out the claim form. Experts also advise noting down the names and contact information of any witnesses. This will assist you during the investigation and speed up the claims process.
Read the policy text carefully.
When you purchase an insurance policy, the insurance company provides you with a policy copy wording that includes the policy's contents and exclusions, as well as other information. You must read the policy paper to learn about the settlement's formalities and the documents you must submit in your case. Understanding the policy document will also help you determine the scope of your coverage.
Never conceal any information.
During an accident inquiry, persons frequently do not tell all of the specifics of the accident or try to conceal some details. Your claim may be refused due to confusing facts, or your insurance may be invalidated, if you don't speak the truth.
Do not sign any claim-related documents impulsively.
Make sure you properly research the policy document before filing a claim to learn about the coverage's features and limitations. Also, you should never sign any document without first seeking legal guidance from a professional, and you should always double-check the insurance company's estimated value of the damage.