Renew in just 5 mins.
No Inspection.
No Paper Work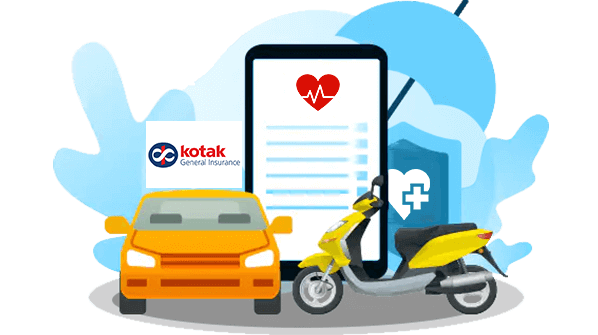 Compare

Car Insurance Plans
Kotak Mahindra Comprehensive Car Insurance Policy
It is extremely crucial to choose the right kind of car insurance in India. In fact, it is mandated by law to carry at least third-party car insurance coverage. Without having one, the individuals can face the danger of incurring traffic violation fines and perhaps their license suspended. However, standalone third-party car insurance comes with limited coverage. This makes buying comprehensive car insurance essential for the complete protection of the vehicle. Unlike third-party car insurance, comprehensive car insurance guarantees complete coverage for the policyholders' car by offering financial support for pricey repairs, thus improving their peace of mind and easing their worry about their cars.
So, if you are planning to buy a new car or have already bought one, make sure to secure it with suitable comprehensive car insurance, such as Kotak Mahindra Comprehensive Car Insurance (which can be a good option), over third-party car insurance. 
Kotak Mahindra Comprehensive Car Insurance is an agreement between Kotak Mahindra and the policyholder, which claims to offer protection for the policyholder's car in case of damages and losses to it. It offers maximum protection against road accidents, theft, fire, natural disasters, man-made disasters, and so on. 
The insurance, which is also known as 'Kotak Car Secure', is specifically designed in a flexible manner to meet the requirements of various customers. One can choose from a variety of add-ons to further safeguard their precious possession. Even the claim process is done with jet speed, as claimed by the company.
Features & Benefits Of Kotak Mahindra Comprehensive Car Insurance
The Comprehensive Car Insurance by Kotak Mahindra has various salient features. Some of them are discussed below!
Instant Purchase With Zero Paper-Work:
The insurance can be purchased from the company with little to zero paperwork. Anyone can buy the insurance online and all the documents and transactions are digitally approved by the company with ultra-convenience.
Third-Party Coverage:
The insurance provides all-around coverage for third-party financial liabilities occurring due to road mishaps. It protects the policyholders in case they unintentionally damage someone or something on the road. By doing this, they can be sure that they won't have to spend a fortune in these circumstances.
4000+ Cashless Garages:
The company has joined hands with over 4000 cashless garages across the nation where the policyholders can avail of cashless services. These network garages leave no stone unturned to make the claim settlement process hassle-free, quick, and convenient.
Up To 50% NCB (No Claim Bonus):
NCB, in the context of car insurance, is a benefit given to policyholders by insurance providers if they choose not to register. For each year without a claim under the Kotak Mahindra Comprehensive Car Insurance, NCB enables the policyholder to receive up to 50% savings on the renewal cost of their car insurance. 
Cover Damages Done To The Car:
The comprehensive car also covers the damages suffered by the insured car. In case the policyholder's car is damaged because of man-made or natural disasters, it will cover the losses that occurred.
In-Built Zero Depreciation Cover:
Various car insurance companies charge fees for raising a claim, which is known as depreciation cost. To avoid paying this fee during the claim settlement, policyholders select 'Zero Depreciation' add-on cover. However, there is no need to buy this cover separately from Kotak Mahindra Comprehensive Car Insurance. The insurance comes with an in-built 'Zero Depreciation Cover', thus making the entire claim process budget-friendly and convenient.
Coverage For Theft:
If the insured car is stolen or its parts are robbed, the insurance will cover the theft of the car. The company will pay the amount against the same, but only as per the IDV (Insured Declared Value) of the car.
Optional Add-On Benefits:
In case a policyholder wishes to further enhance his/her car insurance, he/she can do so by selecting any of the listed add-on covers:
Roadside assistance
Daily car allowance
Engine protection cover
Depreciation cover
Return to invoice
Consumables cover
Tyre protection cover
Loss of personal belonging
Super-Fast Claim Process:
The company ensures to settle its car insurance or any other claims with jet-speed. Once the policyholder raises his/her car insurance claim, the insurance provider will process and settle the claim as soon as possible.
Flexible Quote Generation:
The company also has an option for car insurance seekers to generate quotes as per the type of their vehicles. Once they go to the 'Car Insurance' page of the company's website and scroll down a bit, they will be able to generate quotes for entry segment, premium, or luxury cars, whichever is theirs!
Personal Accident Cover:
For the owner or the driver of the car, there is a personal accident cover available offering a sum insured of Rs. 15 lakhs. In case of accidental death or permanent total disability of the owner/driver due to an accident, the cover pays the sum insured amount as per the terms and conditions. 
Discounts:
The Comprehensive Car Insurance by Kotak Mahindra offers the following discounts to its policyholders:
Voluntary Deductible Discount:
If the policyholder chooses 'Voluntary Deductible' along with 'Compulsory Deductible', he/she can get an additional discount on his/her car insurance premium amount.
Anti-Theft Device Discount:
If the insured's car is equipped with an ARAI-approved (Automobile Research Association of India) anti-theft device, he/she will also be entitled to a discount.
AAI (Automobile Association of India) Members Discount:
In case the policyholder is an active member of AAI, he/she can avail of additional discounts.
What's Not Included Under Kotak Mahindra Comprehensive Car Insurance?
One must be aware of the exclusions of insurance in order to fully enjoy all their benefits. It's best to be well-informed when purchasing Kotak Mahindra Comprehensive Car Insurance, whether online or offline. The whole list of exclusions can be found below.
General aging of the car or normal wear and tear
Electrical or mechanical breakdown
Driving under the influence of intoxicating substances, such as drugs or alcohol
Driving without any valid license proof
Damages occurred due to nuclear risk or war
Any consequential losses (unless separately covered by add-ons).
Buying Process Of Kotak Mahindra Comprehensive Car Insurance
To buy the insurance, adhere to the following steps:
Go to the official website of Kotak Mahindra General Insurance.
On the top of the page, a list of insurance will be given. Select "Car".
Now fill in the details asked, such as car registration number, mobile number, and email ID, and then press the button "Get A Quick Quote".
A page will now be there asking for your personal details. Enter all the required information and proceed to the next step of getting a quote.
Make the payment online through any of the given methods and the insurance details will be sent to the registered mail address or phone number.
Claim Process Of Kotak Mahindra Comprehensive Car Insurance
One can file two types of claims against the insurance: CASHLESS & REIMBURSEMENT CLAIM. Their steps are as follows:
Claim Intimation:
The first step is to call the company at 1800 266 4545 (8:00 AM – 8:00 PM) and tell them about your claim along with the details of your insurance.
Claim Registration:
The company will then register your claim and provide you with a 'Claim Reference Number'.
Documents Submission:
You are now required to submit all the relevant documents, such as driving license, FIR copy, and more, as per the terms and conditions of the insurance.
Inspection:
Now, the company will organize an inspection that will be conducted within 24 hours (if a claim is intimated on a working day) or the next working day (if a claim is intimated on a public holiday or Sunday).
Car Repair & Claim Settlement:
For cashless settlement, once the cashless facility is confirmed, the car can now be repaired at a nearby network garage and the payment will be made directly to the garage by the insurance provider. 
However, with reimbursement settlement, the vehicle can first be repaired by the policyholder at any garage and then he/she needs to submit all bills and receipts along with insurance details to the company. Once everything is verified, Kotak Mahindra will reimburse the payment within 7 working days of document completion.
Renewal Process Of Kotak Mahindra Comprehensive Car Insurance
For renewing the Comprehensive Car Insurance by Kotak Mahindra, take a look at the below steps:
Go to the home page of the company's official website.
Click "Renewal" on the top banner of the page.
A renewal page will be displayed on the screen, asking for you to select your insurance product. Select "Kotak Car Secure (Comprehensive Policy)", then enter your policy number and mobile number, and then press "Submit".
You will be able to see the specifics of your current insurance after your policy number has been verified. You have the option to make changes or keep renewing the current insurance.
Once you pay the renewal premium, your coverage will be renewed immediately!
Frequently Asked Questions