Renew in just 5 mins.
No Inspection.
No Paper Work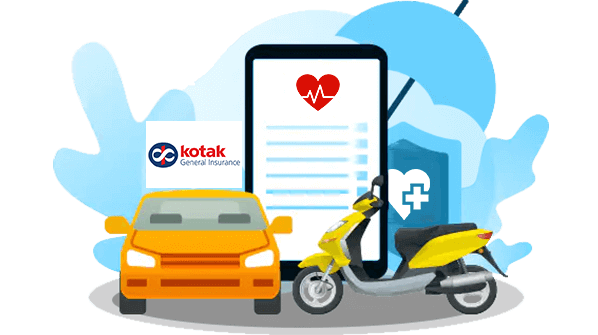 Compare

Car Insurance Plans
Kotak Mahindra Car Insurance Renewal
Like every other insurance in the market, car insurance has to be renewed on time to avoid it from getting void and protecting the policyholder against risks and dangers of roads. Since Kotak Mahindra is known for its customer-friendliness, its car renewal procedure is very simple and hassle-free; even a layman can do that if he/she has followed the right steps. So, here we are going to talk about every detail of the Kotak Mahindra Car Insurance renewal process. Have a look below.
How To Do Kotak Mahindra Car Insurance Renewal?
Follow the below-mentioned step-by-step guide to do the renewal of your car successfully under this company.
On the top of the homepage, there will be the 'Renewal' tab. Click on that.
On the landing page, you need to select the car insurance product. Do that correctly, and click on the 'Submit' option.
After that, for verification, you need to put either your existing policy number or your customer ID properly in the right place. Then, click on the 'Go' option that comes like an arrow sign.
Provide the other necessary details correctly, if any, and submit.
The renewal amount will be displayed before you. Check it properly, and then pay the premium amount by choosing your convenient mode of payment, available with the insurer.
You will receive a notification about the same in your registered mobile number and/or email ID.
Contact Insurer While Facing Problem With Kotak Mahindra Car Insurance Renewal
Though you should not face any problems while renewing your car insurance policy with this insurer if you have followed the above steps properly. Still, even if you face any issues, you can contact the company following any of the below methods.
You can get connected with the insurer by calling them using their toll free number 1800-266-4545, and talk about your renewal issue.
You can even directly write to the company using their official mail ID care@kotak.com stating your renewal related problem. In that case, you may have to provide additional information such as policy number, car registration number, etc.
On the official website of the company, there is the Complaint Registration option under the Customer Support section. There you can address your issue as well.
The company has a Get-In-Touch facility to resolve the problems of the customers that is available on their official website. You can take help of that too.
Apart from the above online methods, you can also visit one of the official branches of the company to address your renewal related problem. Their experienced customer executives will guide you thoroughly through the entire process. To locate the nearest branch of the company, you can use their branch locator facility available on their official website.
Frequently Asked Questions