Renew in just 5 mins.
No Inspection.
No Paper Work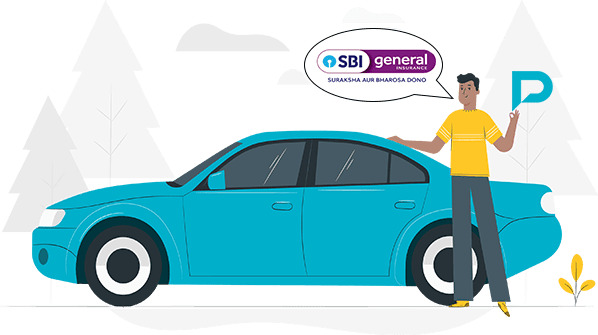 Kotak Mahindra Third-Party Car Insurance Policy
Kotak Mahindra Third-Party Car Insurance protects the policyholder against the losses/damages caused to any third-party property and life by his or her car. It aids in protecting you from financial obligations brought on by a car accident. 
Additionally, this fundamental coverage enables you to comply with the mandated ownership of a car insurance policy for your vehicle. You will know more about Kotak Mahindra Third-Party Car Insurance in this post.
How Does Kotak Mahindra Third-Party Car Insurance Policy Work?
This type of Kotak Mahindra Car Insurance policy is used to file a claim for compensation in the event that your covered vehicle is involved in an accident that results in bodily injury, property damage, or a third party's death. The costs can occasionally be prohibitive, and formal legal actions may follow. When it comes to meeting your obligations, this policy is helpful. 
Why Should You Invest In Kotak Mahindra Third-Party Car Insurance Policy?
The following are some advantages of purchasing a Kotak Mahindra Third-Party Car Insurance policy:
Ensures Legal & Financial Security: Customers who purchase Kotak Mahindra third-party car insurance are given monetary and legal security in the event of a catastrophe. It shields you from legal obligations to third parties and penalties for driving without insurance.
Doesn't Break Your Bank: The policy is the most basic kind of motor insurance protection that is provided by Kotak Mahindra. Everyone can afford to purchase and carry this policy because it offers basic and minimal coverage.
Gives You Peace Of Mind: The awareness that Kotak Mahindra's third-party car insurance policy will shield policyholders from financial ruin and legal trouble in the case of an accident, mishap, or police check, gives policyholders peace of mind.
Easy & Quick Purchase Option: It is simple to get Kotak Mahindra third-party car insurance coverage through the insurance provider's website or a local branch. Additionally, it can be renewed without too many hassles.
What's Included & Not Included Under Kotak Mahindra Third-Party Car Insurance Policy?
The plan provides coverage for the following expenses:
Any person's death or physical injury resulting from or causing an accident in which the insured vehicle is at fault.
Property damages to third parties brought on by the covered vehicle.
Coverage for loss of employment due to disability or death.
However, the plan does not cover the below-mentioned expenses:
Own harm to the insured and his car.
Accidental harm or loss to a third party occurring outside of a defined geographic area that entails liabilities.
Claim based on adherence to a contract.
Any harm or injury brought on to a third party when driving the personal car for business or other uses.
Loss or destruction to property, as well as obligations brought on by another loss.
Any obligation resulting from a war, a situation like a war, an invasion, a civil war, or the deployment of nuclear weapons.
Driving under the influence of drugs or alcohol.
Driving without a valid license.
How To Purchase Kotak Mahindra Third-Party Car Insurance Policy?
You may purchase third-party car insurance from Kotak Mahindra either through a broker or online. Information on the product will be given by the broker. If it satisfies your requirements, pay the premiums with a check and get the coverage.
If you're purchasing online, compare the other offered policies before choosing Kotak Mahindra four-wheeler third-party insurance. You can follow the below-mentioned steps for purchasing the policy online:
Pay a visit to the official website of the company.
Select the "Car Insurance" tab present at the top of the page.
Enter your car registration number, mobile number, and email ID, and then place your cursor on the "Get A Quick Quote" option.
You can now review your policy and then pay the premium online.
The insurer will mail you the policy after receiving payment of the premium and will send you an acknowledgment.
Frequently Asked Questions
The minimum policy term for a new car must be three years. Old car owners can choose between a long-term policy and a 1-year policy.
The answer is that old cars can also obtain long-term third-party liability coverage. Please be aware that new car owners must continue to first maintain 3-year-old insurance coverage on their vehicle.
If you have any questions, you can call the toll-free number 1800-266-4545 or send an email to care@kotak.com.