Renew in just 5 mins.
No Inspection.
No Paper Work
* Subject To Underwriting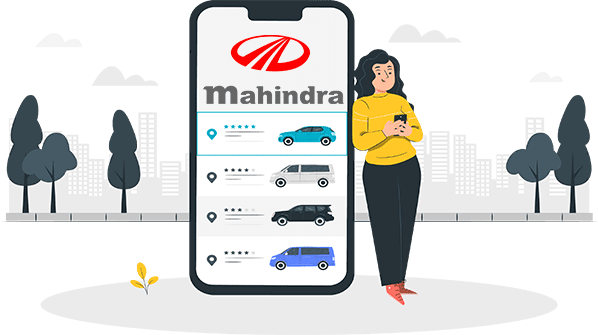 Compare

Car Insurance Plans
Mahindra Bolero Car Insurance
Mahindra & Mahindra Limited manufactured the 7/9-seater Mahindra Bolero as a sports utility vehicle, which is one of the best-selling utility vehicles in India. Bolero has been a favourite among almost all vehicle enthusiasts in the nation since its inception nearly 20 years ago. 
The car is one of the most popular options for urban Indian families with more than 8–10 members because of its enormous seating capacity. The cost of the 7-seater Mahindra Bolero is between Rs. 9.53 and Rs. 10.00 lakhs. The car is available in three variations—a 1493 cc, a BS6, and a single manual transmission. Read ahead to know more about Mahindra Bolero and its car insurance.
Key Features Of Mahindra Bolero
| | |
| --- | --- |
| Parameters | Description |
| Engine Displacement (cc) | 1493 |
| Max Power (bhp@rpm) | 74.96bhp@3600rpm |
| ARAI Mileage | 16.0 kmpl |
| No. Of Cylinder | 3 |
| Max Torque (nm@rpm) | 210nm@1600-2200rpm |
| City Mileage | 15.64 kmpl |
| Fuel Tank Capacity | 60.0 |
Price Details Of Mahindra Bolero Car Insurance
Name Of The City & RTO
Select Car Fuel Type
Registration Year
IDV
Add-Ons
Premium
Bangalore (KA02)
Diesel (B4 (1493 cc))
2010
Rs. 1,13,515
Zero Depreciation
Rs. 4,318
Delhi (DL2)
Diesel (B6 (1493 cc))
2012
Rs. 1,55,700

Zero Depreciation

24 X 7 Roadside Assistance

Rs. 5,431
Mumbai (MH02)
Diesel (B6 Opt (1493 cc))
2014
Rs. 1,62,000

Zero Depreciation

24 X 7 Roadside Assistance

Rs. 10,338
Ahmedabad (GJ01)
Diesel (DI AC 7 SEATER (2523 cc))
2015
Rs. 1,24,281

Zero Depreciation

24 X 7 Roadside Assistance

Rs. 13,222
Chennai (TN02)
Diesel (DI DX 8 SEATER (2498 cc))
2017
Rs. 1,25,061

Zero Depreciation

24 X 7 Roadside Assistance

Rs. 11,157
What's Included Under Mahindra Bolero Car Insurance?
The following expenses are covered under Mahindra Bolero Car Insurance:
Personal Accident Cover: Provides protection up to Rs. 15 lakhs in the event that an accident results in the death or incapacity of the owner-driver.
Theft: Coverage is provided up to the insured declared value stated in the policy in the event that the vehicle is stolen.
Accidents: The insured need not worry if his Bolero is damaged in an accident because he is covered by car insurance.
Natural & Man-Made Disasters: The insured vehicle is safeguarded from both natural and man-made disasters, including fire, earthquake, landslide, vandalism, terrorist attack, etc.
Third-Party Liability: Get coverage against a third party's death, dismemberment, or injury caused by the insured car.
What's Excluded Under Mahindra Bolero Car Insurance?
The car insurance policy for Mahindra Bolero does not cover the following expenses:
Electrical breakdown
Mechanical breakdown
Commercial use of private car
Consequential loss of car
Driving under influence of drugs/alcohol
Normal wear and tear
Driving without a valid driving license
Using the car for illegal purposes
Add-On Covers Available With Mahindra Bolero Car Insurance
Add-ons will help the car owner to cover his automobile at an extra charge, keeping his vehicle more insured against unforeseen circumstances.
Passenger Cover: In addition to the driver, Passenger Cover will help the vehicle safeguard the other occupants of the car.
Engine Protection: Engine Protection will pay for any harm that a natural disaster, such as a flood, does to the engine of the insured car. This add-on guards against damage to the critical components of the car's engine, including the crankshaft, piston, pins, cylinder, gearbox, and others.
Zero Depreciation Cover: With Mahindra Bolero insurance coverage, the policyholder has the option of adding the zero-depreciation add-on. This will protect his automobile against deterioration and guarantee that he receives full compensation in the event of a claim.
Roadside Assistance: If the insured's car breaks down in the middle of nowhere, roadside assistance will let him file an insurance claim for the repairs. It will make sure that the policyholder can get assistance with only one call if he ever becomes stranded due to mechanical failure.
Consumable Cover: It enables the insured to file a claim for components like nuts, bolts, oil, etc. that were changed out during the repair process.
Return Invoice Cover: The insurance company will provide the on-road value of the automobile if the insured car is lost or stolen thanks to the return to invoice add-on.
How To Zero In Mahindra Bolero Car Insurance?
There are several ways to purchase Mahindra Bolero car insurance online, but going with Probus Insurance will save you time, get you your results promptly, and make the process easier. To purchase the insurance plan from Probus Insurance, follow the instructions listed below:
Step 1: Select "Products" from the menu at the top of this page. When choosing "Motor Insurance," click on "Car Insurance".
Step 2: Next, enter the license plate number of the car and select "Compare Quotes."
Step 3: Now choose the best option after providing all the relevant information.
Step 4: Examine all of your options, evaluate rates, and then purchase Mahindra Bolero car insurance online.
Renewal Process Of Mahindra Bolero Car Insurance
Probus Insurance makes it simple for customers to renew their Mahindra Bolero car insurance.
At the top of this page, click "Renew Your Policy." Move the pointer over "Motor Insurance" and then click it.
Next, decide on the insurance depending on your needs and financial resources. The insured will then be taken to the appropriate insurance website after that.
Following that, customers might be asked for information, including their policy and vehicle registration numbers. Enter all the relevant details and continue the process.
Use a debit card or credit card to make the payment. The Mahindra Bolero car insurance policy can now be successfully renewed.
Frequently Asked Questions