Renew in just 5 mins.
No Inspection.
No Paper Work
* Subject To Underwriting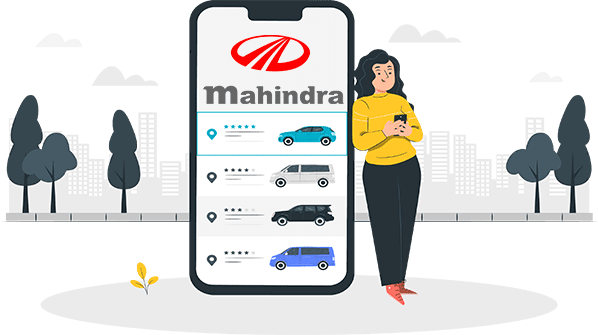 Compare

Car Insurance Plans
Mahindra Scorpio Car Insurance
Mahindra & Mahindra, an Indian automaker, has produced the Mahindra Scorpio, a mid-size SUV. It was the first Mahindra car created with the international market in mind. The internal integrated design and manufacturing team at Mahindra & Mahindra conceptualized and created the Scorpio.
The company launched a new variant Mahindra Scorpio N in 2022 that is considered as "big daddy of all SUVs". Over its predecessor, Scorpio N has undergone major exterior style upgrades. Furthermore, it appears to be clearly larger than the existing model. The Scorpio's mHawk engines are a tractable bunch and useful for commuting in cities. With the added convenience of the 7 seats, the spacious Scorpio may also serve admirably as a family vehicle. Mahindra charges between Rs. 13.54 lakhs to Rs. 18.62 lakhs for the current-generation Scorpio.
Key Specifications Of Mahindra Scorpio
| | |
| --- | --- |
| Parameters | Descriptions |
| Engine Displacement (cc) | 2523 |
| Seating Capacity | 7 |
| Max Torque (nm@rpm) | 200Nm@1400-2200rpm |
| ARAI Mileage | 15.4 kmpl |
| Max Power (bhp@rpm) | 75bhp@3200rpm |
| Boot Space (Litres) | 460 |
| Transmission Type | Manual/Automatic |
Mahindra Scorpio Price List With Different Variants
| | | | | | |
| --- | --- | --- | --- | --- | --- |
| Name Of The City & RTO | Select Car Fuel Type | Registration Year | IDV | Add-Ons | Premium |
| Delhi (DL 1) | Diesel (2WD AC 2179 cc) | 2013 | Rs. 1,69,858 | Zero Depreciation | Rs. 9,502 |
| Noida (UP 14) | Petrol (REV 116 1998 cc) | 2014 | Rs. 1,41,756 | Zero Depreciation | Rs. 15,867 |
| Bangalore (KA 01) | Diesel (ADVENTURE EDITION 4X2 (2179 cc)) | 2016 | Rs. 3,30,120 | Zero Depreciation | Rs. 16,993 |
| Pune (MH 14) | Diesel (Classic S (2184 cc)) | 2018 | Rs. 4,04663 | Zero Depreciation | Rs. 8,882 |
| Chennai (TN 02) | Diesel (DX 7 SEATER (2600 cc)) | 2020 | Rs. 3,10,140 | Zero Depreciation | Rs. 11,498 |
Inclusions Of Mahindra Scorpio Insurance
The car insurance policy for a Mahindra Scorpio will include the following coverages:
Third-party liabilities
Damage from a natural or man-made calamity
Accidental damages
Total loss i.e., a car damaged beyond repair
Fire or explosions
Theft of the insured car
Exclusions Under Mahindra Scorpio Insurance
Exclusions are restrictions imposed by the insurer under which the policyholder is not permitted to file a claim. The general exclusions of a Mahindra Scorpio insurance policy are listed below:
Intentional damage
Using the car for an illegal activity
Damage when the insurance policy was not active
Driving the car in an intoxicated state
Damage outside the geographical limit of the country
Damage due to not abiding by the traffic rules.
Add-On Covers Under Mahindra Scorpio Insurance
The policyholder may improve his Mahindra Scorpio car insurance coverage by purchasing some affordable add-on covers! A few of them are discussed below:
Zero Depreciation Cover: The insured can choose zero-depreciation protection if he wants to complete coverage for his car in the event of an accident without taking into account the depreciation rate.
Return To Invoice Cover: The insured's Mahindra Scorpio car insurance will provide the invoice value as compensation in the event of total loss or theft.
NCB Protection Cover: With NCB Protection Cover, the policyholder may maintain his No Claim Bonus for car insurance and submit a certain amount of claims without having his NCB reduced.
Personal Accident Cover: The personal accident cover provides coverage for any unintentional death, disfigurement, or harm to the owner-driver.
Purchasing Process Of Mahindra Scorpio Insurance
There are numerous methods to buy Mahindra Scorpio car insurance online, but choosing Probus Insurance will save you time, yield results quickly, and make your experience enjoyable. Follow the below-mentioned steps for purchasing the policy with Probus Insurance:
Step #1: From the menu at the top of this page, choose "Products." An option for "Car Insurance" shows when you select "Motor Insurance." Press it. 
Step #2: Enter the vehicle's registration number and then click "Compare Quotes."
Step #3: After supplying all the necessary information, customers might need to select the best option.
Step #4: Review all available alternatives, compare prices, and finally purchase Mahindra Scorpio car insurance online.
Renewal Process Of Mahindra Scorpio Insurance
Customers who want to renew their Mahindra Scorpio car insurance can do so with Probus Insurance with ease.
Tap on "Renew Your Policy" at the top of the page. Click "Motor Insurance" after moving the cursor over it.
Next, choose the insurance based on the needs and available funds. After that, the insured will be directed to the relevant insurance website.
Customers may then be prompted for details such as policy and car registration numbers. Click again to proceed.
Make the payment using a debit or credit card. Now the Mahindra Scorpio car insurance policy will be renewed successfully.
Frequently Asked Questions