Renew in just 5 mins.
No Inspection.
No Paper Work
* Subject To Underwriting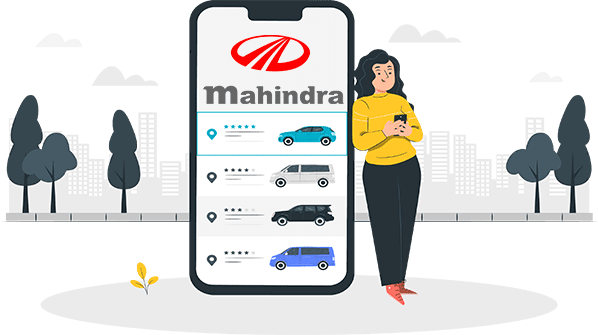 Compare

Car Insurance Plans
Mahindra XUV 300 Car Insurance
The Mahindra XUV300 is a high-end, potent SUV. With its plush interior and prize-winning engine, this sports automobile has the potential to provide a smooth and steady ride. This vehicle has a 1497 cc engine with a 20 km/l fuel economy that runs on both petrol and diesel. This five-seater vehicle is offered in 14 variations and 8 distinct colours, both with manual and automatic transmissions. The price for the Mahindra XUV300 ranges from 8.41 lakh to 14.07 lakh (Avg. ex-showroom). But first, you need to get financial protection for your XUV300.
Key Specifications of Mahindra XUV 300 Car
Here are the key specifications of Mahindra XUV 300 car:
| | |
| --- | --- |
| Parameters | Details |
| ARAI Mileage | 19.7 kmpl |
| Fuel Type | Diesel/Petrol |
| Max Torque (nm@rpm) | 300Nm@1500-2500rpm |
| City Mileage | 20.0 kmpl |
| Engine Displacement (cc) | 1497 |
| No. of cylinder | 4 |
| TransmissionType | Automatic/Manual |
| Body Type | SUV |
| Seating Capacity | 5 |
| Fuel Tank Capacity | 42.0 |
Mahindra XUV 300 Insurance Price (With Different Variants)
| | | | | | |
| --- | --- | --- | --- | --- | --- |
| Name of the City & RTO | Select Car Fuel Type | Registration Year | IDV | Add-Ons (Zero Dep) | Premium |
| New Delhi – D1 | Diesel – 1.5 W6 AMT (1497 cc) | 2021 | ₹6,51,420 | ₹ 4,234 | Rs. 1,925 |
| New Delhi – D1 | Petrol-1.2 W8 (Optional Pack Dual Tone) (1197 cc) | 2022 | ₹7,81,320 | ₹ 4,122 | Rs. 2, 708 |
| New Delhi – D1 | Petrol-W8 (Optional Pack) (1197 cc) | 2022 | ₹9,24,480 | ₹ 4, 622 | Rs. 2, 804 |
Inclusion Under Mahindra XUV 300 Car Insurance Policy
Mahindra XUV300 car insurance policy provides coverage against the following incidents to the policyholders:
Damage to the insured car brought on by man-made dangers
Natural disaster-related damage to the insured vehicle
Damage caused by accident to the insured vehicle
Theft-related whole or partial loss of the insured vehicle
Physical harm caused by the insured vehicle's collision with a third party.
A third party's car or its property being damaged by the insured vehicle
Third-party death or permanent disability brought on by the insured vehicle
Exclusion Under Mahindra XUV 300 Car Insurance Policy
Here is the list of things excluded under the Mahindra XUV 300 car insurance policy.
Damages resulting from normal wear and tear on the vehicle as well as harm from armed conflict, nuclear threats, etc.
50% of the cost of replacing consumables that need to be replaced due to normal wear and tear will be reimbursed.
Damages to the vehicle if and when it is driven outside the insurance policy's coverage area (i.e., outside India).
Damages to the vehicle caused by adventure sports, speed racing, etc., or by using your vehicle for business.
Damages brought on by careless driving, driving without a valid licence, or while under the influence of alcohol, drugs, or other intoxicants.
What are Add-ons Cover Under Mahindra XUV 300 Car Insurance Policy?
This might result in a slight increase in the cost of the XUV 300 insurance, but add-on riders provide various special benefits described below.
Consumables Cover
This add-on cover takes care of your car's engine oil, coolant, lubricants, and other consumables, so you don't have to. The expense of replenishing or replacing them is covered by this rider.
Roadside Support
Any emergency roadside assistance you might need, such as fuelling, tyre repair, towing, and other services, will be covered by this add-on rider.
No Claim Bonus Protection Cover
You can still keep your NCB with our XUV 300 insurance add-on cover even if you submit up to two claims in a calendar year.
Engine Safety
When there are oil leaks, water seepages, or other similar issues, the engine safeguards the rider and covers any necessary engine repairs.
How to Buy Mahindra XUV 300 Car Insurance?
Although there are many options to purchase Mahindra XUV 300 car insurance online, choosing Probus Insurance will provide a pleasant experience.
Step #1: From the menu at the top of this page, choose "Products." An option for "Car Insurance" shows when you select "Motor Insurance." Just click it.
Step #2: Next, you must enter the registration number of your car. Click "Compare Quotes" after that.
Step #3: After providing all the necessary information, you might need to choose the finest insurance company for you.
Step #4: To purchase your Mahindra XUV 300 auto insurance, assess your options, research pricing, and then conduct an online purchase.
How to Renew Your Mahindra XUV 300 Car Insurance Policy?
If a customer wants to renew their Mahindra XUV 300 Insurance, here are the steps they need to follow to renew their Mahindra XUV 300 car insurance policy.
When the cursor is over "Motor Insurance," click it after selecting "Renew Your Policy' at the top of this page.
Next, you must decide which insurance to purchase based on your needs and financial situation. You will then be sent to the appropriate insurance website.
Following that, customers could be asked for information such as policy and vehicle registration numbers. To continue, click. From one service provider to another, the website layout varies.
Lastly, you must use a debit or credit card to make the payment. Your insurance has been updated.
Frequently Asked Questions
Yes, every owner-driver is required to choose personal accident cover in addition to their auto insurance policy, regardless of whether they have comprehensive or third-party coverage.
No, you won't have to pay for the depreciation assessed on the car's damaged components. You will, however be responsible for the cost of the consumables used to repair the car.
Yes, a variety of factors, including the number of add-on coverage options chosen—for which the insurer charges an additional premium—have an impact on the price of auto insurance.