Renew in just 5 mins.
No Inspection.
No Paper Work
* Subject To Underwriting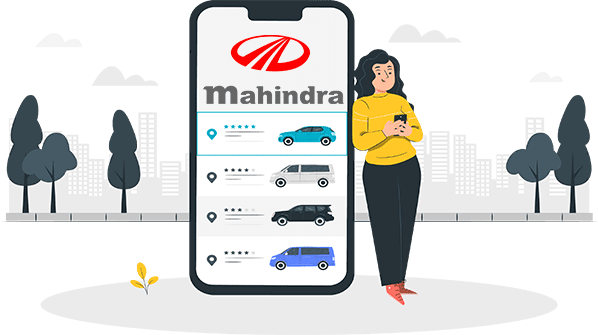 Compare

Car Insurance Plans
Mahindra XUV 700 Car Insurance
The Mahindra XUV700 is a sport-utility vehicle (SUV) focused on performance and built with top-notch features and safety. It is a sight to behold when driving thanks to the rugged exterior and modern design. The car's attractive design and tough exteriors give it a fantastic visual appeal, and it is a true joy to drive on Indian roads. The automobile is offered with either a gasoline or diesel engine. The price of XUV700 starts from Rs 13.45 lakh and goes up to Rs 25.48 lakh (ex-showroom Delhi).
But you must first buy an insurance policy to drive your XUV700 in India. You may compare the cost, features, and benefits of Mahindra XUV700 insurance quickly while purchasing a policy online.
Here are the specifications of your Mahindra XUV 700 car.
| | |
| --- | --- |
| Parameters | Details |
| City Mileage | 17.19 km |
| Engine Displacement (cc) | 2198 |
| Max Power (bhp@rpm) | 182.38bhp@3500rpm |
| Seating Capacity | 5, 7 |
| Fuel Tank Capacity | 60.0 |
| No. of cylinder | 4 |
| Max Torque (nm@rpm) | 450Nm@1750-2800rpm |
| Body Type | SUV |
| Fuel Type | Diesel/Petrol |
Mahindra XUV 700 Insurance Price (With Different Variants)
| | | | | | |
| --- | --- | --- | --- | --- | --- |
| Name of the City & RTO | Select Car Fuel Type | Registration Year | IDV | Add-Ons (Zero Dep) | Premium |
| New Delhi – D1 | Diesel – AX 3 Diesel AT 5 STR (2184 cc) | 2020 | ₹8,25,690 | ₹ 6,063 | Rs. 12, 269 |
| New Delhi – D1 | Petrol- AX 5 Petrol MT 5 STR (1997 cc)remove | 2022 | ₹10,83,029 | ₹ 4,549 | Rs. 8, 476 |
| New Delhi – D1 | AX 7 Petrol AT Luxury Pack 7 STR (1997 cc) | 2022 | ₹15,16,528 | ₹ 6,369 | Rs. 12,050 |
What is Included in Mahindra XUV 700 Car Insurance Policy?
Here are all the scenarios for which a comprehensive insurance policy would cover your XUV700.
Death or injury to a third party
Damage to third-party property
Accident-related damages to the insured XUV700
Explosion or fire damage to the XUV700
Calamities that resulted in natural or man-made disasters that damaged the XUV700
Destruction of the XUV700 (damaged beyond repair)
Added protection depending on auto insurance add-ons bought
Note: You have to add the PA, or Personal Accident, cover, to your primary insurance plan. The PA cover, which is required by law, protects the policyholder financially against permanent or temporary disability or death brought on by a car accident.
Things Excluded Under Mahindra XUV 700 Car Insurance Policy
Listed below are the things not included under Mahindra XUV 700 car insurance policy.
Usual wear and tear as a result of depreciation
The harm brought on by commercial use.
Damages incurred while driving without a licence.
Damages from testing for speed, durability, and racing activities.
Damages brought on by drunk driving.
Loss or damage incurred while operating a vehicle without a valid licence or when the insurance coverage is not in effect.
Using a car for nefarious purposes.
Injuries brought caused by contributory negligence
What are Add-on Covers of the Mahindra XUV 700 Insurance?
You should be aware of the add-on covers that you may get with your XUV 700 insurance policy in addition to the inclusions and exclusions. The cost of the XUV 700 insurance could somewhat rise as a result, however, add-on riders have many unique advantages that are detailed below.
Consumables Cover
Your car's engine oil, coolant, lubricants, and other consumables are all covered by this add-on cover, so you won't have to. This rider pays the cost of refilling or replacing them.
Roadside Assistance
This add-on rider will pay for any emergency roadside assistance you may require, including fueling, tyre repair, towing, and other services.
No Claim Bonus Protection Cover
With this XUV 700 insurance add-on cover, you can still maintain your NCB even if you file up to two claims in a given year.
Engine Protector
The engine protects the rider and pays for any engine repairs that could be necessary as a result of oil leaks, water seepage, or other similar problems.
How to Buy Mahindra XUV 700 Car Insurance?
Although there are many options to purchase Mahindra XUV 700 car insurance online, going with Probus Insurance will save you time, produce quick results, and provide a pleasant experience.
Step #1: Select "Products" from the menu at the top of this page. When you choose "Motor Insurance," a "Car Insurance" option appears. Click on it.
Step #2: Then, you will need to enter your vehicle registration number. After that, click on "Compare Quotes".
Step #3: After submitting all the required information, you might have to decide which insurance provider is best for you.
Step #4: To acquire your Mahindra XUV 700 car insurance, compare prices, weigh your options, and then complete an online transaction.
How To Renew Your Mahindra XUV 700 Car Insurance Policy?
If a customer is looking to renew their Mahindra XUV 700 Insurance, then they can easily do it via Probus Insurance. Here are the steps to renew the Mahindra XUV 700 car insurance policy.
Click on the "Renew Your Policy' at the top of this page. Afterwards, click on "Motor Insurance" by hovering the cursor over it.
After that, you are required to choose the insurance based on the requirements and financial capabilities. You will then be taken to the website of the relevant insurance.
Customers could then be required to provide details like policy and vehicle registration numbers. Click to continue. The layout of the website varies from one service provider to another.
Finally, you will need to make the payment via credit card or debit card. Your policy has been renewed.
Frequently Asked Questions