Renew in just 5 mins.
No Inspection.
No Paper Work
* Subject To Underwriting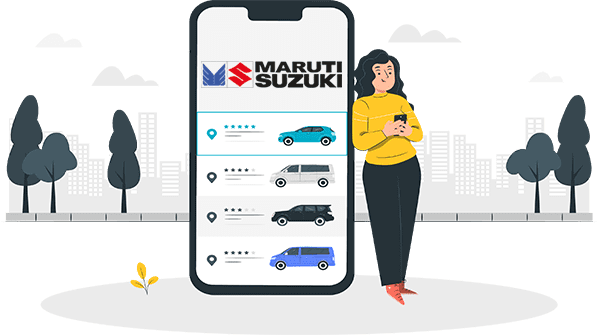 Compare

Car Insurance Plans
Maruti Suzuki Alto 800 Car Insurance
Maruti Alto 800 is one of the most popular hatchback vehicles in the subcompact car segment. It combines a comfortable ride with a fuel-efficient drive. It is available in gasoline and CNG versions. Like any other vehicle, your Maruti Alto 800 needs to be covered by an insurance policy. For your Maruti Alto 800, you have two options for auto insurance: you can purchase the bare minimum of third-party coverage or you can choose complete all-inclusive coverage. The Maruti Alto 800 costs between Rs. 3.39 Lakh to Rs. 5.03 Lakh. With its design and comfort, it can perfectly suit the needs of the consumer.
Key Specifications of Maruti Eeco
Here are the key specifications of Maruti Alto 800.
| | |
| --- | --- |
| Parameters | Details |
| ARAI Mileage | 31.59 km/kg |
| City Mileage | 25.0 km/kg |
| Engine Displacement (cc) | 796 |
| Max Power (bhp@rpm) | 40.36bhp@6000rpm |
| Seating Capacity | 4 |
| Max Torque (nm@rpm) | 60Nm@3500rpm |
| Fuel Tank Capacity | 60.0 |
| Transmission Type | Manual |
| Body Type | Hatchback |
| Secondary Fuel Type | Petrol |
Maruti Alto 800 Insurance Price
Name of the City & RTO
Select Car Fuel Type
Registration Year
IDV
Add-Ons (Zero Dep)

Premium

Amount

New Delhi – D1
Petrol- LX (796 cc)
2021
₹1,49,598
Rs. 598
Rs. 702
New Delhi – D1
CNG Retrofit STD (796 cc)
2018
₹1,39,650
Rs. 587
Rs. 2, 899
New Delhi – D1
AUTO TRANSMISSION ABS PETROL (1197 cc)
2018
₹1,16,250
Rs. 1, 088
Rs. 4, 226
Inclusions & Exclusions Under Maruti Alto 800 Car Insurance
Inclusions:
A car insurance plan is intended to make sure you have a safe and enjoyable journey. A complete insurance cover is provided by Maruti auto insurance for damage to your four-wheeler. Additionally, it covers losses to third parties brought on by your car. These are the advantages of insurance:
Third-Party Car Insurance
The purpose of a third-party car insurance policy is to shield the insured against third-party lawsuits when they are at fault. It only makes up for monetary obligations brought on by an accident. And according to the law, third-party insurance is a requirement. IRDAI announces and sets the premium for this kind of policy at the start of the fiscal year.
Personal Accident Cover
A personal accident insurance policy with a minimum limit of Rs. 15 lahks is required by the IRDAI to cover accidental death and disfigurement.
Comprehensive Car Insurance
A comprehensive car insurance policy pays for damages to your car that result from any of the following circumstances:
A collision or accident
Theft/burglary
Rebellions
Attacks
Fire/explosion
Negligent behavior
Floods
Cyclones
Lightning
When traveling by rail, road, etc.
Exclusions:
If the driver was discovered to have been under the influence of alcohol or drugs while driving, the insurance does not cover the damage to the insured vehicle.
Damage to the vehicle if the driver covered by the policy's Driver's Clause lacked a current driver's license.
Injury sustained during the car's transportation to the enlarged Geographical Area.
Damage incurred if the Alto 800 had not been properly protected or kept in an acceptable condition is not covered by insurance.
If the car is utilized for a purpose other than what is specified in the policy, the loss won't be covered by the insurance.
The policy will no longer be in effect if there is a war or conflict that resembles one in the nation. Damage brought on by radiation from nuclear weapons material is not covered by the policy.
What Are the Add-on Covers for Maruti Alto 800 Car Insurance Policy?
Here are some of the main add-on covers you can use to get added protection for your Maruti Alto 800:
Zero Depreciation Cover
Using the Zero Depreciation Cover add-on will guarantee that your insurance claim will be paid out at the full cost of your automobile, without taking depreciation into account.
Consumables Cover
Consumables like engine oil, coolant, brake oil, lubricants, etc. that need to be replaced or refilled are typically not covered. Consumables add-on coverage enables similar coverage to that provided by car insurance.
Roadside Assistance Cover
If you become trapped in the middle of the road, you can call for assistance from a mechanic by using roadside assistance. To service your car or tow it to the shop, they will come to you.
Return to Invoice Cover
If your vehicle is stolen or irreparably damaged, your insurance provider may reimburse you for the full amount (as shown on the invoice) that you paid when you purchased the vehicle.
How To Buy Your Maruti Alto 800 Car Insurance?
Follow these easy instructions to purchase Maruti Alto 800 car insurance quickly and easily.
Visit the Probus Insurance company website.
Next, you must locate the "Products" area at the top. Click "Car Insurance" under car insurance after hovering over it.
After entering your vehicle's registration number, click "Compare Quotes" to continue.
After entering all of your information, you may need to select the best option for your needs and financial situation.
Evaluate various quotes, select the best plan, and submit an online payment.
You have finally got your Maruti Alto 800 car insurance.
How To Renew your Maruti Alto 800 Car Insurance Policy?
If you are looking to renew your Maruti Alto 800 car Insurance, then you can easily do it via Probus Insurance. Let's discuss the steps that you need to follow.
Simply go to Probus Insurance's official website.
Next, you must select "Car Insurance," after which you will see a selection for "Probus Renewal."
You might have to enter information when you click on it, such as your policy number and car registration number.
The next step is to select "Load Details."
You might need to renew your insurance by completing the required online payment after successfully verifying the information.
Your car insurance has been renewed, congrats.
Frequently Asked Questions
Here is the list of the frequently asked questions related to the Maruti Alto car insurance policy.