Renew in just 5 mins.
No Inspection.
No Paper Work
* Subject To Underwriting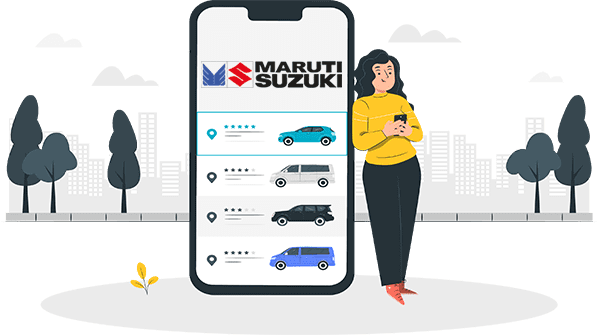 Compare

Car Insurance Plans
Maruti Suzuki Baleno Car Insurance
The Maruti Baleno has an expressive design that appeals to the urban-minded young and is one of the top-selling models of Maruti. An elaborately crafted front grille with chrome accents and the hatchback, specially crafted for a long and strong grip let you take every road head-on with confidence. This popular model has come up with 13 variants and 6 colors: Nexa Blue, Pearl Arctic White, Premium Autumn Orange, Metallic Premium Silver, Pearl Phoenix Red, and Metallic Magma Grey. The Baleno's new generation display audio comes with a large 9-inch HD touchscreen. It is highly functional with features such as smartphone linkage, voice recognition, and Bluetooth®* music playback. The seats have also been designed for maximum comfort. You're assured of a pleasant experience when on the go in the Baleno.
Key Specifications of Maruti Baleno
The car has come up with multiple key features that help you to glide on the road like butter with ultimate safety and security. The following table gives you a glimpse of the car.
Parameters
Specifications
Engine
1.5L
Displacement
1197 CC
Max power
81.80bhp@6000rpm
Max torque
113Nm@4200rpm
Fuel tank capacity
37 Litres
Exteriors

The headlamps and rear lamps have a 3-point signature style.
R16 tires make the driving experience pretty smooth.
The HEARTECT platform enhances your driving experience.
Ultrasonic sensors in the bumpers detect obstacles and issues audio-visual warning to the driver.
If Electronic Stability Programme (ESP) detects wheel slippage

Interiors

Android Auto and Apple CarPlay are available in the listed countries.
It is equipped with a combiner-type head-up display.
Bluetooth and voice recognition facilities are available.
The 360-degree view provides added safety and convenience.
Premium Calculation of Maruti Baleno Car Insurance
| | | | | |
| --- | --- | --- | --- | --- |
| Maruti Suzuki Baleno Variant | Fuel type | Insured Declared Value (IDV) | Estimated Zero Depreciation Price (Add-on Cover) | Estimated Maruti Suzuki Baleno Insurance Price (1-year Comprehensive Insurance Price) |
| Zeta 1.2 | Petrol | Rs. 4,17,854 | Rs. 2925 | Rs. 7555 |
| Sigma 1.3 | Diesel | Rs. 4,09,530 | Rs. 2867 | Rs. 7909 |
| Sigma 1.2 | Petrol | Rs. 3,09,181 | Rs. 2034 | Rs. 5787 |
| Delta 1.3 | Diesel | Rs. 4,52,662 | Rs. 3169 | Rs. 8741 |
| Delta | Petrol | Rs. 3,79,705 | Rs. 2658 | Rs. 6865 |
| DualJet Zeta | Petrol | Rs. 3,48,041 | Rs. 2291 | Rs. 6516 |
| CVT Delta 1.2 | Petrol | Rs. 4,16,500 | Rs. 2916 | Rs. 7530 |
| Alpha 1.2 | Petrol | Rs. 4,21,525 | Rs. 2775 | Rs. 7892 |
| Alpha 1.3 | Diesel | Rs. 5,36,305 | Rs. 3754 | Rs. 10357 |
Why Should Buy Car Insurance for Maruti Suzuki Baleno?
Car insurance is mandatory in most countries, including India, and is required by law. Car insurance protects the owner of the vehicle from financial losses that may occur as a result of an accident, theft, or other unexpected event. Additionally, car insurance can also protect other parties who may be involved in an accident with the insured vehicle.
By purchasing car insurance for a Maruti Suzuki Baleno, the owner of the vehicle is protecting themselves and their vehicle against potential financial losses. Additionally, many car insurance policies offer additional benefits such as roadside assistance and accidental coverage. It also provides Legal liability to third party damages and injuries.
Overall, purchasing car insurance for a Maruti Suzuki Baleno is important to protect one's self and their vehicle against potential financial losses and to comply with the law.
Inclusion Under Maruti Suzuki Baleno Car Insurance Coverage
Maruti Suzuki Baleno car insurance coverage typically includes the following:
Third-Party Liability Coverage: This coverage protects the policyholder against any legal liability arising from an accident involving the insured vehicle that causes injury or death to a third party, or damage to third-party property.
Own Damage Coverage: This coverage protects the policyholder against financial loss due to damage to the insured vehicle as a result of an accident, fire, theft, or natural disasters like floods, storms, and earthquakes.
Personal Accident Coverage: This coverage provides a fixed amount of money to the policyholder in the event of accidental death or permanent total disability of the driver or co-passenger(s) while traveling in, or getting in/out of, the insured vehicle.
Roadside Assistance: this coverage provide various service like towing and battery jumpstart, Emergency fuel delivery, tyre change, flat tyre repair, minor on-spot repairs, etc.
No Claim Bonus (NCB): If policyholder don't make any claim in the policy year, then he can get the discount in the premium for the next policy.
Please note that the coverage and benefits offered under a Maruti Suzuki Baleno car insurance policy may vary depending on the specific policy and insurance company. It's important to review the policy details and understand the terms and conditions of the coverage.
Add-on Covers for Maruti Baleno Car Insurance
With Maruti Baleno, you can get multiple options for add-on covers to choose from according to your convenience by paying a little extra premium amount. For your reference, only a few add-on covers are mentioned below.
Consumable add-on – Consumables cover add-on helps save money on small but frequent repairs that include crucial car parts like bolts, nuts, AC coolant, ball bearings, grease, etc. Since a standard comprehensive car insurance policy does not cover consumables, an add-on needs to be purchased at an additional cost.
Engine protector and gearbox add-on – It gives coverage for damages incurred by the engine of the car due to water ingression, leakage of lubricating oils, differential parts, or gearbox, or engine failure due to an attempt to start a wet engine. It is applicable only with standalone own damage or comprehensive insurance plans.
Personal belongings add-on – With this cover in place, the insurer will promise to cover losses arising due to damage or theft of the personal belongings from the insured car as per the terms and conditions of the policy. 
Key replacement add-on – It provides coverage for replacing the insured car's key if the key is lost, damaged, or stolen. It may also provide compensation for the cost incurred in repairing the lock set if the car lock gets damaged.
Return invoice cover add-on – This add-on allows the insured person to receive compensation equal to the car's invoice value which is the original value of the car when the car was purchased. The claim applies when a car is stolen or when it is beyond repair.
Zero depreciation add-on – With the help of this add-on cover, the insured person is not required to pay for the depreciation cost while making a claim. It is a popular add-on cover for car insurance plans. 
Roadside assistance add-on – It offers on-ground assistance for the insured vehicle if it gets broken down in the middle of the road. Be it a small accident, this add-on cover gives services such as jump-start, tire puncture, and so on.
Exclusions of Maruti Baleno Car Insurance
While a Maruti Baleno Insurance Plan can give you protection against all the potential road risks that your car is exposed to and third party liabilities, at the same time, it also comes up with certain exclusions for which it does not provide any cover. The key and general exclusions are as per the following.
Vehicle damages due to improper handling, irresponsible driving, driving outside the specific geographical area, or usage of the car outside the terms of the use will not be covered by the policy.
Regular wear and tear will be excluded from the policy.
If you drive the car under the influence of drugs, alcohol, or any other intoxicating substance that the Maruti Baleno Car Insurance will not cover.
Driving without a valid license and participating in an adventurous sport will be permanently excluded from the policy.
Any loss or damage happened due to nuclear perils or radioactive phenomena that will also fall under the category of exclusions.
Intentional accidents, self-inflicted injury, suicide, or suicide attempt will not be covered.
In case of an electrical and mechanical breakdown, the insurer will not take any liability to compensate.
Buying process of the Maruti Baleno Car Insurance
You can easily buy a Maruti Baleno Insurance Plan from the official website of Probus Insurance if you follow the below steps religiously.
On the top of the page, there will be the Products option. Click on that.
From the multiple options, select the Car Insurance option under the Motor Insurance tab.
After that, you have to put your car's registration number, and then click on the Compare Quotes option. 
Fill in the blanks with the required details if necessary. Be careful while you are putting in the credentials. 
On the basis of the details, the quotations will be shown before you from different insurers. 
Compare the quotes and benefits carefully. 
Once you are satisfied, you can buy the insurance plan for your Baleno by clicking on the company. 
Complete your purchase process by paying the premium amount and choosing one of the most convenient payment methods available there. 
Upon successful payment, you will receive a notification regarding the same in your registered mobile number or/and email ID. 
Save it for future reference, or you can take a printout for better convenience.
What is the renewal process for Maruti Baleno Car Insurance? 
With Probus Insurance, the renewal process has become very easy and smooth. You just have to follow the below steps properly to avail yourself of a successful renewal process. 
On the top of the page, there will be the Renew Your Policy tab. Click on that. 
Multiple options will pop up before you. From there, select your insurer.
You will be directed to a new page. 
There you have to put the car registration number or the policy number of your Maruti Baleno Car Insurance Plan. 
After that, click on the Renew option. 
The renewal amount will be displayed before you. Check the other details carefully.
If no discrepancy is found, pay the renewal amount by choosing the convenient method of payment. 
Once the payment is done successfully, you will receive a notification regarding the same in your registered mobile number and/or email ID. Save that for future reference.
Frequently Asked Questions