Renew in just 5 mins.
No Inspection.
No Paper Work
* Subject To Underwriting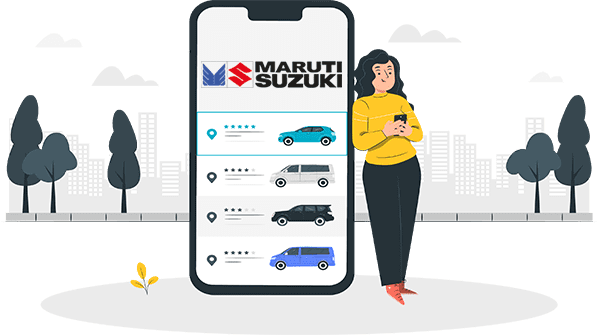 Compare

Car Insurance Plans
Maruti Suzuki Celerio Car Insurance
The Maruti Suzuki Celerio is a mid-range hatchback vehicle that the company produces. The car, which was first introduced in 2010, was created to meet the needs of city commuters regularly. It has a drive-by-wire K10B engine, which makes it a fuel-efficient vehicle. The Maruti Suzuki Celerio took up the 'Best Innovation' prize at the 2015 World Auto Forums Awards. The automobile, which also comes in petrol and CNG versions, is a great option for city commuters who want to make their regular transportation more affordable. The price of the Maruti Celerio starts at Rs. 5.25 Lakh and goes up to Rs. 7.00 Lakh. Let's take a look at Maruti Celerio's features and specs, as well as the coverage, add-ons, and insurance costs.
Key Specifications of Maruti Celerio
Here are the key specifications of Maruti Celerio car.
| | |
| --- | --- |
| Parameters | Details |
| Engine Displacement (cc) | 998 |
| ARAI Mileage | 26.0 kmpl |
| City Mileage | 19.02 kmpl |
| No. of cylinder | 3 |
| Transmission Type | Automatic |
| Fuel Tank Capacity | 32.0 |
| Seating Capacity | 5 |
| Boot Space (Litres) | 313 |
| Body Type | Hatchback |
Maruti Celerio Insurance Price
| | | | | | |
| --- | --- | --- | --- | --- | --- |
| Name of the City & RTO | Select Car Fuel Type | Registration Year | IDV | Add-Ons (Zero Dep) | Premium |
| New Delhi – D1 | VXI (998 cc)- Petrol | 2020 | ₹2,32,373 | ₹ 1,859 | Rs. 3, 219 |
| New Delhi – D1 | LXI AMT (998 cc) CNG | 2018 | ₹1,54,499 | Rs. 2, 008 | Rs. 3, 299 |
| New Delhi – D1 | ZXI (998 cc) | 2018 | ₹1,54,781 | ₹ 1,449 | Rs. 3,070 |
Inclusions & Exclusions Under Maruti Celerio Car Insurance
Inclusion:
Talking about inclusions, here are the things that are covered under the Maruti Celerio car insurance policy.
Accidents
Accidents can be unpredictable. Don't worry if the car sustains damage from an accident; the insurance will cover it.
Theft
Coverage is provided up to the insured declared value stated in the policy in the event that the vehicle is stolen.
Calamities (both natural and man-made)
The policyholder's vehicle is safeguarded from both natural and man-made disasters, including fire, earthquake, landslide, vandalism, terrorist attack, etc.
Personal Accident
It protects up to Rs. 15 lakhs if an accident results in the owner-death driver or incapacity.
Third-Party Liability
Obtain insurance against damage the insured car may do that results in a third party's death, incapacity, or harm.
Exclusions:
Listed below are the things excluded under the Maruti Celerio car insurance policy.
The car breaking down mechanically or electrically.
Tyre damage to the vehicle
The car becomes damaged while a customer is driving without a license.
If any policyholder is discovered operating their Celerio vehicle while under the influence of alcohol or drugs, it will not pay for any damages or losses incurred.
It won't pay for any losses or harm brought on by utilizing the Celerio car for unlawful or racing purposes.
Damage brought on by traveling outside the local area.
Loss or damage brought on by nuclear conflict.
If the Celerio car was utilized for business purposes, it won't be covered for any loss or damage.
Popular Add-on Covers For Maruti Celerio Car Insurance
If a customer wishes to incorporate the exclusions in their Celerio car insurance policy, insurance companies offer additional accessories. As a result, they have the option to opt for such add-ons at an additional fee.
For car owners who live in places that frequently experience severe rain and flooding, Engine Protection is a useful accessory. It covers the costs of repairing the car's engine for damage brought on by submersion.
Tyre Cover will safeguard the tires on the automobile, enabling them to file a claim in the event that a tube or tire needs to be repaired or replaced. Any of the following situations allows for a claim: cuts, bursts, flattening brought on by hard braking, etc.
If the car needs to be repaired for a longer period than expected, the Spare Car Clause will pay for their daily travel costs. It is most commonly known as the Daily Allowance Benefit.
Car Accessories Cover guarantees that the customer may claim their car's accessories if these items need to be repaired or replaced.
If a Celerio car becomes stopped in the middle of the road, Roadside Assistance Cover enables the customer to obtain emergency roadside assistance. Some of these services include help with gasoline, towing, changing flat tires, performing basic repairs on-site, etc.
If a customer files a total loss claim, Return to Invoice enables them to get the invoice value of their Celerio car as the claim amount rather than the market value of the vehicle.
Whether or not a customer made a claim in the prior policy year, No Claim Bonus Protection enables them to keep the No Claim Bonus (NCB) percentage they earned on their Maruti Suzuki insurance in any situation.
How To Purchase Maruti Celerio Car Insurance?
To acquire the Maruti Celerio comprehensive car insurance plan online from the official Probus Insurance website, follow the methods indicated below.
Go to the official website of Probus Insurance.
The "Products" section is then found at the top. When you click on "Motor Insurance," you will find an option for "Car Insurance." Finally, click it.
After entering the vehicle's registration number, click "Compare Quotes."
Once you've entered all the necessary data, you might need to select the best choice for you.
Compare rates, choose the best option, and make an online payment.
Renew Maruti Celerio Car Insurance policy Instantly
The Maruti Celerio car insurance may be easily renewed online thanks to Probus Insurance. Simply scroll up until you see the form in the top right corner of this page. It's easy to follow the form stages shown below:
Step #1: Simply visit the official website of Probus Insurance.
Step #2: A "Renew Your Policy" option will be available at the top of the home page.
Step #3: By click on it, "Motor Renewal" will appear. After then, click on it.
Step #4: The next step is to choose the specific insurance. Once you've located the ideal insurer, don't hesitate to click on it.
Step #5: Type in your vehicle's licence plate number and click "Renew."
Step #6: If necessary, the policyholder may need to renew their policy after they have confirmed the information. They may easily do this by making an online payment using a debit card, credit card, or even UPIs.
Step #7: Download the renewed policy. 
Frequently Asked Questions
Here is the list of the frequently asked questions related to Maruti Celerio car insurance policy.