Renew in just 5 mins.
No Inspection.
No Paper Work
* Subject To Underwriting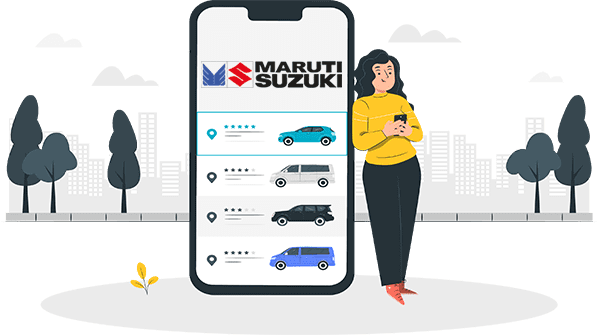 Compare

Car Insurance Plans
Maruti Suzuki Ignis Car Insurance
The Maruti Suzuki Ignis is a specially designed car made by India's leading car manufacturer, and it is unlike any other car one has ever seen. The Ignis not only has remarkable features and a stylish appearance, but it also provides a sufficient level of driving comfort. 
The 2019 Maruti Suzuki Ignis now gets a brand-new chrome grille, a redesigned bumper, and beefier skid plates. These changes have improved the car's overall appearance. The car has been around for a while and has attracted its own group of devoted customers. Maruti Ignis's pricing ranges from Rs. 5.35 lakhs to Rs. 7.72 lakhs.
Continue reading to know more about Ignis's key features, inclusions, exclusions, buying and renewal process, and various other aspects!
Key Specifications of Maruti Ignis
| | |
| --- | --- |
| ARAI Mileage | 20.89 Kmpl |
| No. Of Cylinder | 4 |
| Fuel Type | Petrol |
| Max Torque (nm@rpm) | 113Nm@4200rpm |
| Fuel Tank Capacity | 32.0 |
| Transmission Type | Automatic |
| Engine Displacement (cc) | 1197No |
| City Mileage | 14.65 kmpl |
| Seating Capacity | 5 |
| Max Power (bhp@rpm) | 81.80bhp@6000rpm |
| Body Type | Hatchback |
| Boot Space (Litres) | 260 |
Premium Details Of Maruti Ignis Insurance
| | | | | | |
| --- | --- | --- | --- | --- | --- |
| City & RTO | Fuel Type | Registration Year | IDV | Add-Ons | Premium Amount |
| Delhi (DL1) | Petrol Delta 1.2 AT (1197 cc) | 2015 | Rs. 1,21,975 | Zero Depreciation | Rs. 5,639 Onwards |
| Mumbai (MH01) | Diesel Alpha 1.3 AT (1248 cc) | 2018 | Rs. 2,52,945 | Zero Depreciation & Roadside Assistance | Rs. 6,478 Onwards |
| Bangalore (KA41) | Petrol Zeta 1.2 MT (1197cc) | 2020 | Rs. 2,89,800 | Roadside Assistance & Engine Protection Cover | Rs. 5,336 Onwards |
| Chennai (TN06) | Diesel Delta 1.3 MT (1248cc) | 2017 | Rs. 1,84,032 | NCB Protector | Rs. 5,212 Onwards |
| Jaipur (RJ41) | Petrol Alpha 1.2 AMT (1197cc) | 2019 | Rs. 2,41,500 | NCB Protector | Rs. 6,932 Onwards |
Inclusions & Exclusions Of Maruti Ignis Car Insurance
The car insurance policy for Maruti Ignis covers the following expenses:
Accidental damages to third-party
Loss or damage due to fire, self-ignition, or lighting
Man-made disasters like riots, strikes, etc.
Loss or damage due to natural calamities, such as earthquakes, floods, etc.
Loss or damage due to theft, housebreaking, or burglary.
External accident damages
The following expenses are not covered under the Maruti Ignis car insurance policy:
Loss or damage due to civil war or nuclear attacks
Driving under the influence of drugs and alcohol
Driving without a valid license
Damaged occurred beyond specified geographical limits
Electrical or mechanical failure
Add-On Covers Of Maruti Ignis Car Insurance
Maruti Ignis car insurance comes with a variety of add-on covers that can be used by the insurance holder to enhance his/her policy. Let's take a look at a few of them!
Zero Depreciation Cover: The majority of the time, after an accident, the cost of depreciation and the replacement of new spare parts are covered by the car owner. However, to benefit from this protection together with the current insurance plan and have this expense reimbursed by the insurance provider, one must purchase the Nil or Zero Depreciation add-on. The Nil or Zero Depreciation cover pays for the repair and replacement of the vehicle's fiber, plastic, and rubber parts.
Roadside Assistance Cover: This cover helps when the car owner needs assistance while driving. The cover has various advantages, including on-site wheel repair, towing, or cab service to get the driver where he/she needs to go. Anyone who is stuck 500 kilometers or more from the city center will typically receive roadside assistance.
Pay-As-You-Drive (PAYD) Cover: The policyholder is qualified to receive a discount on the Maruti Ignis car insurance policy's Own Damage insurance premium if he purchases the PAYD add-on protection. Additionally, it gives the choice to add more miles to the base coverage by paying an additional cost.
Engine & Gearbox Protection Cover: The car's engine may frequently sustain additional damages as a result of the collision. Engine and Gearbox protection cover aids in the protection against harm resulting from that. For instance, the harm that could result from lubricating oil leaks or instances when water enters the engine as a result of natural disasters.
Tyre Protection Cover: Considering that modern tyres are expensive, purchasing tyre protection insurance makes perfect sense. In fact, a single run-flat tyre found on high-end vehicles can cost more than one lakh rupees! Additionally, tyre damage can happen when we least anticipate it and financially cannot afford it.
How To Purchase Maruti Ignis Car Insurance?
Although there are various online platforms from which one can buy Maruti Ignis car insurance, Probus Insurance has made the entire purchasing process quite simple and efficient. You need to follow the below-mentioned steps to purchase the policy with Probus Insurance:
Pay a visit to the official website of Probus Insurance.
On the home page, a variety of insurance tabs will be displayed. Place your cursor on "Car Insurance". 
Enter your vehicle registration number and then click on "Compare Quotes".
Now select your vehicle variant and vehicle registration year, fill in other details, and then click on "Next".
A page will be displayed showing the information about your Maruti Ignis car. Fill in the required details and then click on "Information Is Accurate".
Different insurers will be shown on the page along with their premium amounts. Now select the insurer from which you wish to buy the policy.
Make the payment online and your policy details will be sent to you on your registered contact details.
How To Renew Maruti Ignis Car Insurance?
In case you are looking to renew your Maruti Ignis car insurance policy with Probus Insurance, adhere to the following steps:
Simply go to Probus Insurance's official website.
On the homepage, look for "Renew Your Policy" on the top.
When you click on it, select "Motor Renewal" from the drop-down menu. 
The next step is to choose your specific insurer. 
Type in your registered mobile number/e-mail ID/policy number and click "Renew Now."
Now you need to renew your insurance by completing the required online payment after successfully verifying the information.
Frequently Asked Questions
Here is the list of the frequently asked questions related to Maruti Ignis car insurance policy.