Renew in just 5 mins.
No Inspection.
No Paper Work
* Subject To Underwriting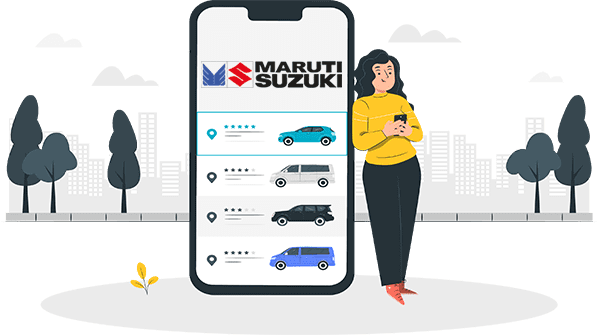 Compare

Car Insurance Plans
Maruti Suzuki Swift Car Insurance
In India, one of the most well-liked and well-equipped cars is the Swift. A super small hatchback, it has four doors that caters to every small family needs with ease. After the Alto and Dzire, it is the third-best-selling vehicle in India (for FY 2019). In May 2005, Maruti Suzuki introduced the Swift in India. To ensure Swift's compliance with the BS IV standards, its engine was changed in 2010. It is ideal for medium-sized families because it has roomy interiors and its price starts at Rs. 5.92 Lakh and goes upto Rs. 8.85 Lakh (Ex-showroom). The Maruti Swift's performance and power are excellent, in addition to being reasonably priced.
Key Specifications of Maruti Swift
Here are the key specifications of Maruti Suzuki Swift.
| | |
| --- | --- |
| Categories | Specifications |
| ARAI Mileage | 23.76 kmpl |
| No. of cylinder | 4 |
| Max Torque (nm@rpm) | 113Nm@4400rpm |
| Fuel Tank Capacity | 37.0 |
| Service Cost (Avg. of 5 years) | Rs.4,703 |
| Max Power (bhp@rpm) | 88.50bhp@6000rpm |
| Seating Capacity | 5 |
| City Mileage | 21.0 kmpl |
| Body Type | Hatchback |
Maruti Swift Insurance Price (With Different Variants)
Let's take a look at the premium prices for different variants of Maruti Swift.
Name of the City & RTO
Select Car Fuel Type
Registration Year
IDV
Add-Ons (Zero Dep)
Premium
New Delhi – D1

Diesel

LDI (1248 cc)

2021
₹2,74,491
Rs. 961
Rs. 1,802
New Delhi – D1
Petrol-LXI-(1298 cc)
2018 (Mar)
₹ ₹1,92,841
Rs. 1,696
Rs. 4, 113
New Delhi – D1
Petrol- ZXI NEW (1197 cc)
2015
₹ 1,88,440
–
Rs. 4, 132
What is Included Under Maruti Swift Car Insurance?
Here is the list of the things that are included under the Maruti Swift Car Insurance Policy.
The insurance coverage covers third-party liabilities. The insurance would cover any liability for any accident that resulted in property damage or injuries to third parties.
You can file a claim for damages under the policy if an accident results in damage to your car.
The coverage also covers injuries sustained by passengers who were in the vehicle at the time of the collision.
Car theft is covered by the policy, and losses may be reimbursed.
All losses resulting from vehicle transit-related damage are included.
Disasters caused by nature, such as landslides, earthquakes, and floods, are covered.
The policy covers losses brought on by fire, explosion, vandalism, and riots.
What are the Things Not Included Under Maruti Swift Car Insurance?
The following are the things that are excluded under Maruti Swift Car Insurance.
The coverage does not cover normal wear and tear on the vehicle.
Mechanical and electrical failures are not included.
The coverage does not cover the cost of consumables or the expenses associated with replacing or repairing accessories.
The policy does not provide coverage for nuclear warfare, invasion, or wars between enemies.
Driving the vehicle for racing or commercial purposes, driving while intoxicated or under the influence of drugs or alcohol, and driving the vehicle without a valid license are prohibited.
The driver is not responsible for deliberate damages.
Add-On Covers of Maruti Swift Car Insurance
These add-ons are provided as a financial safety net in case your car sustains damage from one of the elements covered by the add-on riders. You must pay a little higher premium if you choose the add-ons, but you will rest easy knowing you won't be responsible for those costs should the worst happen.
In an add-on called Zero Depreciation, the depreciation value is taken to be zero. This would guarantee that your policy provided complete bumper-to-bumper coverage.
24×7 Road Assistance is an add-on that offers support on the road in the event that the car has any issues. This covers tire replacement, towing, and breakdown maintenance.
NCB Protector is an add-on that makes sure you don't lose your car's no-claim bonus when you file a claim. With this addition, your discount will be maintained even if you submit a claim (only 2 allowed in a policy year).
If your automobile key is lost or damaged, Key and Lock Replacement will assist you in getting a replacement.
This consumables add-on offers coverage for consumable components not covered by the basic policy, including grease, air conditioner gas, break oil, lubricants clip, bearings, fuel filter, engine oil, oil filter, nut and bolt, screws, washers, etc.
How To Buy Your Maruti Swift Insurance?
If you are looking to Buy Maruti Swift Car Insurance, follow these simple steps and buy it without any hassle.
Go to the official website of Probus Insurance.
After that, you will need to find the "Products" section on the top. Hover over it and then click on "Car Insurance" under motor insurance.
After that, you are required to enter your vehicle registration number, and then click on "Compare Quotes".
After filling in all your details, you may need to choose the right one that caters to your needs and budget.
Compare different quotes, choose the right plan, and make the payment online.
Finally, you have successfully purchased your Maruti Swift car insurance.
How To Renew Maruti Swift Car Insurance Policy?
If you are looking to renew your Maruti Swift Insurance, then you can easily do it via Probus Insurance.
Simply visit the official website of Probus Insurance.
Then, you will need to click on "Car Insurance", then you will see an option for "Probus Renewal".
When you click on it, you may need to enter details like policy number and vehicle registration number.
After that, you will need to click on "Load Details".
After successfully confirming the details, you may need to renew your policy by making the payment online.
Congratulations- Your car policy has been renewed.
Frequently Asked Questions
Most frequent questions and answers about on Maruti Suzuki Swift Car insurance