Renew in just 5 mins.
No Inspection.
No Paper Work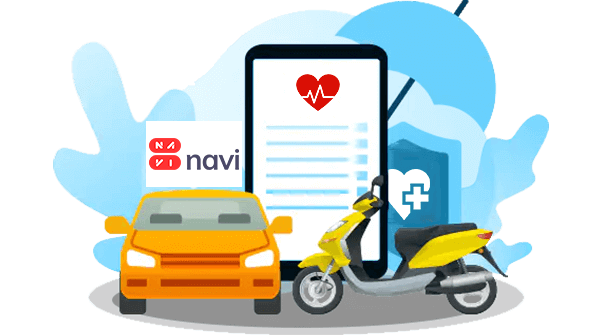 Compare

Car Insurance Plans
Navi Comprehensive Car Insurance
If you own a car, then as per the Motor Vehicle Act 1988, it is mandatory to have car insurance. If you think owning comprehensive car insurance is not important, then you are probably mistaken! Comprehensive Car insurance is intended to cover both the insured's vehicle and any damages to third parties. Because it covers losses or damages to one's own or another person's property or life, comprehensive car insurance is a better investment.
Since the market is flooded with a range of providers, choosing Navi Comprehensive Car Insurance (Private Car Package Insurance) could let you reap countless benefits. The comprehensive car insurance from Navi will cover your losses if your car is damaged or stolen. Additionally, if a third victim's property or someone else's body is damaged as a result of an accident caused by your vehicle, it will make up for the victim's loss. Additionally, Navi General will pay for any damage to your car that results from a flood or other natural or man-made disaster.
Read on to learn more about the Navi Comprehensive Car Insurance in detail!
Exploring Some Highlighting Features and Benefits of Navi Comprehensive Car Insurance
If you are still in a dilemma about whether to choose the Navi Comprehensive Car Insurance, let's discuss the features and benefits in detail!
Legal Liability:
You can protect yourself from any resulting legal liability with comprehensive car insurance from Navi General. The cost of all legal fees is covered by the Navi Comprehensive car insurance.
Roadside Assistance:
As the name implies, if your car breaks down, Navi General will provide you with 24-hour assistance as part of the Navi Comprehensive Car Insurance.
NCB Protection Add-on:
No claim bonus protection add-on cover is referred to as NCB. This is a benefit that the insurance provides if you don't file a claim during the insurance year. You are eligible for this bonus, which grows yearly, for each year without filing a claim. However, you will not be eligible for a bonus if a claim is made. However, even if you submit a claim, you will be eligible to receive the bonus if you have NCB protection add-on cover.
Return to Invoice:
This add-on helps to receive the invoice amount of the car in the event of an accident leading to complete damage to the vehicle or in the event of theft, thereby helping you to get the maximum claim amount.
Enhanced Owner Personal Accident:
If the owner-driver sustains harm while operating the insured vehicle or while travelling, compensation will be provided.
Consumables Cover:
If the insured vehicle is involved in an accident, this add-on will pay the costs associated with replacing consumables.
Accidental Hospitalisation:
The medical costs incurred in the event of hospitalisation as a result of an accident shall be covered.
Engine Protector:
As the name implies, this add-on pays for the costs of repairing and replacing the engine and its components after they are lost or damaged.
Key and Lock Replacement:
If the keys are stolen or lost after the car has been broken into, Navi General Insurance will pay for new locks and keys.
Personal Belonging Protector:
This insurance will cover any loss or damage to the owner's, driver's, or passengers' personal property while operating the insured vehicle.
Daily Conveyance Allowance:
If your car needs to be repaired because of damage, the Comprehensive Car Insurance from Navi must pay for daily transportation for a maximum of 15 days.
Exceptions Under the Comprehensive Car Insurance from Navi General
The following are the exclusions under the Navi General comprehensive Car Insurance:
Damage brought on by operating the insured car without a valid licence
Damages incurred as a result of collisions caused by drunken or drugged driving
Age-related depreciation or regular wear and tear of the vehicle Consequential Losses
War-related or nuclear-related damages
Violation of the vehicle's permitted uses, such as using a private car for a taxi
Interested in Buying Navi Comprehensive Car Insurance? Keep These Steps in Mind
While Navi Comprehensive Car Insurance is not available to buy via the company's website, you can purchase it through Probus Insurance. Let's discuss the steps.
Go to the top of the page and find the "Products" section. Hover over it and then click on "Car Insurance" under motor insurance.
The moment you click on it, a page will open, asking you to enter your "Enter Vehicle Registration Number" on the right-hand side. Then, click on "Compare Quotes".
After that, select the city and then click on "Next". Then, select your manufacturer and then your vehicle model. Once you are done selecting all the aspects, click again on the "Next" button.
In the next step, you will need to select your registration year and then specify your "Previous Policy Expiring Status".
Then, you will see the status of your Navi Comprehensive Car Insurance, including the amount that you need to pay.
In the subsequent step, you will need to make the payment using your credit card/debit card or via Net Banking.
Finally, you have successfully purchased your Navi Comprehensive Car Insurance.
Know The Claim Procedure of Navi Comprehensive Car Insurance
With Navi General Insurance, claims processing is incredibly easy and pleasant for the customer. By selecting from a wide network of cashless garages, you can take advantage of the cashless facility in the event of an accident claim. Below is a step-by-step process for your convenience.
To register a claim, you can follow the processes below:
Claim Registration:
Calling the Toll-Free Number 1800 123 0004 or
Contacting insurance.help@navi.com via email or
Using the customer portal on the www.naviinsurance.com website or using a mobile app
Walk straight into a branch.
Take Your Vehicle for Repair:
Filled out and properly signed by the insured, the claim form must also bear the CO's seal if the insured is a firm or corporation.
(Original required for verification and return) Copies of registration certificates
Copy of the driver's licence (original required for verification and return) from the moment of the accident
A police report or Panchnama is required in cases of partial theft, third-party property damage, death, bodily injury, riot damage, strike damage, and malicious acts.
If a claim exceeds Rs. 1 lakh, KYC documents (ID proof and address verification) are required.
Claim Settlement:
The surveyor will evaluate the loss and issue a work order after receiving the necessary pertinent claim documentation.
Once repairs are done, the surveyor may perform another inspection.
Upon receipt of the original/proforma repair bill, Navi General Insurance will issue a Claim Amount Confirmation (CAC).
By paying your share of the claim and/or the amount for any non-accidental work, you can take delivery of your car. When picking up your car, give the garage a letter of satisfaction signed by you (the CO's seal must be attached if the insured is a firm or corporation). After receiving the Surveyor report and all claim documents, Navi General will release the claim payment in the garage's favour within 7 working days.
Frequently Asked Questions
No, Navi General Insurance does not offer pay-as-you-drive car insurance.
Yes, you can switch to Navi Comprehensive Car Insurance without losing your NCB.
Yes, customers can find an array of discounts under the Navi Comprehensive Car Insurance, including loyalty discounts, direct discounts, discounts for direct purchases, discounts for family fleets, discounts for membership in car associations, and discounts for anti-theft devices. In addition to these, customers can gain a No Claim Bonus for each year they avoid filing a claim.