Renew in just 5 mins.
No Inspection.
No Paper Work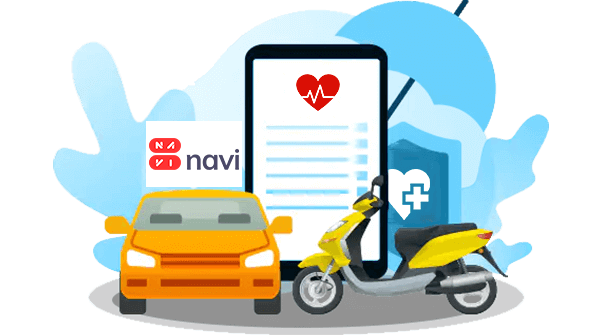 Compare

Car Insurance Plans
Navi Car Insurance Policy Download
If you have already purchased a Navi General car Insurance policy, then the insurance company promptly dispatches a copy of the policy document to the policyholder's address. It is imperative for policyholders to have their Navi General car insurance (also known as Navi Private Car Package Insurance Policy) documents on hand during both claim settlements and policy renewal procedures. Thoroughly scrutinizing the policy paperwork received from the insurance provider is advisable to ensure the absence of inaccuracies in the policy's components, as any discrepancies could potentially complicate the claim settlement process.
In India, possessing a car insurance plan is mandatory. However, individuals are no longer obligated to carry a physical copy of the policy; they now have the option to carry a digital or soft copy as valid proof of insurance. This shift toward electronic documentation offers greater convenience for policyholders, allowing them to present their insurance details in a digital format when required. 
Read on to learn more about the ways to download a Navi General Car insurance policy document.
List of the Things Included in the Navi General Car Insurance Policy Document
In the downloaded copy of the Navi General car insurance policy, customers can find pertinent details regarding the following:
Terms and conditions of the policy.
Car and personal information.
Process for resolving complaints.
Customer Support information
Steps To Download Navi General Car Insurance in 2 Minutes
The following are the steps to follow to download Navi General Car Insurance. 
Step 1: Open the official website of Navi.
Step 2: Now you will need to scroll down to the last and under the services section, you will see the "Verify Policy" button, click on it.
Step 3: In the next step, you will again need to scroll down a bit and you will see a blank, asking you to "Enter Policy Number". And then, make sure you enter the policy number correctly.
Step 4: Click on "Search". After that, all the details of your car insurance policy will be displayed. Finally, you can download your Navi General Car Insurance document. 
Are you still facing issues? If so, you can simply contact their customer support department by dialling their toll-free number 1800-123-0004.
How To Get a Hard Copy of Navi General Car Insurance?
Upon the acquisition of a policy, Navi General Insurance promptly dispatches a physical copy of the vehicle insurance policy paperwork to the policyholder's registered address. In the event that an insured individual has either purchased the policy online or misplaced the physical copy, a convenient solution is available. Policyholders can easily contact the insurance company's customer service team by dialling the toll-free number 1800-123-0004. By doing so, they can request a duplicate copy of the policy document to be sent, ensuring that they have the necessary documentation for reference or any future requirements.
If you are not satisfied with the response, you can reach out to them via other methods.
Via Email: insurance.help@navi.com
Registered & Corporate Address
Mumbai Branch:
Address: 601-602, Inizio, Cardinal Gracious Roa Chakala, Andheri (East), Mumbai – 400 059
New Delhi Branch:
Address: ITL – Twins Tower – 701, B-9, Netaji Subhash Place, New Delhi-110034
The support staff specialists at Navi General are highly experienced and trained, equipped to provide excellent guidance on obtaining a physical copy of your vehicle insurance documents promptly. If you find yourself in need, their expertise ensures effective assistance in acquiring the necessary paperwork efficiently.
Frequently Asked Questions
Listed below are the frequently asked questions related to Navi General Car Insurance.
All of the insurance policy's details are available for download by users, and they can easily rectify any incorrect information. The coverage, amount of the premium, date of renewal, and other details are included in the policy specifics.
If you would like a soft copy of the car insurance policy, you can download it from the internet or send an email to Navi Insurance.
No, an inspection is not required when purchasing Navi General car insurance online.