Renew in just 5 mins.
No Inspection.
No Paper Work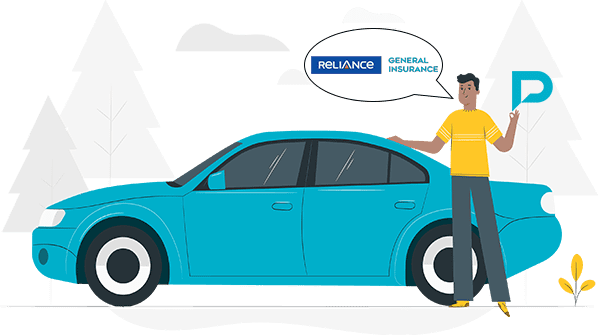 Compare

Car Insurance Plans
Reliance Comprehensive Car Insurance
The Reliance Comprehensive Car Insurance (also known as Reliance Car Insurance) is an all-around extensive motor plan that provides coverage for both third-party liabilities and own car damages or losses. In addition to theft and accidents, this car insurance policy also covers the losses arising out of natural calamities, lightning, collisions, man-made disasters, vandalism, explosions, and more. With the insurer's top-notch comprehensive car insurance policy, you can seamlessly drive through and increase your motor's lifespan.
Major Benefits of Comprehensive Car Insurance Of Reliance
Reliance General offers a rich suite of coverages with its well-defined policies for comprehensive car policy, helping you in different situations. Here is all that is covered by the insurance policy: 
Car Damages Due to Accidents:
In the case of severe accidents, extensive car damages can lead to financial liabilities. Comprehensive insurance or an own-damage cover can help you better deal with the issue.
Third-Party Liability Cover:
Unforeseen car accidents can result in third-party damages, including the person. The company's comprehensive insurance plan provides coverage against all these repair costs.
Damages by Man-Made Calamities or Fire Breakouts:
Damages caused by fire from explosions and lightning are well-covered by the comprehensive car insurance plan. Another significant coverage provided by the policy is the protection from financial liabilities for damages repairs due to terrorist attacks and riots.
Damages Caused by Natural Disasters:
This plan safeguards you and your car from the damages caused by natural disasters, including floods, earthquakes, or heavy rainfalls.
Car Theft:
This insurance policy helps you avail a reimbursement for your Insured Declared Value (IDV) in case of car theft. This is also applicable if your four-wheeler is damaged beyond repair.
Damages Incurred in Transit:
You may need comprehensive car insurance to get cover for any damages incurred while moving your car across different geographic locations via roadways, airways, waterways, or railways.
Personal Accident Cover for the Owner-Drivers:
A comprehensive car insurance policy of Reliance can help you get a Personal Accident Cover to deal with the monetary requirements during an accident where the owner-driver is hurt as it provides compensation up to Rs. 15 lakhs.
Add-on covers available with Reliance Comprehensive Car Insurance Insurance
This policy has come up with seven add-on covers that can be purchased by paying a little extra premium to strengthen your car policy. Among them, a few important mentions are as follows. 
Return to Invoice:
In case of a total loss or theft, a standard comprehensive car insurance policy pays the insured a sum equal to the IDV or Insured Declared Value. IDV is the maximum amount that the insurer will cover and is based on the current market value of the car. The current value of the car and the purchasing value of the car are different. The Return to Invoice add-on cover allows you to cover the difference between the IDV and the original price of the car.
Daily Allowance Benefit:
If your car is getting repaired in one of our network garages and stays there for more than 3 days, you can get a daily allowance covering the cost of your travel or commutation until the car is returned.
Engine Protection Cover:
With the Engine Protection Cover, you will stay guarded against the cost of repairing your engine or gearbox because of water ingression or leakage of the lubricating oil spilling into the engine. These events are not covered under a standard stand-alone or even comprehensive car insurance policy and can cause a major financial expense.
EMI Protection Cover:
If your car is being repaired in one of our network garages and is retained for more than 21 days, under this add-on cover, Reliance Car Insurance will pay for your EMI. Note that this add-on is applicable for 3 EMIs. Also, an EMI is paid out only if the car undergoes repair through a set of 21 days. The second EMI will be paid if the car is kept in the garage for 42 days and likewise.
Nil Depreciation Cover:
Depreciation is the wear and tear that happens over time due to usage. As time passes, the value of your car decreases, which reduces the insurance coverage amount. The Nil Depreciation Cover add-on provides the full cover without deducting the costs of depreciation. This add-on allows you to get the whole replacement value and not the depreciated value of the replaced parts.
General exclusions of Comprehensive Car Insurance offered by Reliance
Below mentioned are the damages that are not covered by this insurance policy:
Damages after driving without a proper driving license
A vehicle used outside India
Damages due to drunk driving
Ordinary wear and tear due to regular depreciation
Damages caused due to driver negligence
Commercial usage of a private vehicle
Damages due to crash testing and speed racing
Damages due to war or nuclear peril in the country
What is the Buying Process of Comprehensive Car Insurance of Reliance General?
One can buy this policy online by following the below easy steps.
Visit the official website of Reliance General Insurance.
On the extreme left side, there will be a form. Select the Car option.
Put the registration number of your car, mobile number, and email ID in the proper place, and click on the View Prices option.
Select the car policy, and fill in the other required details. Select add-on if you wish to purchase.
On the basis of the given details, the car insurance premium will be displayed on the screen.
Check the details again carefully. If satisfied, pay the premium amount online securely.
Download the policy document for better convenience.
Claim Procedure Offered by Reliance for Their Comprehensive Car Insurance
This company offers both cashless and reimbursement claim procedures. For a cashless claim, one has to repair his/her car in one of the network garages of the insurer. For the reimbursement process, you can repair your car at any garage of your choice. With Reliance Car Insurance, you can make a claim in three quick steps:
As soon as the accident happens, inform the insurer.
You can register your claim by making a video inspection using the Selfi App or you can call (022) 4890 3009 (Paid Number).
You will have to submit details and documents such as the registration number, policy number, car, model type, etc.
After submitting the documents, you will have to wait for the claim to be evaluated and approved. A surveyor will be appointed on behalf of the company to evaluate the claim.
You can check the progress of the process in the Selfi App.
If the insurer is satisfied, your claim will be approved.
After the claim is approved, it will be settled, that is, you will be covered for the loss or the damage that happened.
Renewal Process of Reliance Comprehensive Car Insurance
One can renew your car insurance policy either through the Selfi App, by visiting the Reliance General Insurance website, or by calling us at +91 22 4890 3009. Here are some quick steps to renew your car insurance online:
Go to the official webpage of Reliance General Insurance Company.
On the top of the homepage, there will be the Renew option.
Select the Motor Insurance tab, and select the Renew Car Insurance option.
Enter the registered mobile number to get the OTP, and put the OTP in the right place.
After that, enter the details of your car, such as the policy number of your existing policy, and check insurance policy renewal quotes.
Fill in and submit details such as name, email, car's registration number, insurance policy number, policy expiry, previous claim details, etc., if necessary.
If you have gone claim-free in the previous year, enter your No Claim Bonus.
After filling in the required details, check everything carefully.
If no discrepancy is found, make the premium payment, and your car insurance policy will be renewed.
Frequently Asked Questions
This is an add-on cover offered by Reliance General. In case of a Total loss, Constructive Total Loss, or Theft claims, Reliance Car Insurance provides an add-on of Total cover. This add-on cover indemnifies the policyholder for the amount spent on the registration fee, octroi, or any other fee levied by the government, like road tax, along with the insurance premium that has been paid out until the event of total loss or theft.
Here's a list of documents you should keep ready while making a claim.
Accident Damages:
Proof of Automobile Insurance – Policy / Cover Note copy
Copy of Registration Book, Tax Receipt (Original required for verification)
Copy of Motor Driving License (with original) of the person driving the vehicle at the material time.
Police Panchanama / FIR (In case of third-party property damage/death/body injury).
Estimate for repairer, where the vehicle is to be repaired
Repair bills and payment receipts after the job is completed
Any other document as required by the insurer
Theft Cases:
Original Certificate/Vehicle Policy Document
Original Registration Book, with Theft endorsement from concerned RTO, and tax payment receipt.
Previous Insurance Details
All the sets of keys/service booklets/Warranty card
Police Panchanama / FIR and final investigation report/JMFC report
Acknowledged copy of a letter addressed to RTO intimating theft and making vehicle "NON-USE"
Any other document as required by the insurer
Under this insurer, more than 8500 cashless garages are the there spread all over the country.