Renew in just 5 mins.
No Inspection.
No Paper Work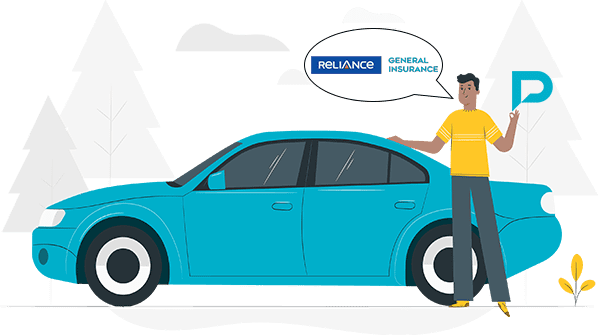 Compare

Car Insurance Plans
Reliance Car Insurance Renewal
No matter how good a driver you are, you aren't the only one who drives on the roads. And the mistakes of others can also entangle you in an accident. Though it is incredibly important for you to have a dedicated car insurance policy, you cannot overlook renewing it too. Besides providing hassle-free and convenient renewal options online, the Reliance General Insurance sends constant reminders to renew car insurance on time. Let's find out more about them.
How To Renew Your Reliance Car Insurance Policy?
If you are looking to renew your Reliance car insurance policy, you may then need to follow these below-mentioned steps.
Go to the official website of Reliance General.
On the home page, you will see a "Renew" button on the status bar. Hover over it and click on "Renew Car Insurance".
After that, you will be directed to a page wherein you will see two options to renew your Reliance General car insurance policy.
In the first option, you can renew it via mobile number by entering your registered mobile number, and then you need to click on send OTP. An OTP will be sent to your mobile number. Simply note it and enter it in the box to view the details and renew it to enjoy the associated benefits.
Alternatively, on the same page, you will see the option to renew it with your policy number.
All you need to do is simply enter your policy/proposal number and enter your vehicle details, either Registration number/Engine Number/Chassis Number.
Click on "Go".
You can pay for the car insurance renewal using a debit card, credit card, net banking, or NEFT through their payment channel. Within a few days of making the final payment, you will receive the policy in your mailbox.
What Benefits Will You Get After Your Reliance Car Insurance Renewal?
The following are the potential benefits that you will receive from Reliance car insurance renewal.
1. No Claim Bonus: If you renew your policy on time, you are likely to receive NCB benefits. No Claim Bonus is a reward offered to car owners for not claiming in the previous year but you will get the benefit only if you consistently renew your policy on time. This discount can be collected over time since it increases with each claim-free year, starting from 0% and up to a maximum of 50% after five claim-free years. This discount increases with the number of years increasing without making any claim.
2. AAI Benefit: One of the biggest benefits of renewing your Reliance General car insurance is that you will get the AAI benefit. AAI stands for automobile association of India through which you can avail discounts & benefits if you are a member of the AAI club under Reliance General car insurance.
3. Anti-theft: There is no arguing with the fact that Anti-theft devices are tools installed to protect the vehicle from theft. You can get a discount if your automobile has anti-theft equipment because it improves the vehicle's security and lowers the insurance price.
4. Voluntary Deductible: ​​​ This is a cost-effective alternative that allows you to reduce your premium by agreeing to pay a small fee while submitting a claim. Choosing this option lowers premiums; as a result, the bigger the deductible, the lower your auto insurance cost.
Is it possible to renew Reliance Car Insurance after the due date?
If you've missed the deadline for renewing your coverage, don't worry. You can still renew it by submitting a request to the local branch and continue to receive benefits when the insurer has completed a check of your vehicle.