Renew in just 5 mins.
No Inspection.
No Paper Work
* Subject To Underwriting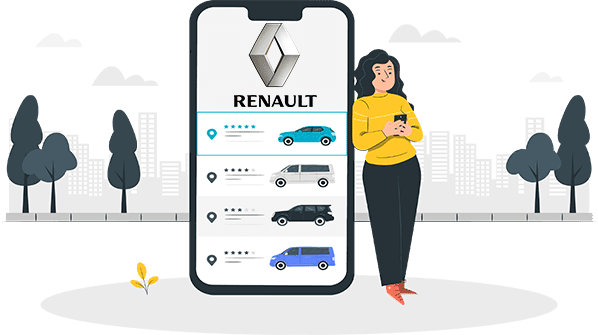 Compare

Car Insurance Plans
Renault Kiger Car Insurance
Renault Kiger, which is a subcompact crossover SUV designed and manufactured in India, is produced and sold by Renault. It was unveiled in January 2021, and from March 2021, it has been promoted. It is positioned underneath the Duster to occupy the sub-4 meter crossover SUV niche in India. 
Renault Kiger's pricing ranges from Rs. 6.50 lakhs to Rs. 11.23 lakhs. Renault Kiger is available in 19 variations; the base model is the RXE, and the most expensive one is the RXZ Turbo CVT DT, which costs Rs. 11.23 lakhs. Continue reading to know more about the key features of Renault Kiger and its insurance details.
Key Highlights Of Renault Kiger
| | |
| --- | --- |
| Parameters | Descriptions |
| Fuel Type | Petrol |
| Drive Type | Front Wheel Drive |
| Gearbox Type | Manual |
| Max. Power (PS) | 72@6250 |
| Max. Torque (Nm) | 96@3500 |
| No. Of Seats | 5 |
Premium Price Details Of Renault Kiger Car Insurance
| | | | | | |
| --- | --- | --- | --- | --- | --- |
| Name Of The City & RTO | Select Car Fuel Type | Registration Year | IDV | Add-Ons | Premium |
| Pune (MH14) | Petrol (RXL MT (999 cc)) | 2010 | Rs. 1,01,098 | Zero Depreciation | Rs. 2,939 |
| Thane (MH05) | Petrol (RXT 1.0 Turbo MT (999 cc)) | 2012 | Rs. 1,36,800 | Zero Depreciation | Rs. 3,028 |
| Delhi (DL3) | Petrol (RXT AMT (999 cc)) | 2016 | Rs. 1,85,063 | Zero Depreciation | Rs. 9,565 |
| Mumbai (MH43) | Petrol (RXE MT Dual Tone (999 cc)) | 2018 | Rs. 1,89,675 | Zero Depreciation | Rs. 4,321 |
| Ahmedabad (GJ27) | Petrol (RXT (O) Turbo CVT Dual Tone (999 cc)) | 2019 | Rs. 3,35,625 | Zero Depreciation | Rs. 5,524 |
What's Included Under Renault Kiger Car Insurance?
The following expenses are covered under Renault Kiger car insurance:
Theft: Coverage is provided up to the insured declared value included in the policy in the event that the vehicle is stolen.
Natural & Man-Made Calamities: Renault Kiger is secured against man-made and natural calamities like fire, landslide, earthquake, vandalism, terrorist attack, etc.
Third-Party Liability: Receive insurance against third-party death, disability, or harm caused by the insured vehicle.
Personal Accident Cover: Provides protection up to Rs. 15 lakhs in the event that an accident results in the death or disability of the owner-driver.
Accidental Damage: The insured does not need to worry if his car is damaged in an accident because he is covered by car insurance.
What's Excluded Under Renault Kiger Car Insurance?
Unfortunately, the Renault Kiger car insurance does not cover the following expenses:
Driving without a valid driving license
Consequential loss of car
Electrical breakdown
Mechanical breakdown
Normal wear and tear
Driving under influence of drugs/alcohol
Commercial use of private car
Using the car for illegal purposes.
Add-On Covers Of Renault Kiger Car Insurance
The insured can boost the protection of Renault Kiger with the following add-on covers:
Zero Depreciation Cover: This add-on cover, also referred to as "bumper-to-bumper" insurance, is crucial when determining claim settlement amounts or reimbursements. The insurance policy does not account for the car's monthly depreciation, so the claim amount is determined after subtracting the devaluation expense. Nonetheless, the policyholder is safeguarded from non-inclusion of the depreciation cost by including nil or zero depreciation cover, which makes it easier to get a bigger claim amount.
Consumables Cover: In order to operate the metal body of the vehicle smoothly, a car needs consumables like bolts, coolant, oil, and grease, among other things. However, a comprehensive car insurance policy does not cover this component, so the car owner is responsible for any costs associated with their repair or replacement. So, the insured can receive reimbursement for costs expended towards consumable items during the repair by protecting themselves with this supplemental protection for an additional premium.
Roadside Assistance Cover: No matter how durable or reliable a vehicle is, it may malfunction at any time. One may experience a tremendous deal of inconvenience if it occurs in the midst of a city street. In such scenarios, the Roadside Assistance Cover offers quick assistance. Also, it comes in handy when traveling in a rural location where it can be difficult to find a repair
NCB Protection Cover: A no-claim bonus (NCB) is given to policyholders who have maintained a claim-free record during the duration of their car insurance policy. The advantage of this coverage is that, if no claims are made, it can accrue for five years and give the insured a tempting discount on the insurance premium amount.
Engine Protection Cover: No insurance policy protects the engine from non-accidental damages. Hence, an add-on policy is essential because it offers protection against any losses brought on by problems like an oil spill or water intrusion, among others.
How To Buy Renault Kiger Car Insurance?
For purchasing Renault Kiger Car Insurance, there are many options available on online platforms. However, buying the insurance from Probus Insurance will save time as well as effort. The company has made the entire purchasing process easier and more convenient for its customers. Let's take a look at how one can purchase Renault Kiger Car Insurance from the portal!
Scroll up to the top of the page and then select "Products".
From the drop-down menu, select "Car Insurance" under the "Motor Insurance" section.
Now enter the vehicle's registration number at the right of the page and then press "Compare Quotes".
Enter all the information as asked on the next page and then select the best car insurance option displayed on the screen.
Examine all of your options, compare pricing, and then purchase Renault Kiger car insurance online.
Renewal Process Of Renault Kiger Car Insurance
For renewing Renault Kiger Car Insurance with Probus Insurance, adhere to the following steps:
Visit the home page of Probus Insurance.
On the top bar of the page, select "Renew Your Policy".
Now select "Motor Renewal" from the drop-down menu.
After that, select the insurance company from the list displayed on the screen.
Enter all necessary details, such as email address, mobile number, and policy number.
Select any one payment method and pay for the insurance online. The renewal process will now be completed.
Frequently Asked Questions
Most frequent questions and answers about on Renault Car Insurance