Renew in just 5 mins.
No Inspection.
No Paper Work
* Subject To Underwriting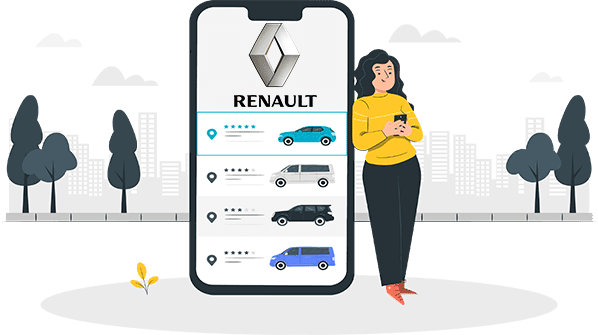 Compare

Car Insurance Plans
Renault Kwid Car Insurance
Renault KWID's price ranges from Rs. 4.70 Lakh to Rs. 6.33 Lakh. The base model of the Renault KWID is the 1.0 RXE, and the most expensive variant is the Renault KWID CLIMBER AMT, which costs Rs. 6.33 Lakh. The larger of the two petrol engine options for the small Renault can also be obtained with AMT. The colours and interior details on the climber editions are stronger. The makeover for 2019 includes updated aesthetics, a new cabin, and more functionality.
The larger of the two petrol engine options for the small Renault can also be obtained with AMT. The colours and interior details on the climber editions are stronger.
Here are the key specifications of Renault Kwid car:
| | |
| --- | --- |
| Parameters | Details |
| ARAI Mileage | 22.0 kmpl |
| No. of cylinder | 3 |
| Max Torque (nm@rpm) | 91Nm@4250rpm |
| Transmission Type | Automatic/Manual |
| Fuel Tank Capacity | 28.0 |
| Engine Displacement (cc) | 999 |
| Seating Capacity | 5 |
| Boot Space (Litres) | 279 |
| Body Type | Hatchback |
| City Mileage | 16.0 kmpl |
Renault Kwid Insurance Price (With Different Variants)
| | | | | | |
| --- | --- | --- | --- | --- | --- |
| Name of the City & RTO | Select Car Fuel Type | Registration Year | IDV | Add-Ons (Zero Dep) | Premium |
| New Delhi – D1 | Petrol – 1.0 RXT (999 cc) | 2022 | ₹2,60,816 | ₹ 1,434 | Rs. 653 |
| New Delhi – D1 | Petrol-RXE Opt (799 cc) | 2021 | ₹1,92,465 | ₹ 1,155 | Rs. 481 |
| New Delhi – D1 | Petrol- Neotech RXL 1.0 MT (999 cc) | 2021 | ₹2,17,015 | ₹ 1,302 | Rs. 950 |
What is Included Under Renault Kwid Car Insurance Policy?
The situations listed below are protected by Renault KWID's Comprehensive Car Insurance policy.
Liabilities to third parties
Personal Accident Insurance (Compulsory separate add-on)
Unintentional harms
Theft of the covered vehicle
Total loss or a vehicle that is irreparably ruined
A natural or man-made disaster's damage
Explosions or fire
Any additional coverage
The cost of KWID insurance will depend on the amount of coverage.
Things Not Covered Under Renault Kwid Car Insurance Policy
The following circumstances are not included in a Renault KWID Comprehensive Car Insurance Policy.
Electrical and mechanical harm
Damage sustained when the insurance was not in effect
Damage that extends beyond a specific area
Using the vehicle for a prohibited activity
Damage brought on by breaking driving laws
Operating a vehicle while inebriated
Exclusions have no bearing on the cost of KWID insurance.
Add-on Covers For Renault Kwid Car Insurance Policy
Customers can improve and broaden the coverage of their current plan by purchasing add-on covers. However, supplemental insurance plans are the only kind that can be acquired.
By adding this rider to the Renault Kwid automobile insurance, policyholders can feel secure about their luggage. If the goods are misplaced or harmed, the personal baggage add-on covers the expense (while they are onboard the car).
Roadside Assistance Cover
Call the hotline number shown on the 24-hour roadside assistance policy if anyone ever needs emergency assistance while driving. The add-on cover has got policyholders covered for everything from fuel delivery to engine jumpstarting and towing to tyre punctures!
The costs of replacement or repair for any engine issues your Renault Kwid may experience, such as oil leaks or water seepage, will be covered by the insurance policy thanks to this engine protection cover!
A personal accident add-on provides financial protection if an unanticipated accident leaves the insured driver physically injured, permanently disabled, or dead.
How To Buy Renault Kwid Car Insurance?
If any policyholder wants to insure their Renault Kwid car, they can choose Renault Kwid car insurance from Probus Insurance. Here are the steps to follow:
Step #1: From the menu at the top of this page, choose "Products." A "Car Insurance" selection shows when you select "Motor Insurance." Just click it.
Step #2: Next, enter the details of the vehicle's registration. Click "Compare Quotes" after that.
Step #3: After providing all the necessary information, policyholders may need to choose the finest insurance company.
Step #4: Review your options, compare costs, and then complete an online insurance purchase for the Renault Kwid.
How To Renew Your Renault Kwid Car Insurance Policy?
The renewal of the motor insurance policy of a Renault Kwid car can be done in the following ways:
Go to the top of this page and choose "Motor Renewal" under "Renew Your Policy".
Next, select the respective insurer. Customers might be asked for information, including their policy and vehicle registration numbers. Click one more to continue. Depending on the service provider, the website design varies.
A debit or credit card must be used to make the payment. Your insurance has been updated.
Frequently Asked Questions
Most frequent questions and answers about on Renault Car Insurance
Maintaining the Renault Kwid vehicle is now simpler than ever. Visit Probus Insurance to quickly and easily insure your Renault Kwid vehicle.
The size of the engine has a significant impact on insurance costs. The cost of insurance rises as engine power increases. So selecting the 0.8l engine option is one method to reduce your insurance costs. The amount you would be responsible for paying in the event of an accident can also be increased by raising your deductibles. Customers can buy car insurance coverage online to save the insurer's administrative costs.
With 184 mm of class-leading ground clearance, the Kwid outperforms its competitors at handling low flooding. However, water higher than the clearance limit would probably seep into the engine and interiors, which is bad for the car's overall health. To shield your engine from the impacts of flood water, it is advised that customers get an engine protection add-on with their Renault Kwid car insurance policy.