Renew in just 5 mins.
No Inspection.
No Paper Work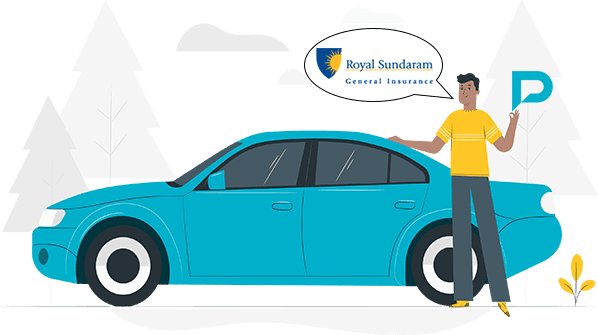 Compare

Car Insurance Plans
Royal Sundaram Car Insurance Renewal
Car insurance is an important part of life for any four-wheeler owner, especially in India. It only takes care of vehicle damages but also protects the policyholder from third party liabilities. But in order to avail the complete benefits of car insurance, a policyholder has to renew it on time. Out of all the insurers out there, Royal Sundaram is one that greets its customers with a smooth, simple and easy to understand car insurance renewal process. In a matter of minutes, you can be done with the renewal and avail the benefits for the entire year.
Read on to know more about Royal Sundaram and other renewal benefits. 
How To Renew Your Car Insurance with Royal Sundaram?
Royal Sundaram has made it easy for its policyholders to renew their car insurance policy in three simple steps. Let's take a look at the series of steps to follow:
Step 1: Visit the Royal Sundaram insurance official webpage.
Step 2: Click on the 'Insta Renew' tab present on the top of the screen.
Step 3: After that, you will need to select "4-Wheeler Insurance", then enter your registered mobile number. Alternatively, you can also enter your car registration number.
Step 4: Click on "Generate OTP" to proceed with the renewal of your policy.
Step 5: Confirm the terms of your policy and pay the renewal charge. Your car insurance policy will be renewed and you will receive a message and an email verifying it.
How To Renew a Lapsed Car Insurance With Royal Sundaram?
If you do not renew your auto insurance on time, it will lapse, which means you will no longer be covered. If your coverage lapses, you will be responsible for any monetary losses incurred as a result of vehicle damage or theft, as well as third-party damages. An expired auto insurance coverage can, however, be renewed.
Go to the official website of Royal Sundaram website
When you click on "Insta Renew", you will be directed to a new page.
Then, enter your mobile number, then generate an "OTP".
Because your car insurance has expired, you will be required to present a "Vehicle Inspection Report." You can quickly obtain a VIR by submitting photos of your vehicle using the Royal Sundaram app. Your lapsed car insurance policy will be renewed with Royal Sundaram if your VIR is satisfactory.
Things To Consider While Renewing Your Car Insurance With Royal Sundaram
The following are the factors to consider while renewing your car insurance with Royal Sundaram.
Don't Forget to Compare:
It is one of the major factors to consider while choosing your Royal Sundaram car insurance policy. Make sure you compare policy details and premium amounts of multiple insurance providers before finalizing any car insurance policy for your renewal.
Always Keep Details Handy:
If you want to ensure you have a speedy car insurance renewal, make sure you keep your policy number and other details handy to ensure a seamless and hassle-free renewal.
Avail Discounts and Offers:
Another factor to consider when you are renewing your car insurance is getting exciting discounts and offers. It is incredibly important for you to adhere to various offers and discounts provided by insurers for online policy renewals.
No Claim Bonus:
There's no denying that many insurance companies will give you a "No-Claim Bonus" if you haven't filed a single claim during the policy's duration. Make sure you take advantage of NCB while renewing your policy.
Add-ons:
When you are looking to renew your Royal Sundaram car insurance policy, make sure that you buy relevant add-ons with your policy. Talking about the add-ons, you can consider the features like engine protection add-on, CNG or bi-fuel kit protection cover, windshield glass cover, depreciation waiver cover, occupants' cover, tire cover, paid driver cover along with the base policy.
Claim Settlement Ratio:
Another factor to consider is that you should purchase a car insurance policy from a company that has a high claim settlement ratio and a smooth claim settlement process.
Network Garages:
Last but not the least, choose an insurance company that has a large network of cashless garages for hassle-free maintenance.
Why Should You Renew Your Car Insurance Policy with Royal Sundaram?
Here is the list of the reasons to renew your car insurance policy with the Royal Sundaram Policy.
Seamless Financial Support: One of the biggest reasons to renew your car insurance policy is none other than "Financial Assistance". Damage to the car, theft of the car, replacement/repair of car components, third-party claims, and other financial responsibilities might be substantial. These costs are covered by a fully comprehensive automobile insurance policy, so you don't have to pay them out of pocket.
Continuation of Policy Benefits: If you're not aware, many policy perks, such as the No Claim Bonus, are only available when you renew your policy. The NCB discount is applied to the OD premium component. NCB is a graduated benefit, starting at 20% for the first claim-free year and increasing to 50% after five claim-free years. If you do not renew your policy on time, you will lose all of your NCB.
Legal Mandate: As per the Motor Vehicles Act, 1986, having a valid third-party insurance policy is mandatory for every car on Indian roads. If you are caught driving without a valid insurance policy, you can be fined or even imprisoned. The fine for driving without insurance in India is ₹2000 and/or 3 months imprisonment on the first offence. On the other hand, if you are caught again for the second time, there's ₹4000 and/or 3 months imprisonment.
Frequently Asked Questions