Renew in just 5 mins.
No Inspection.
No Paper Work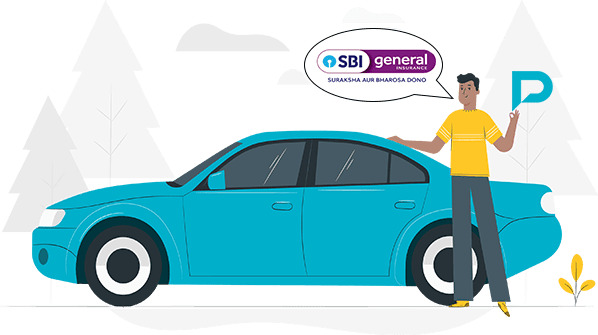 Compare

Car Insurance Plans
SBI Car Insurance Renewal
SBI General Insurance Company is always committed to its customers, and for that reason, it has made its car insurance renewal procedure so smooth and hassle-free that even a person new to the internet can do it without any worries. In case a person is stuck in between, SBI's customer experts are available 24/7 to guide through the entire process. Let's know more about the SBI car renewal process in detail.
Renewal Process For SBI Car Insurance Policy
Follow the below step-by-step guide to avail of a smooth experience while renewing your car insurance plan under this insurer.
Go to the official website of SBI General Insurance Company.
On the top of the homepage, there will be multiple tabs. Look for the 'Renew' option, and click on that.
On the landing page, select the 'Motor Policy' option.
There, you have to select the four-wheeler option and then click on the 'Arrow' sign that is available just below that.
You will be directed to a new page. There, you need to select your policy type. Correctly do that.
After that, put the registration number of your car in the right place without any mistake.
Then, click on the 'Get Quote' option.
The renewal amount for your chosen policy will be displayed before you. Check it carefully.
Pay the amount by choosing any of the convenient methods of payment available with the insurer.
Once you have paid the amount successfully, you will get a notification regarding the same in your registered mobile number and/or email ID. save that for future reference.
Contact details of SBI Car Insurance, if you face any issues while renewing
Though you should not face any problem while renewing your car policy under this insurer if you have followed the above steps religiously. Still, after that, even if you face any issue, you can get in touch with the company using any of the following methods.
You can directly call the company on 1800-102-1111 to talk about your renewal-related problem.
You can also use their Write to Us facility that is available on their official website to convey your problem.
You can also get connected to any of the registered and licensed agents or intermediaries of the company by calling using their number 1800-22-1111.
You can even directly write to the company using their official email ID customer.care@sbigeneral.in stating your renewal-related issue. In that case, you may need to provide certain details such as policy number, car registration number, etc.
Or else, you can avail of their Request a Call-Back facility that is available on their official website.
Apart from the above online methods, you can directly visit any of the official branches of the company to dissolve car insurance for your renewal problem. Their experience customer executives will guide you thoroughly throughout the process.