Renew in just 5 mins.
No Inspection.
No Paper Work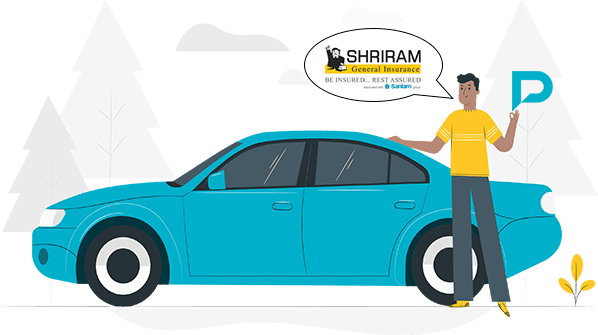 Compare

Car Insurance Plans
Shriram Car Insurance Claim
If you think purchasing a car is the best thing that you can ever do, then you are probably mistaken! Though it's quite a good decision to help in your daily commute, you simultaneously cannot overlook the importance of having car insurance. A car insurance policyholder can file a claim after an accident/loss/damage to receive reimbursement/compensation for the expenses/damage incurred. When you have car insurance coverage, you can simply file a claim in the event of an unexpected accident.
Shriram Car Insurance is a leading insurance solutions provider that offers you will get comprehensive coverage that not only covers your car against the mandatory third-party liability but also against the losses caused to your car due to strikes, fire, earthquakes, theft, explosion, cyclones, burglary, riots, flood, accidents, malicious acts & terrorist activities. Whether your car has a minor or a major breakdown, you should prefer a short and easy car Insurance claim process.
How To File a Claim Against Shriram Car Insurance Policy?
Even a little repair might cost a fortune these days due to the rising cost of labor and spare components. Whether you need to repair a little dent or replace a vehicle due to an accident, the expenses of such repairs and replacements are rising every day.
The following are the steps that you should follow to file a claim against your car insurance policy:
Step 1: Claim Registration
With car insurance policies from Shriram General Insurance, you can make an unlimited number of claims. Yes, there is no limit to how many claims you can file within the policy time. Following an accident or theft of your vehicle, you must file a claim as quickly as possible.
You can do so by visiting our website or calling our toll-free number, 1800-300-30000, where you will be connected to a customer service representative who will walk you through the full Car Insurance claim procedure. So, before filing a claim, keep the following details in mind:
Policy Number.
Estimated Loss/ Description.
Date & Time of Accident.
Place where Vehicle can be surveyed/ loss location
Your Contact Details.
Engine and Chassis Number
Accident date and time
Description and location of the accident
Car inspection address
Police complain, in case of theft
If your car is stolen, you must make a police report as quickly as possible so that you may provide it, together with the other documentation, when you file a claim with us. If the police are unable to locate your stolen vehicle, they will issue a Final Report stating that the vehicle was not recovered.
Step 2: Send Your Car for Repair (If Needed)
Whether your car has been vandalized, collided with another vehicle, or been damaged by a natural disaster, you must take it to a garage or have it towed there to avoid further damage. The coverage also covers towing costs from the accident scene to the workshop, up to a maximum of Rs.1500/- for autos.
Step 3: Final Step for Claim Settlement
You must give the Surveyor or garage/dealer that is assisting you with your Vehicle Insurance claim copies of all essential documentation. The surveyor will compare them to the originals. Following that, the company will pay the network garage directly for the repair once it is completed.
Note: You must pay the excess amount following the terms of your policy, which may include deductibles such as depreciation and salvage.
Documents Required for Filing a Shriram Car Insurance Claim
The following are the documents required to file a Shriram car insurance claim:
Claim form (signed by Insured).
Registration Certificate.
Driving License
Police FIR (If any)
Fitness Certificate (Commercial Vehicle Only)
How Long Does Shriram General Insurance Company Limited Take To Process and Settle Car Insurance Claims?
The submitted claim will be settled within seven days of all required documentation being received.