Renew in just 5 mins.
No Inspection.
No Paper Work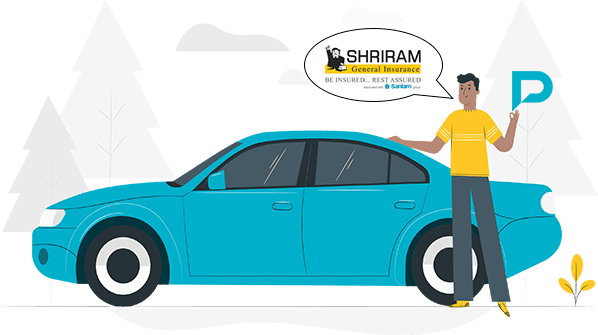 Compare

Car Insurance Plans
Shriram Car Insurance Renewal
Many people think that renewing a car insurance policy is difficult and time consuming. Well, it's a myth. Multiple insurers in the market, including Shriram, has made it quite easy to renew car insurance in a matter of minutes. If at some step you run into some trouble, Shriram's customer care is always looking forward to addressing your queries. If you have its policy and want to know the correct process to renew it on time, read on.
How To Renew Your Shriram Car Insurance Policy?
If you are looking to renew your Shriram car insurance policy, make sure you follow these steps:
Step 1: Go to the official website of Shriram car insurance.
Step 2: You will then see a "Car Insurance" button on the homepage. Click on it.
Step 3: Then, you will see "Renew Shriram Policy" in the yellow box. Click on it.
Step 4: You will then be directed to a new page wherein you will see three different options for renewing your Shriram car insurance policy.
You can search through your policy number with registration/engine/chassis number or
Mobile number with registration number or
Policy number with your registered mobile number
Step 5: Once you are done entering all your details, click on "Submit", and after that, you can easily view your policy details.
Step 6: Finally, you can make the payment and renew your car insurance policy.
Step 7: After making the payment, you will receive a confirmation receipt to your registered email ID.
Importance of Renewing Your Shriram Car Insurance Policy on Time
Legal Troubles: Do you realise that driving without car insurance or with expired auto insurance can result in legal issues? If you are caught without a valid policy, you will be charged with a crime. It's better to have no policy than to have one that has expired. If you fail to show your insurance paperwork to traffic officials, you may face severe penalties.
High Premium: Your insurance company will question if your previous coverage has expired or not when you renew your policy. This is done to figure out how much the premium will be. You will pay a reduced premium if you renew your coverage on time. Otherwise, you may have to pay a higher price.
Loss of No Claim Bonus: Your insurance provider will give you a No Claim Bonus if you do not make any claims during the term of your policy (NCB). Because of your NCB, you earn a discount on your premium when you renew your coverage. NCB builds over time, and you receive a variety of perks. You will forfeit the discount if you do not renew your coverage on time.
No Protection: Accidents can happen at any time. Accidents can happen no matter how cautious a driver you are. Automobile damage, driver injury, and third-party damages are all covered by your car insurance. There is no coverage if your automobile insurance policy has lapsed, leaving you financially vulnerable in an unpleasant situation.
Frequently Asked Questions
Here is the list of the frequently asked questions related to Shriram car insurance renewal.
No, everyone driving in a public location must have at least a Liability Only Policy. According to the Indian Motor Vehicle Act of 1988, this is a legal requirement. This policy covers the vehicle owner's liability against third-party claims. It is, nevertheless, recommended that you acquire a package policy that includes both Own Damage and Third Party Liability coverage.
If you don't declare changes to an existing plan, your insurance will be worthless. If it is not declared at the time of application, you will be committing fraud because you willfully gave inaccurate information.
Only if you file a claim within the policy period or if you fail to renew your auto insurance policy within 90 days of its expiration date will you lose your NCB.