Renew in just 5 mins.
No Inspection.
No Paper Work
* Subject To Underwriting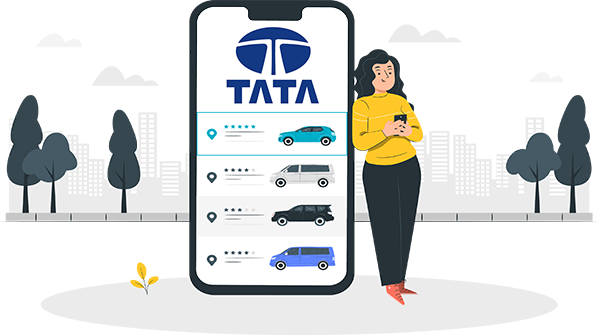 Compare

Car Insurance Plans
Tata Altroz Car Insurance
Tata Altroz is a subcompact or supermini car produced by Tata Motors, which is a well-renowned name in the automobile manufacturing industry. Along with the new Buzzard, Buzzard Sport, and H2X small SUV concepts, the Altroz was unveiled at the 89th Geneva International Motor Show. 
The product was introduced to the Indian market on January 22, 2020. The name of the car "Altroz" derives its inspiration from a bird species called the albatross. Tata Altroz's price ranges from Rs. 6.35 lakhs to Rs. 10.25 lakhs. The base model of the Tata Altroz is the XE, while the most expensive variant is the Tata Altroz XZ Plus Dark Edition Diesel, which costs Rs. 10.25 lakhs.
To learn more about Altroz's main characteristics, inclusions, exclusions, purchasing and renewal process, and several other features, keep reading!
Prominent Features Of Tata Altroz Car Insurance
| | |
| --- | --- |
| ARAI Mileage | 23.03 Kmpl |
| Max Torque (nm@rpm) | 200nm@1250-3000rpm |
| Engine Displacement (cc) | 1497 |
| Boot Space (Litres) | 345 |
| Seating Capacity | 5 |
| Max Power (bhp@rpm) | 88.77bhp@4000rpm |
| Body Type | Hatchback |
| No. Of Cylinders | 4 |
| Fuel Type | Diesel |
| Fuel Tank Capacity | 37.0 |
| Transmission Type | Manual |
| Ground Clearance Unladen | 165 |
Premium Calculation Of Tata Altroz Car Insurance
| | | | | | |
| --- | --- | --- | --- | --- | --- |
| City & RTO | Fuel Type | Registration Year | IDV | Add-Ons | Premium Amount |
| Delhi (DL7) | Petrol (XE Petrol 1199cc) | 2010 | Rs. 74,906 | Zero Depreciation | Rs. 4,133 |
| Mumbai (MH02) | Diesel (XE Diesel 1497 cc) | 2012 | Rs. 1,22,465 | 24 X 7 Roadside Assistance | Rs. 4,465 |
| Bangalore (KA02) | Petrol (XE Rhytm Petrol 1199 cc) | 2014 | Rs. 99,720 | Zero Depreciation | Rs. 7,968 |
| Chennai (TN01) | Diesel (XT Diesel 1497 cc) | 2015 | Rs. 1,79,350 | Engine Protection Cover & Zero Depreciation Cover | Rs. 9,601 |
| Hyderabad (TS09) | Petrol (XZ Petrol 1199 cc) | 2018 | Rs. 2,51,100 | Engine Protection Cover | Rs. 4,614 |
Inclusions & Exclusions Of Tata Altroz Car Insurance
The following things are covered under the Tata Altroz car insurance policy:
Common damages like accidents or collisions
Theft of Tata Altroz car
Common damages arising due to fire
Damages due to natural calamities
Damage done to a third-party property or person
Personal accident cover
Mentioned below are some of the key exclusions of Tata Altroz car insurance:
Driving with a suspended license while operating the insured car
Mechanical and electrical failures
Driving under the influence of drugs, alcohol, and other intoxicating substances.
Motor parts undergoing routine wear and tear.
Liabilities incurred outside of the insurance policy's designated geographic boundaries.
Add-On Covers Of Tata Altroz Car Insurance
Car insurance for Tata Altroz comes with several add-on covers to enhance the coverage. Some of them are as discussed below:
Zero Depreciation Cover: One of the most popular add-on coverages that pay the full cost of replacing the parts of the Tata Altroz car without calculating depreciation is zero depreciation. Zero depreciation allows the insured to collect the entire sum without taking any deductions for depreciation, in contrast to the conventional motor insurance plan that only reimburses the depreciated worth of the car.
Return-To-Invoice Cover: When the car is stolen, having return-to-invoice coverage assures that the owner will receive the full amount stated in the policy. The price includes both the registration fee and the amount of road tax already paid. The owner would be entitled to reimbursement if the car's current value is less than what he originally had paid for it.
Engine Protection Cover: For owners of high-end, branded vehicles like Tata Altroz, the engine protection cover is a worthwhile purchase. The protection cover's objective is to provide reimbursement for engine-related repairs unrelated to accidents. The engine's normal wear and tear and negligence-related damage are not covered by the protection.
24/7 Assistance Cover: When the insured has 24/7 assistance cover, he/she is always covered whether he is traveling or just driving around. The cover provides coverage for things like towing, refueling, changing a flat tyre, repair services in case of a car breakdown, etc.
Consumable Cover: If the car is involved in an accident, this reimbursement is granted for the cost of replacing the nuts and bolts, screen washers, bearings, and engine oil. Regular motor insurance does not cover the expense of replacing consumables. Cars older than three years are not eligible for this compensation.
How To Buy Tata Altroz Car Insurance?
Although there are numerous websites where one can purchase Tata Altroz car insurance, Probus Insurance has simplified and streamlined the entire purchasing procedure. To purchase the policy with Probus Insurance, you must take the following steps:
On of top of this page, various insurance tabs will be visible on the home page. Go to "Products" and then on "Car Insurance."
Type in the vehicle's registration number and then select "Compare Quotes."
Next, choose the car variant and year of registration, fill out the other fields, and then click "Next."
A page with details of the Tata Altroz car will be presented. After providing the necessary information, click "Information Is Accurate."
A list of several insurers and their premium costs will be displayed on the page. Choose the insurance company to purchase the coverage now.
After making the payment online, the insured will receive information about his coverage at the address provided when registered.
Renewal Process Of Tata Altroz Car Insurance
Follow these procedures if the insured wants to renew his Tata Altroz car insurance coverage with Probus Insurance:
Find "Renew Your Policy" at the top of this page. 
Click on it, and then from the drop-down menu, choose "Motor Renewal."
Select a particular insurance.
The insured now needs to enter his email address, policy number, or registered cell phone number, and then click "Renew Now."
Following the successful completion of the mandatory online payment, the insured will be able to renew his insurance.
Frequently Asked Questions
Most frequent questions and answers about on Tata Altroz car insurance