Renew in just 5 mins.
No Inspection.
No Paper Work
* Subject To Underwriting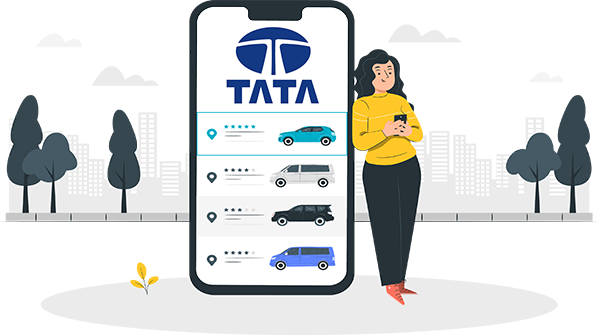 Compare

Car Insurance Plans
Tata Harrier Car Insurance
Among the SUV cars, Tata Harrier has made its strong presence through its spacious and stylish interior along with an engine capacity of 1956 cc that offers a thrilling but stable ride with extraordinary performance. This beast has come up with 20 variants and 5 different color choices that have won the riders' hearts with edgy designs and innovative features. It has some significant elements of security components, including an anti-lock braking system, anti-theft alarm, central locking, traction control, censor crash, hill assist, 6 airbags for the driver and passengers, and many more. Once an individual opts for this beauty, he/she needs to secure its protection by purchasing a car insurance plan that promises to offer bumper-to-bumper coverage against financial liabilities in case of damages sustained by the road risks it is exposed to.
Key specifications of Tata Harrier
This excellent SUV is a one-stop solution if one wants a car with many specifications and maximum security and protection. The following table gives a brief idea about the interior and exterior of the car.
Key specifications
Descriptions
Engine type
Kryotec 2.0 L Turbocharged
ARAI Mileage
17 kmpl
Engine Displacement
1956 cc
Max Torque 350nm
1750-2500 rpm
Max Power 167.67bhp
3750 rpm
Interior

Premium Oak Wood Finish Dashboard
Indulgent Leather Seats
Leather Wrapped Steering Wheel
Leather Wrapped Gear Shift Knob
Boot Space – 425 Litres

Exterior

Xenon HID Projector Headlamps
Dual Function LED DRLs with Turn Indicators
3D LED Tail Lamps with Sporty Piano Black Finisher
Outer Mirrors with Logo Projection
235/ 65 R17 Alloy Wheels
Shark Fin Antenna
Tata Harrier Variants with Car Insurance Price
Look at the following table to have a better idea about different variants of Tata Harrier and varied car insurance prices depending on the same.
| | | | | |
| --- | --- | --- | --- | --- |
| Tata Harrier Variant | Fuel Type | Insured Declared Value (IDV) | Estimated Zero Depreciation Price (Add-on Cover) | Estimated Tata Harrier Price (1-year Comprehensive Insurance Price) |
| Tata Harrier XZ | Diesel | Rs. 10,32,658 | Rs. 8253 | Rs. 7367 |
| Tata Harrier XM | Diesel | Rs. 8,08,500 | Rs. 4043 | Rs. 11,137 |
| Tata Harrier XZ Plus | Diesel | Rs. 10,50,000 | Rs. 6825 | Rs. 19,797 |
| Tata Harrier XT Plus | Diesel | Rs. 8,37,200 | Rs. 5442 | Rs. 15,786 |
| Tata Harrier 2.0 XZA Plus | Diesel | Rs. 11,14,400 | Rs. 7244 | Rs. 21,011 |
| Tata Harrier XZA Plus Dark Edition AD | Diesel | Rs. 10,64,000 | Rs. 5320 | Rs. 14,657 |
Different Add-on Covers Available With Tata Harrier
With Tata Harrier Car Insurance, one can opt for a number of add-on covers to strengthen the protection of his/her car by paying a little extra premium. Among all the additional covers, a few are mentioned, which are considered to be important ones. 
No Claim Bonus (NCB) Cover:
It is a type of reward the car insurance company offers to the policyholder on the own damage (OD) premium amount for not raising any claim during the policy term. NCB is a car insurance premium discount that one can avail of at the time of renewal of the car insurance policy. The NCB discount percentage ranges between 20%-50% depending on the number of claim-free years.
Engine Protection Cover:
This add-on cover is available with comprehensive, standalone, own-damage insurance plans. This cover helps the insured get compensation for the damages incurred by his/her engine, which is the costliest part of a car.
Return To In-voice Cover:
Also known as Invoice Protection Cover, this add-on benefit helps the policyholder to receive a claim amount equivalent to the cost of his/her car mentioned in its invoice. With the help of this cover, a policyholder can bridge the gap between the IDV and the invoice price.
Roadside Assistance Cover:
If a policyholder faces any difficulty due to their car and needs roadside assistance, this add-on cover kicks in to help him/her out. Be it a dead battery, flat/punctured tire, empty fuel tank, towing, or minor repair work, this additional cover always will be there to rescue the insured person from the stranded situation. 
Consumable Cover:
By default, a standard car insurance plan does not provide coverage for any harm brought about by the consumable parts and extras. Therefore, the policyholder has to bear the costs related to consumables. But if an insured person opts for this add-on cover, the insurance company becomes liable to provide compensation for consumable expenses that includes the expenses of all types of lubricant, oils, nuts, screws, bolts, gearboxes, grease, washers, etc.
What Are The Exclusions of Tata Harrier Car Insurance?
Tata Harrier Car Insurance Plan offers a sack full of benefits and facilities. However, it has also come up with certain exclusions for which it does not provide any benefit. Therefore, the general exclusions under this insurance plan are as follows.
The mechanical and electrical breakdowns are not covered by the policy.
If there is any self-inflicted injury, suicide, or suicide attempt, then the insurer does not take any responsibility for that.
If the driver is driving under the influence of alcohol, drug, or any other intoxicating substances and meets an accident, the policy does not take any responsibility for that.
Normal wear and tear of the car's components are not provided by the insurer.
If the driver of the car is driving without any active or valid driving license, no benefit will be provided.
If the car is used outside the specified geographical area and gets damaged anyhow, the insurance company does not take any liability for that.
If the damage is caused to the vehicle due to nuclear activities or in a war, strike, war-like situation, etc., no compensation is provided to the insured person.
Buy Tata Harrier Car Insurance Online By Probus Insurance Broker
One can easily buy a Tata Harrier Car Insurance Policy through Probus Insurance if he/she follows the below steps religiously.
Scroll to the top and look for the Car Insurance tab. Click on that.
On the landing page, one needs to put his/her Tata Harrier car registration number in the right place and click on the Compare Quotes option.
Provide the necessary information as instructed. Be careful while providing the details.
On the basis of the given information, different quotes will be shown from various insurers.
Check the quotes and benefits carefully, and opt for the desired one.
Now one can buy a suitable insurance plan by clicking on that.
Here, one needs to put some additional details as required and click on the Buy Now option.
Pay the premium amount by choosing one of the most convenient methods of payment available there.
Upon successful payment, a notification will be sent to his/her registered mobile number or/and email ID.
Renewal Process of Tata Harrier Car Insurance
Without renewing the car insurance plan on time, one cannot avail of the benefits and facilities of the policy. Therefore, renewing a car policy is one of the most important aspects of it. With Probus Insurance, one can renew his/her car policy within a few clicks. Here are the steps.
On the top of this page, there will be the Renew Your Policy tab. Click on that and select the Motor Renewal option.
You will be directed to a new page. There, provide the required information, such as policy and/or car registration numbers, and click on the Renew option.
The renewal amount will be displayed on the screen. Check the details carefully because a single piece of wrong information can damage the entire process.
If no discrepancy is found, pay the renewal amount by choosing the most convenient method of payment available with the insurer.
Once the payment is successful, a notification will be sent to the insured person's registered mobile number or/and email ID.
Save the payment receipt for future reference. Or else, for better convenience, take a printout of the same.
Frequently Asked Questions
Most frequent questions and answers about on Tata Harrier car insurance