Renew in just 5 mins.
No Inspection.
No Paper Work
* Subject To Underwriting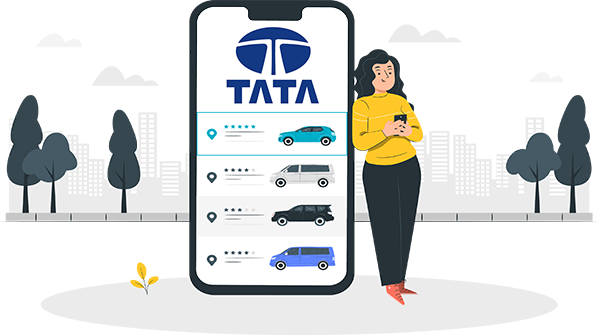 Compare

Car Insurance Plans
TATA Nexon is manufactured by Tata Motors. All Tata Motors showrooms in India have vehicles for sale. Tata Motors India Limited produces the subcompact crossover car known as the Tata Nexon. The Nexon is offered in 6 different configurations: XE, XM, XT, XT+, XZ, and XZ+, with other options including an automatic transmission and a dual-tone roof. The price of the car starts from Rs. 6.58 lakhs (ex-showroom New Delhi) to Rs. 11.1 lakhs (ex-showroom New Delhi). A complete Tata Nexon car insurance policy covers both legal obligations to other parties and any harm to the policyholder or their vehicle. For more comprehensive coverage, they can also tack on add-on covers to their existing plan.
Key Specifications Of Tata Nexon
Here are the key specifications of Tata Nexon car:
| | |
| --- | --- |
| Parameters | Details |
| Fuel Type | Diesel/Petrol |
| Max Torque (nm@rpm) | 260nm@1500-2750rpm |
| Fuel Tank Capacity | 44.0 |
| ARAI Mileage | 22.07 km |
| Body Type | SUV |
| Transmission Type | Automatic/Manual |
| City Mileage | 18.5 kmpl |
| Engine Displacement (cc) | 1497 |
| Max Power (bhp@rpm) | 108.49bhp@4000rpm |
| Ground Clearance Unladen | 209 |
| Boot Space (Litres) | 350 |
Tata Nexon Car Insurance Price
| | | | | | |
| --- | --- | --- | --- | --- | --- |
| Name of the City & RTO | Select Car Fuel Type | Registration Year | IDV | Add-Ons (Zero Dep) | Premium |
| New Delhi – D1 | XM (1198 cc)- Petrol | 2020 | ₹4,25,250 | ₹ 3,615 | Rs. 4, 506 |
| New Delhi – D1 | Diesel- XE (1497 cc) | 2019 | ₹3,26,700 | ₹ 3,430 | Rs. 4, 253 |
| New Delhi – D1 | Petrol-AMT 1.2 Revotron XMA | 2021 | ₹5,41,440 | ₹ 3,519 | Rs. 1, 387 |
What is Included Under Tata Nexon Car Insurance?
A policyholder must consider the plan's inclusions while buying Tata Nexon car insurance. The following is a list of the items that are protected by a comprehensive insurance policy, which provides security against loss or damage brought on by mishaps, theft, fire, or natural disasters.
Any harm brought on by a natural catastrophe, such as a flood, an earthquake, a typhoon, a tsunami, etc., any damage resulting from traffic accidents.
Accidents are unpredictable. Don't worry if your automobile sustains damage from an accident; your insurance will cover it.
Any medical costs incurred to treat the injured person or any third parties.
The car is considered a total loss and is covered if it is stolen or damaged in a fire explosion or fire accident.
A personal accident insurance policy is legally required; buy one separately and get Rs. 15 lakhs in coverage.
What is Not Covered Under Tata Nexon Car Insurance?
Here is the list of the things not covered under Tata Nexon Car Insurance.
If the damage to the owner's car was brought on by driving without a license or if the vehicle was driven outside of the country's borders.
If the damages were from driving while intoxicated (by alcohol, drugs, or other substances);
The typical wear and tear brought on by normal driving and depreciation will not be covered by Tata AIG's car insurance for Tata Nexon. Additionally, our insurance products do not provide coverage for expenses insured for routine maintenance of the vehicle.
If the Tata Nexon was used for business reasons and the injuries or damages were brought on by the driver or their negligence, our insurance policy will not cover them.
If the harm was brought on by speeding, reckless driving, crash tests, etc.
If the damage to the Tata Nexon was brought on by a war or a situation resembling one.
The replacement cost of parts due to wear and tear will only be covered to a maximum of 50% by the Tata AIG auto insurance policy.
If the damage to the Tata Nexon is covered by a particular add-on but not by the primary auto insurance policy.
Add-On Covers For Tata Nexon Car Insurance
Here are the popular add-on covers that customers must consider with their Tata Nexon car insurance.
Zero Depreciation cover: A supplement that may be purchased for a higher price. It offers total protection for the car without taking depreciation into account. If the owner's car is damaged, they are still eligible for a full claim and are not required to pay any depreciation, subject to some limits and circumstances.
Roadside Assistance Coverage: This add-on is available when purchasing auto insurance. It includes services like car repairs, battery jumpstarts, and towing, among others that differ from business to company.
No-Claim Bonus Protection cover: It makes sure that even if they file an insurance claim, their well-earned incentives are safeguarded. Depending on how many NCBs are accumulated, choosing NCB protection could result in inexpensive rates for more than a year.
Engine Protection cover: It protects the owner financially safe from expensive repairs to their damaged engine or its components. focuses on damages caused by leaks of lubricating oil, water intrusion, and many other specific reasons. It covers labor costs, consumables replenishment costs, and repair/replacement costs for all engine and gearbox minor components.
Lock & Key Replacement Cover: Under the terms of the Tata Nexon auto insurance, the insurer will pay for the cost of repairing the locks and making new keys if the car keys are lost or misplaced.
How To Buy Tata Nexon Insurance?
If you are looking to Buy Tata Nexon Car Insurance, follow these simple steps and buy it without any hassle.
Locate the "Products" area at the top of this page. Click "Car Insurance" under vehicle insurance after hovering over it.
After entering your vehicle's registration number, click "Compare Quotes" to continue.
After entering all of your information, you may need to select the best option for your needs and financial situation.
Compare different quotes, choose the right plan, and make the payment online.
Finally, you have successfully purchased your Tata Nexon car insurance.
How To Renew Tata Nexon Car Insurance policy?
The Tata Nexon car insurance may be renewed online with ease thanks to Probus Insurance. Simply scroll up until you see the form in the top right corner of this page. It's easy to follow the form stages shown below:
Step #1: Scroll up and find the "Renew Your Policy" option.
Step #2: After clicking on it, you will find "Motor Renewal". Then, click on it.
Step #3. You will then need to choose your specific insurance. Once you've located the ideal insurer, don't hesitate to click on it.
Step #4: Type in your vehicle's license plate number and other details. 
Step #5: When it comes to renewing your policy, you may need to make the payment online using a debit card, credit card, or even UPIs after you have confirmed the details.
Step #6: Congratulations- Your policy has been renewed. 
Frequently Asked Questions
Most frequent questions and answers about on Tata Nexon car insurance