Renew in just 5 mins.
No Inspection.
No Paper Work
* Subject To Underwriting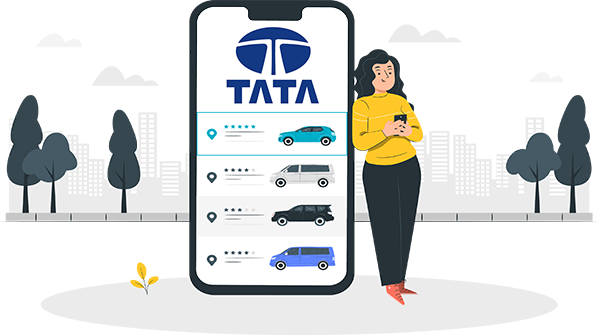 Compare

Car Insurance Plans
Tata Safari Car Insurance
Tata Safari is a mid-size SUV that Tata Motors, an Indian automobile manufacturer, has been making since 1998. The first-generation Safari is a seven-seater SUV with a foldable third row and spacious interior. It has positioned itself as an alternative to other brands of off-road vehicles on the market due to its reasonable pricing. 
In 2021, Safari was reintroduced. The second-generation Safari, unlike the original, is a front-wheel-drive, monocoque crossover SUV that is built on the Tata Harrier's foundation. The prices for the Tata Safari models range from 15.45 lakhs (XE MT) to 23.76 lakhs (XZA+ Gold 6S AT) in India.
Key Attributes Of Tata Safari
| | |
| --- | --- |
| ARAI Mileage | 14.08 Kmpl |
| No. Of Cylinder | 4 |
| Transmission Type | Automatic/Manual |
| Max Torque (nm@rpm) | 350nm@1750-2500rpm |
| Fuel Tank Capacity | 50.0 |
| Engine Displacement (cc) | 1956 |
| City Mileage | 14.0 kmpl |
| Boot Space (Litres) | 73 |
| Seating Capacity | 6, 7 |
| Body Type | SUV |
Premium Calculation Of Tata Safari Car Insurance
| | | | | | |
| --- | --- | --- | --- | --- | --- |
| City & RTO | Fuel Type | Registration Year | IDV | Add-Ons | Premium Amount |
| Delhi (DL12) | Diesel (TCIC EX 7 Seater (1948 cc)) | 2012 | Rs. 1,69,676 | 24/7 Roadside Assistance | Rs. 8,944 |
| Bangalore (KA43) | Diesel (XT Plus MT (1956 cc)) | 2014 | Rs. 3,28,500 | Zero Depreciation & Roadside Assistance | Rs. 8,646 |
| Mumbai (MH43) | Diesel (XZ Plus MT (1956 cc)) | 2015 | Rs. 4,49,775 | Zero Depreciation & Roadside Assistance | Rs. 20,713 |
| Chennai (TN07) | Diesel (XZA Plus (1956 cc) | 2017 | Rs. 6,32,188 | Zero Depreciation & Roadside Assistance | Rs. 25,800 |
| Jaipur (RJ47) | Diesel (XZA Plus Adventure (1956 cc)) | 2019 | Rs. 7,71,750 | Zero Depreciation & Roadside Assistance | Rs. 19,763 |
What's Included & Excluded Under Tata Safari Car Insurance?
Tata Safari Car Insurance offers coverage for the following expenses:
Accidental damages
Theft of the vehicle
Third-party liabilities
Total loss or damage beyond repair
Damages or losses occurring due to natural calamities, such as floods, cyclones, storms, etc.
Damages or losses due to man-made calamities, such as riots, vandalism, etc.
Damages due to fire or explosion
Here are the expenses that are not covered by the insurance:
Driving the car without any valid documents like driving license and insurance policy
Tear and wear of the vehicle
Driving the SUV under the influence of drugs, alcohol, and other intoxicating substances
Driving the car in a reckless manner
Mechanical or electrical failure
Damages or losses occurring outside the specified geographical area
Add-On Covers Of Tata Safari Car Insurance
Tata Safari Car Insurance comes with the following add-on covers that can be used by the policyholder to enhance his coverage:
Roadside Assistance Cover: The Tata Safari is a very reliable vehicle and is susceptible to mechanical failure. This is why it makes sense to combine Tata Safari insurance with the roadside assistance add-on cover. It will make sure that the policyholder can get assistance with only one call if he ever becomes stranded due to mechanical failure.
Zero Depreciation Cover: In just four years, a car's value can drop by up to 40%. Therefore, if the policyholder files a claim after 4 years, he will only be entitled to 60% of the car's worth or the total cost of repairs. One can choose the zero-depreciation add-on for the Tata Safari insurance coverage to prevent this. This will protect the automobile against deterioration and guarantee that the policyholder receives full compensation in the event of a claim.
Return-To-Invoice Cover: Return-to-invoice add-on cover ensures that the owner will get the full amount specified in the policy in the event that the car is stolen. Both the registration charge and the amount of already paid road tax are included in the pricing. If the car's current value is less than what the owner paid for it originally, he is entitled to a refund.
Engine Protection Cover: One can choose this as another significant add-on with his Tata Safari car insurance coverage. This add-on guards against damage to the critical components of the car's engine, including the crankshaft, piston, pins, cylinder, gearbox, and others. If the policyholder resides in a low-lying area where floods could harm the engine of the car, this add-on is extremely helpful.
No-Claim Bonus Protector: With the Tata Safari car insurance policy, the policyholder can choose the No-Claim Bonus protector add-on if he wants to keep his NCB despite filing a claim. This will guarantee that the NCB he has been building up over the years is not lost when he submits a claim.
How To Zero In Tata Safari Car Insurance?
Tata Safari car insurance can be purchased on a variety of websites, but Probus Insurance has streamlined and simplified the entire purchasing process. You must carry out the following steps to purchase the policy with Probus Insurance:
Go to the top of the page or scroll up on the page.
From the several insurance tabs, place the cursor on "Car Insurance".
Enter the vehicle's license plate number and click "Compare Quotes."
After selecting the automobile model and registration year, complete the remaining fields and click "Next."
A page with information on the Tata Safari car will be displayed. Click "Information Is Accurate" after giving the required information.
The page will show a list of various insurers and their premium prices. Select an insurance provider and buy coverage right away.
How To Renew Tata Safari Car Insurance?
For renewing the Tata Safari car insurance plan with Probus Insurance, you must adhere to the following steps:
Scroll up on the page.
Select "Renew Your Policy" from the various tabs displayed at the top.
After clicking it, select "Motor Renewal" from the drop-down menu.
Decide on a specific insurance provider from the list displayed.
The insured must now click "Renew Now" after entering his email address, policy number, or registered mobile phone number.
The insured can renew his insurance after completing the required online payment successfully.
Frequently Asked Questions