Renew in just 5 mins.
No Inspection.
No Paper Work
* Subject To Underwriting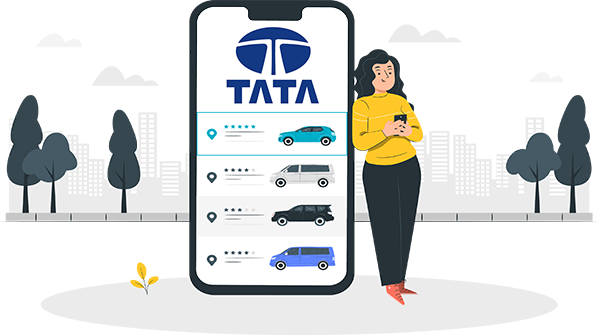 Compare

Car Insurance Plans
In 2016, Tata Motor came up with a hatchback model, Tata Tiago, based on the company's Kite project and available in both petrol and diesel fuel variants. Tiago is available in nine variants priced between Rs 4.39 lakhs to Rs 6.76 lakhs. This model comes with dual airbags, a speed-sensing auto lock, a rear-view camera, and BS with CSC, EBD features, and many more. Along with the seating capacity of 5 persons, this model is also in both automatic and manual transmissions. Since the car has presented unmatched features with top-class safety and comfort, it has already earned a spot in the top ten highest-selling cars in India in 2018. And for that reason, the demand for Tata Tiago Car Insurance Policies has gone high in the market. To know more about this car and its insurance policy, have a look at the following mentions.
Key Specifications of Tata Tiago Car
Tata Tiago is one of the most popular models in the hatchback segment. The following table will provide a brief sketch of this model. Have a look.
Key specifications
Descriptions
Maximum power
84.48 bhp at 6000 rpm
Peak torque
113 nm at 3300 rpm
Fuel tank capacity
23.8 liters
Displacement (CC)
1199
Emission norm compliance
BS-VI
Interiors

Smart glovebox for all weather conditions.
START and STOP button
7-inch touchscreen infotainment by Harman.
Rear parking camera.
Boot space of 242 L.

Exteriors

Hyper-style wheel with solid steel rims.
Armored front cladding with rugged skid plate.
Bright focused front fog lights.
Integrated black rooftop rails.
Unique Squirtle wheel curves.
Exclusions of Tata Tiago Car Insurance
Along with the benefits and facilities, every car insurance plan comes up with certain exclusions for which it does not provide any advantages. To comprehensively understand a policy, it is important to go through the exclusions as well.
Reimbursement of 50% for the cost of replacing parts of the car arising from regular depreciation and wear and tear is not covered.
If the car meets an accident due to the driver's consumption of alcohol, drug, or any other intoxicating substance, then the insurer does not take any responsibility for that.
Damages occurred to the insured car being used for adventure sports, speed racing, and so on, or if the car is used for commercial purposes, will not be compensated.
Damages caused to the car due to rash driving or if the driver does not have a valid driving license are permanently excluded.
Damages caused due to war-like situations, nuclear threats, strikes, riots, etc., in the country will not be covered.
The company will not take any responsibility if the damages or loss occurred due to a mechanical or electrical breakdown.
If the car gets damaged or has an accident outside the geographical area, that will also fall under the exclusions category.
What add-on covers are available for Tata Tiago Car Insurance?
To make the Tata Tiago Car Insurance Plan more powerful, one can opt for multiple add-on covers available with this plan by paying a little extra premium. Among many additional covers, only the important ones are mentioned below.
Zero depreciation add-on cover:
it is also referred to as Nil Depreciation or Bumper-to-Bumper Car Insurance. Typically, during claim settlement, an insurer deducts the depreciation value of parts before replacing the damaged parts. However, with this add-on, there's no such deduction, and one will receive the 100% claim amount apart from any other specified deductibles or applicable costs as per the policy's terms and conditions.
Engine protection cover:
A typical comprehensive car insurance policy does not compensate for the costs of engine repair. However, this additional cover in car insurance provides coverage towards damages or losses to the insured vehicle's engine. This can be due to leakage of lubricant oil, water ingression, damage to components such as gearbox, pistons, connecting rods, etc., as well as due to hydrostatic lock, caused when one starts the wet engine.
No Claim Bonus (NCB) Cover:
If an insured person does not make any claim during a policy year, he/she becomes eligible to get NCB which will help him/her to fetch a discount on policy renewal. If that person does not make any claim consecutively for 5 policy years and renews the policy on time, he/she can seize high savings.
Roadside Assistance Cover:
If an insured person's car gets stranded in the middle of the road, this additional kicks in to help. It is also known as a 24×7 Car Breakdown Assistance Cover. Be it a flat tire, battery jumpstart, on-spot repair, spare key retrieval, fuel support, towing, taxi support, hotel search assistance, pick-up facility, or legal assistance, this add-on cover will always be there for help.
Key replacement cover:
This additional coverage provides coverage for the cost of replacement of the insured car's key if the key is lost, damaged, or stolen. The lost key add-on also provides compensation for the cost incurred in repairing the lock set if the car lock gets damaged.
Tata Tiago Car variants with insurance premium price
Car insurance price depends on various factors such as the variant of the car, fuel type, IDV, etc. Keeping the important factors in mind, the following table has been made that shows Tata Tiago Car Insurance's price for its different variants.
| | | | | |
| --- | --- | --- | --- | --- |
| Tata Tiago Variant | Fuel type | Insured Declared Value (IDV) | Zero Depreciation Cover | Insurance price |
| Tata Tiago Revotron XT | Petrol | Rs. 2,97,230 | Rs. 2347 | Rs. 3036 |
| Tata Tiago XZA Plus | Petrol | Rs. 3,95,247 | Rs. 2718 | Rs. 4457 |
| Tata Tiago XZ Plus | Petrol | Rs. 3,71,565 | Rs. 2597 | Rs. 5449 |
| Tata Tiago Revotron XZA AMT | Petrol | Rs. 3,52,544 | Rs. 2794 | Rs. 4364 |
| Tata Tiago Revotron XZ | Petrol | Rs.3,54,579 | Rs. 2753 | Rs. 4369 |
| Tata Tiago Revotron XE | Diesel | Rs. 2,65,567 | Rs. 2339 | Rs. 4041 |
| Tata Tiago NRG | Petrol | Rs. 3,38,753 | Rs. 3466 | Rs. 5077 |
How To buy Tata Tiago Car Insurance?
One can buy a car insurance plan for his/her Tata Tiago car easily using the official website of Probus Insurance. In that case, one has to follow the below simple steps.
Scroll up to the top of the page of Probus Insurance.
There will be the Products tab. Click on that.
Multiple options will pop up. Choose the Car Insurance option under the Motor Insurance tab.
On the landing page, put the registration number of the car in the right place, and click on the Compare Quotes option.
Put the necessary details as instructed.
On the basis of the given data, the premium amounts for the Tata Tiago Car of different insurance companies will be displayed on the screen.
Go through the details and benefits carefully. If satisfied, click on the desired insurer.
Put the required information, if necessary, and click on the Buy Now option.
After that, pay the premium amount by choosing one of the most convenient payment methods available.
Upon successful payment, a notification will be sent to the registered mobile number and/or email ID.
Save the receipt for future reference.
Renewal process of Tata Tiago Car Insurance
If a car insurance plan expires due to the lack of renewal, the insured person can no longer avail of the benefits and facilities of the policy. Therefore, renewing a car policy is the most pivotal part of it. With Probus Insurance, one can renew a Tata Tiago Car Insurance Plan very smoothly by following the below steps.
At the top of this, you'll find Renew Your Policy tab. Click on that.
After that, select the Motor Renewal option.
Choose the insurer of your car and put the necessary details as instructed.
The renewal amount will be displayed on the screen on the basis of the given details. Check it thoroughly. A single mistake can damage the entire process.
If no discrepancy is found, pay the renewal amount by choosing the most suitable method of payment.
Upon successful renewal, a notification regarding the same will be sent to the registered mobile number and/or email ID.
Download the receipt for future reference. Or else, for better security, take a printout of that.
Frequently Asked Questions