Renew in just 5 mins.
No Inspection.
No Paper Work
* Subject To Underwriting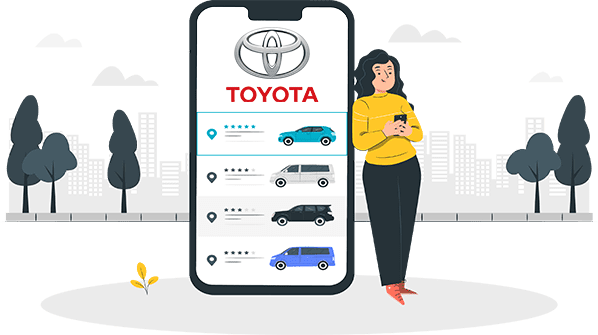 Compare

Car Insurance Plans
Toyota Glanza Car Insurance
Toyota Glanza is a small hatchback that was released in India as a rebadged Baleno. The price for the Toyota Glanza ranges from Rs. 6.66 lakhs to Rs. 9.99 lakhs. 
There are nine variations of Glanza. The top model of Glanza costs 9.99 lakh rupees in petrol. The cost of the Glanza base model in CNG is Rs. 8.45 lakhs. But the Glanza automated version's starting price is Rs. 8.10 lakhs.
Though Glanza is equipped with incredible features, it is very important to protect it from unfortunate events. Therefore, purchasing a suitable car insurance policy for the vehicle is vital. This post will provide every information that one needs to know about Glanza and its insurance.
Key Characteristics Of Toyota Glanza
| | |
| --- | --- |
| Parameters | Descriptions |
| Engine Capacity | 1197cc (.001197m3) |
| Number Of Cylinders | 4 |
| Max Power | 66kw@6000rpm |
| Torque | 113 Nm @ 4400rpm |
| Fuel Tank Capacity | 37 Litres |
| Seating Capacity | 5N |
| Fuel Efficiency (Kilometer Per Litre) | 22.35 km/l (MT), 22.94 km/l (AMT) |
Sample Premium Details Of Toyota Glanza Car Insurance
Name Of The City & RTO
Select Car Fuel Type
Registration Year
IDV
Add-Ons
Premium
Delhi (DL12)
Petrol (E (1197 cc))
2010
Rs. 1,03,066
Zero Depreciation & 24 X 7 Roadside Assistance
Rs. 4,135
Bangalore (KA 53)
Petrol (G (1197 cc))
2012
Rs. 1,31,040
Zero Depreciation & 24 X 7 Roadside Assistance
Rs. 4,409
Mumbai (MH 47)
Petrol (G AMT (1197 cc))
2014
Rs. 1,60,380
Zero Depreciation & 24 X 7 Roadside Assistance
Rs. 9,396
Pune (MH 14)
Petrol (G CVT (1197 cc))
2016
Rs. 1,92,521
Zero Depreciation & 24 X 7 Roadside Assistance
Rs. 7,468
Chennai (TN 13
)
Petrol (G Hybrid (1197 cc))
2018
Rs. 2,40,652
Zero Depreciation & 24 X 7 Roadside Assistance
Rs. 7,057
Inclusions Of Toyota Glanza Car Insurance Policy
The following expenses are covered under Toyota Glanza car insurance:
Damage to third-party property
Injury to a third-party person
Death of a third party
Accidental damage to Toyota Glanza
Theft of vehicle
Damages occurring due to man-made calamities, such as riots
Damages occurring due to natural disasters, such as floods, earthquakes, etc.
Damages occurring due to an explosion or fire
Exclusions Of Toyota Glanza Car Insurance
Here are the conditions that are not covered by the insurance:
Driving under the influence of intoxicating substances
Violation of traffic rules
Driving without valid vehicle documents
Driving for illegal racing
Damages occurring due to electrical or mechanical failure
Regular wear and tear of the vehicle
Damages occurring outside the geographical range as mentioned in the policy brochure
What Are The Add-On Covers Available Under Toyota Glanza Car Insurance?
The insured can boost the coverage of Toyota Glanza car insurance with the following add-ons:
Roadside Assistance Cover: It includes services like car repairs, battery jumpstarts, and towing, among others that differ from company to company.
No-Claim Bonus Protection Coverage: This assures that even if the insured files an insurance claim, his well-earned bonuses are still safeguarded. Depending on how many NCBs are accumulated, choosing NCB protection could result in inexpensive rates for more than a year.
Zero Depreciation Cover: It offers total protection for the insured car without taking depreciation into account. If the insured's car is damaged, he is still eligible for a full claim and is not required to pay any depreciation, subject to some limits and circumstances.
Engine Protection Cover: It keeps the insured financially safe from expensive repairs to his damaged engine or its components. It covers labour costs, consumables replenishment costs, and repair/replacement costs for all engine and gearbox minor components.
Personal Accident Cover: This is available to improve the security provided by the insured's comprehensive car insurance policy.
How To Purchase Toyota Glanza Car Insurance?
There are numerous options for getting Toyota Glanza car insurance on online sites. However, it will save time and effort to purchase the insurance from Probus Insurance. Let's examine the procedure for purchasing Toyota Glanza car insurance from the portal.
Start by selecting "Products" at the top of the page.
Under the "Motor Insurance" part, choose "Car Insurance" from the drop-down menu.
Next, enter the vehicle's registration number in the box on the right side of the website and click "Compare Quotes."
Provide the information requested on the next page and then choose the best car insurance option as per your needs and budget.
After weighing your alternatives and prices, buy Toyota Glanza car insurance online.
How To Renew Toyota Glanza Car Insurance?
Follow these steps to renew your Toyota Glanza car insurance with Probus Insurance:
Go to the home page of Probus Insurance.
Click "Renew Your Policy" in the top bar of the page.
From the drop-down option, choose "Motor Renewal."
Next, choose the insurance provider from the list that is visible on the screen.
Fill out all required information, including your email address, phone number, and policy number.
Choose a payment option and complete the online insurance payment. Once the payment is completed, the renewal process is done.
Frequently Asked Questions
Most frequent questions and answers about on Toyota car insurance