Renew in just 5 mins.
No Inspection.
No Paper Work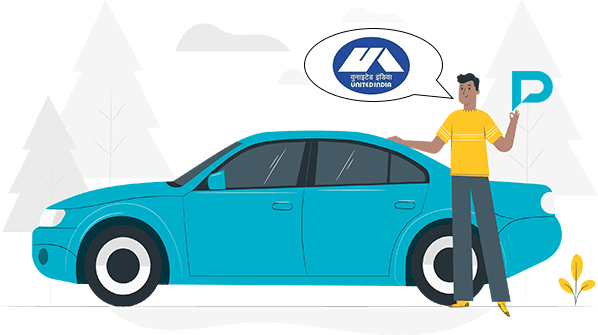 Compare

Car Insurance Plans
United India Comprehensive Car Insurance
Every car owner in the nation must have car insurance. Although only a third-party cover is necessary to protect against a third party's legal obligations in the event of an accident, United India comprehensive car insurance (also known as a private car package policy) outperforms that requirement by offering broader coverage. The insured (driver/owner), third parties, and even the vehicle are all covered. The insured person would then be able to recover a sizeable sum for the repair of the four-wheeler and would be free from any liability that might result from the accident.
Read on to learn more about the United India Comprehensive Car Insurance in detail!
Features and Benefits of Choosing Comprehensive Car Insurance By United India
Here are the key features and benefits of considering the United India Comprehensive Car Insurance.
Claim Settlement Process:
One of the biggest advantages of buying comprehensive car insurance from United India is that it offers a fast and simple claim settlement process is one of the biggest benefits of purchasing comprehensive car insurance from them.
24*7 Customer Service:
A committed customer service team at United India assists the clock. This team's primary goal is to respond to all customer enquiries.
Transparency:
Customers can expect utterly transparent services from United India. From choosing the insurance to the claim settlement process, the entire process is offered seamlessly.
Discounts:
On the amount of premium due, a variety of discounts are offered. Customers may benefit from the following reductions:
Vintage Car Discount:
You are entitled to a 25% discount on the OD rates if your vehicle was purchased before December 31, 1940, and has been duly certified as a vintage vehicle.
No Claim Bonus:
Depending on the number of years without a claim, a No Claim Bonus of 20% to 50% may be offered.
Automobile Association Membership Discount:
A 5% discount on your damage premium, up to a maximum of Rs 200, is available to you if you are an Automobile Association member.
Discount for Anti-Theft Devices:
A 2.5% discount on your own damage cover, up to a maximum of Rs 200, is permitted if your car has an ARAI-approved anti-theft device installed.
If a vehicle is built or modified to be used by someone who is blind, disabled, or mentally challenged, they are eligible for a 50% discount on their own damage premium.
Extension of Cover:
Under package and liability-only policies, additional protection is available upon payment of an additional premium in the following circumstances:
Expansion of the geographic scope of the availability of automobile insurance in nations such as Bangladesh, Bhutan, Nepal, Pakistan, Sri Lanka, and the Maldives
Personal injury protection for those travelling in the insured vehicle, both named and unnamed
Electrical and electronic fixtures can be covered separately for an additional 4% premium based on their value.
CNG / LPG Bi-Fuel Kits coverage can be increased by adding 4% more to the base rate, which corresponds to the cost of the corresponding fittings.
If the insured car is taken to the shop for repairs, courtesy car coverage is available. This comprehensive car insurance by United India provides up to Rs. 1000 in daily reimbursement for costs associated with renting a car for a maximum of 3 days, 5 days, or 7 days.
What's Not Included Under the United India Comprehensive Car Insurance?
Listed below are the things not included under the comprehensive car insurance by United India.
Any unintentional loss, damage, or liability stemming from, contributing to, or resulting from nuclear weapons material, whether directly or indirectly.
Damages brought on by drunk driving
Loss that results from a vehicle's mechanical or electrical breakdown, wear and tear, or depreciation.
Damages brought on by drunkenness, drug use, or drug use while driving
Damages incurred outside of a specific geographic area
Damages incurred when using a vehicle outside of the permitted usage restrictions
Damages are incurred when a person without a valid licence operates the vehicle.
How To Buy the Comprehensive Car Insurance by United India?
For those who drive frequently, own expensive or large cars, or just recently bought a new car, comprehensive car insurance is best. Customers can take advantage of it in all of these circumstances. The main distinction is that comprehensive car insurance by United India provides customers with the highest base coverage possible. To continue receiving the benefits, you must pay a lump sum premium and keep renewing the insurance before the expiration of the insurance term. If you are interested in buying the United India Comprehensive Car Insurance, the following are the steps to follow.
Visit the official website of United India.
On the top, take your cursor over products and under motor insurance, click on "Know More".
After that, you will see the" Buy" option in a yellow-colored hexagonal box. Click on it.
The moment you click on it, you will need to select your cover type. Click on "Package Policy". After that, you need to select your vehicle class on the right-hand side, i.e., "Private Car". Then, on the left-hand side, you will need to enter your registration state, manufacturer, model, fuel type, make year, RTO Name, IDV, and more.
Once you are done entering all the details, you will need to click on "Click to see plans". Before that, you can even select more cover options on the right-hand side, simply choose any one of them.
After that, you will see the list of insurance options offered by United India. Ensure you choose comprehensive insurance so that everything can be covered along with your personal accident coverage.
Ensure you enter all the details and then proceed to the buying process. Then, you should make the payment using your credit /debit card, net banking, or any other payment method.
After making the payment, you have purchased your United India Comprehensive Car Insurance and all the associated details will be sent to your registered email ID and phone number.
How To File a Claim for the United India Comprehensive Car Insurance?
Customers of United India Comprehensive Car Insurance are urged to follow the instructions below for a speedy claim settlement process in the event of unfortunate loss:
Intimate the insurer, i.e., United India:
The insured must contact the closest United India branch or office. After that, United India will inspect the involved vehicle. Therefore, the vehicle must be left at the scene of the accident itself if a serious accident has occurred, such as a fire or other disaster.
Get Medical Assistance and File an FIR:
In the unfortunate event that a victim dies, call the police in your area. It is necessary to file an accident report.
Complete all formalities and submit the claim form. Here, a copy of the FIR will be required.
After all formalities are completed, the claim will be paid out and the car will be taken to a garage for a repair estimate.
Documents Required to Raise a Claim
Below mentioned are the documents required to raise a claim insurance:
Copy of car insurance papers
Copy of valid driving license
Copy of Registration Certificate
Renewal Process of United India Comprehensive Car Insurance
United India's comprehensive car insurance safeguards your car and protects you from any financial liability resulting from an accident, such as when your car injures someone else or damages someone else's property. Such all-encompassing insurance is also helpful if you are hurt by someone or your car is damaged by another car. It guarantees freedom from all financial obligations as a result. If your United India Comprehensive car insurance lapses, the coverage also ceases, rendering you financially vulnerable in such scenarios.
Go to the official website of United India.
Under the "Products" section on the top, you will see the "Renew" button under motor insurance. Click on it.
Then, a dialogue box will appear, asking you to select your search type, i.e., "Policy Number" or "Vehicle Registration Number". Select either one of them to continue with the renewal process.
Suppose you have chosen via policy number. You will then need to enter your policy number and then click on "Next".
Then, you will see the details of your comprehensive car insurance by United India.
After that, you will need to make the payment to renew it and then all the associated details will be sent to your registered email ID and phone number.
Frequently Asked Questions
Here is the list of the frequently asked questions related to United India comprehensive Car Insurance.