Renew in just 5 mins.
No Inspection.
No Paper Work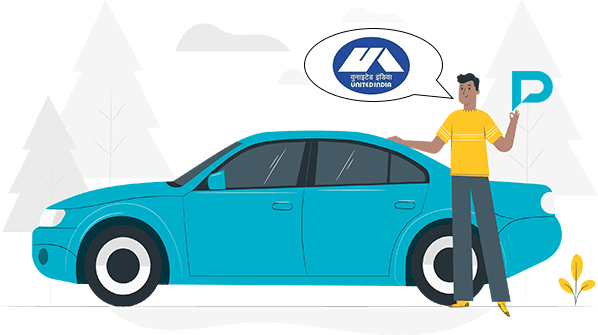 Compare

Car Insurance Plans
United India Car Insurance Policy Download
Gone are the days when policyholders used to visit their insurance company's branch office to know their policy details, update, or pay the premium. Things have significantly changed. With technology gaining huge traction, policyholders can now download their policy documents using the online method. However, if you own a United India car insurance policy, you can take a breath as you will experience a smooth and hassle-free online experience. Whether you want to download or make changes to the policy, you can easily do it via their website.
A United India car insurance policy is a binding legal agreement between the insured and the insurer. The policy document contains all the necessary details about the insurance policy, such as the basic coverage, inclusions, exclusions, terms and conditions, and so forth. This paper lists the circumstances that support a legitimate insurance claim and those that do not.
Read on to know the process to download your United India car insurance policy.
How To Download United India Car Insurance Policy Online Using Policy Number?
From United India insurance's official website, you can download a copy of the policy for their auto insurance. To download it from Insurer, follow these instructions:
Step 1: Visit the official website of United India Insurance. Click on 'Customer service from the options displayed above on the webpage. From the displayed options further, select 'Check Payment Status/Online Policy Download'.
Step 2: Now, enter a 20-digit transaction ID or the policy number and click on 'Search'.
Step 3: After that, you will need to enter your captcha code correctly in the box provided on the right-hand side.
Step 4: Once you are done filling in all the details, you will need to click on "Search".
Step 5: From the information displayed you can both view and download your policy document in PDF format and also take a printout of the same.
Do I Need a Hard Copy of the United India Car Insurance Policy Document?
According to the Indian Motor Tariff, all car owners must have proof of car insurance when using their vehicles on India's public roadways. However, it is no longer necessary for the policyholder to carry an original insurance document or a printed copy of the automobile insurance policy document thanks to the launch of an application called e-VAHAN Bima.
The e-VAHAN Bima app, a project of the Insurance Regulatory and Development Authority of India (IRDAI), enables policyholders to carry a digital copy of their auto insurance paperwork. This digital policy is offered with a QR code that contains all the details of the person's auto insurance coverage. However, if a person still requires a printed copy of their policy, they can easily download it from the insurance company's website.