Renew in just 5 mins.
No Inspection.
No Paper Work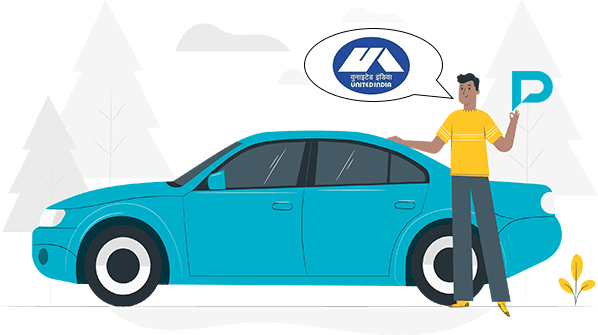 Compare

Car Insurance Plans
United India Car Insurance Renewal
If you want to stay protected and secured forever, buying a comprehensive car insurance policy is not enough. Since car insurance policies are valid for a limited period of time, they need to be renewed before their expiry date. Additionally, renewal on time makes you eligible for multiple benefits like no claim bonus. Companies like United India are known for their smooth and easy car insurance renewal process and are available all day long for their customers if they need any assistance. Let's learn more about them.
How To Timely Renew United India Car Insurance?
Follow the below steps to enjoy a seamless experience of the car insurance renewal process under this insurer.
Go to the official website of the United India Insurance company.
Scroll down the homepage a bit, and there you will find out the names of the insurance products under this company.
Click on the Motor Policy tab.
Multiple options will pop up before you. Choose the Renew option. You will be directed to a new page.
You can renew your car policy either using your policy number or car registration number.
Choose any of the options, and click on the Ok option.
Put your policy number/registration number correctly in the right place.
After that, click on the Next option. Put other necessary information, if any.
The renewal amount for your chosen policy will be displayed before you. Check the details once, and pay the amount using your convenient mode of payment, available with the insurer.
Once the payment is successful, you will receive a notification about the same in your registered mobile number and/or email ID.
Additional Information About United India Car Insurance Renewal
There are a few things that you need to keep in mind while renewing your car policy under this insurer. Those are as follows:
When you are entering the policy number, that should be without "\", and the policy number should be 20 digits.
The policy will be available for renewal 90 days prior to the expiry date.
A policy with a claim will not be available for online renewal.
If your vehicle is older than 10 years, and if you have a package policy, then that policy will not be available for the online renewal as well.
Facing Issues With United India Car Insurance renewal? Contact The Insurer
Though you should not face any problems while renewing your car insurance policy under this insurer if you have followed the above steps properly. Still, after that, if you face any glitches, you can contact the company using any of the following methods.
You can directly write to the company using their email ID customercare@uiic.co.in. In that case, you may have to provide some additional details regarding your policy, such as your policy number and/or car registration number, etc.
You can contact them by calling the company at 1800-425-333-33 and stating your renewal issue.
You can also reach out to the insurer at their official Twitter, Twitter@UnitedIndiaInsu, to address your problem related to car insurance policy renewal.
Or else, to contact the insurer, you can download their customer app that is easily available on App Store and Google Store. There you will find several options to address your renewal issue,
Apart from the above online methods, you can also directly visit the nearest official branch of the company. their experience customer executive will guide you thoroughly through the renewal process.