Renew in just 5 mins.
No Inspection.
No Paper Work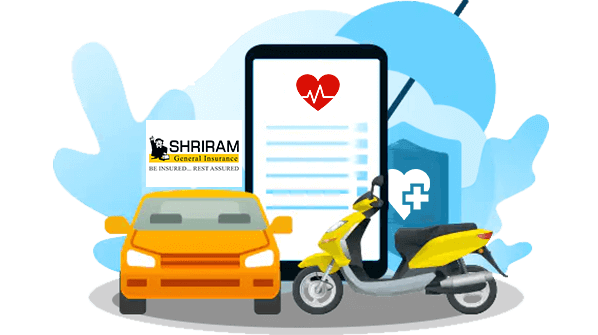 Compare

Car Insurance Plans
Shriram General Insurance Customer Care
Shriram General Insurance Company stepped into the field of the insurance industry as a joint venture between Shriram Capital Ltd. and Sanlam Limited, a leading Financial Services Group in South Africa. The company has included young and vibrant senior executives in the insurance domain to handle Underwriting and Claim matters. The company has come up with a sack full of different general insurance products to cater to the varied needs of individuals. The company is giving special attention to innovative products and application of the latest IT developments in its operations. Therefore, naturally, many policy-seekers opt for Shriram General Insurance because of its rich background and customer-friendly approach. Once a policy-seeker gets connected to the company, the next important thing to know is its customer care because you need your insurer beside you whenever needed.
How To Get Connected With Shriram General Insurance Company?
Customer help desk number
Toll free: 1800-300-30000(Policy Holders), 1800-103-3009(Others)
Post to the official address

Shriram General Insurance Co. Ltd. (In partnership with Sanlam, South Africa)

E-8, EPIP, RIICO Industrial Area, Sitapura, Jaipur – 302022, Rajasthan

Fax No.
0141-2770692, 2770693
Get In Touch facility
Available on the official website
Social media handles

Facebook – https://www.facebook.com/shriramgeneralinsurance

Instagram – https://www.instagram.com/shriramgi/

Twitter – https://twitter.com/Shriram_GI

YouTube – https://www.youtube.com/channel/UCbIuwCZG7GjPL9sv-qI0zUA
Shriram General Insurance Branches & Their Office Details
This company has a lot of official branches spread all over the country. You can use the branch locator facility available on the company's official website to find the nearest branch within your vicinity. For your better understanding, a few important company branches, along with their address and contact details, have been mentioned in the following table. Have a look.
Name of the state
Name of the city
Address of the branch
Contact details
Account number
IFSC Code
Chandigarh (UT)
Chandigarh
Shriram General Insurance Company Ltd., SCO-178, 1st Floor, Sector-38C, Chandigarh, PIN 160038.

Ph No. – 07412059611, 07307943502

Email ID – sgi.chandigarh@shriramgi.com

SGIGIC105009
HDFC0000054
Delhi
Lajpat Nagar
Shriram General Insurance Co. Ltd. 2nd Floor, A 32, Lajpat Nagar II, Near Lajpat Nagar Metro Station, New Delhi – 110024

Ph No. – 07412078324 / 25 / 26 / 27 / 28 / 29.

Email ID – sgi.lajpatnagar@shriramgi.com

NA
NA
Gujarat
Ahmedabad
Shriram General Insurance Co. Ltd, 201, BBC Tower, Opp.Law Garden, Ahmedabad-380006

Ph No. – 07412079532 / 33 / 34 & 07412078230 / 31 / 32

Email ID – sgi.ahmedabad@shriramgi.com

SGIGIC213001
HDFC0000054
Assam
Guwahati
Shriram General Insurance Company Ltd., B. R. Arcade, 3rd Floor, 21, Jana path, Opp- Hotel Priya Palace, Ulubari, Guwahati – 781007.

Ph No. – 07412059615 / 16

Email ID – sgi.guwahati@shriramgi.com

SGIGIC324016
HDFC0000054
Haryana
Gurgaon
SHRIRAM GENERAL INSURANCE COMPANY LIMITED SCF-P-29, 1st FLOOR, SEC – 14, GURGAON HARYANA – 122001

Ph No. – 9971868885 / 7412079612 / 7412079613

Email ID – sgi.gurgaon@shriramgi.com

SGIGIC102015
HDFC0000054
Himachal Pradesh
Bilaspur
Shriram General Insurance Company Ltd., H. No. 6, Raura Sector No. III, Bilaspur (H.P.) – 174001.

Ph No. – 07412078255 / 56

Email ID – sgi.bilaspur@shriramgi.com

SGIGIC105051
HDFC0000054
Karnataka
Mysore
Shriram General Insurance Company Ltd., 2nd Floor, CH66-2904/1, Saptha Swara Complex, Opp. Reliance Home Finance, Kantharajurs Road, Saraswathipura, Mysore-570009. (Karnataka)

Ph No. – 07412078339 / 40

Email ID – sgi.mysore@shriramgi.com

SGIGIC418033
HDFC0000054
Maharashtra
Mumbai Andheri
Shriram General Insurance Co.Ltd. Unit No. 708, The Summit- Business Bay, Off Andheri-Kurla Road, Near W.E.H. Metro Station, Behind Guru Nanak Petrol Pump, Opp. PVR Cinema, Andheri East Mumbai-400093

Ph No – 07303467592 / 07412079574 / 75

Email ID – sgi.lowerparel@shriramgi.com

NA
NA
Punjab
Ludhiana
Shriram General Insurance Company Ltd., Jhandu Tower, 3rd Floor, Miller Ganj, Near Manju Cinema, G. T. Road, Ludhiana – 141003.

Ph No – 07412078330 / 31 / 32

Email ID – sgi.ludhiana@shriramgi.com

SGIGIC105029
HDFC0000054
Rajasthan
Ajmer
Shriram General Insurance Company Ltd., Amar Plaza Complex, 3rd Floor, Opp. Daulat Bagh, Ajmer – 305001(Raj).

Ph No – 07412079523 / 56

Email ID – sgi.ajmer@shriramgi.com

SGIGIC106002
HDFC0000054
Uttar Pradesh
Lucknow
Shriram General Insurance Company Ltd., 501, Chintels House, 16 Station Road, Lucknow – U.P. – 226019.

Ph No – 07412079542 / 44

Email ID – sgi.lucknow@shriramgi.com

SGIGIC108028
HDFC0000054
West Bengal
Kolkata
Shriram General Insurance Co.Ltd. 1st Floor, 53A, Rafi Ahmed Kidwai Road Kolkatta-700016 (West Bengal)

Ph No – 07412078317 / 18 / 19

Email ID – sgi.kolkata@shriramgi.com

SGIGIC334027
HDFC0000054
Why To Contact Customer Care of Shriram General Insurance?
Customer care is one of an insurance company's most pivotal aspects as it depicts its liability towards its customers. An insured person may need different assistance from his/her insurer, and then the customer care service kicks in. It always helps you to provide the best customer care service so that your problem(s) can get easily resolved and your bond with the insurer becomes tighter. Therefore, if you have a clear idea about the customer care of Shriram General Insurance, you can get the following assistance.
Buying a Product:
If you want to purchase a general insurance product from Shriram General Insurance and you face a problem, you can directly get in touch with the company, and they will take every initiative to resolve your problem. 
Renewal:
Without renewing your existing policy, you cannot avail yourself of the benefits and facilities of the policy. Therefore, you need to renew the policy on time. in that case, you may face glitch(s), and renewing that policy may seem difficult. At that moment, sit back and relax, and contact the company's customer care service. They will address your issue shortly. 
Claim:
Claim intimation has become a lot easier with the help of customer care executives. If you do not understand how to file or register a claim or the further steps of a claim, customer care executives will always guide you through the process. Apart from that, they will also inform you about the necessary documents that you need to submit for a successful claim.
Understanding a Policy:
Suppose you want to buy a policy from Shriram General Insurance, but you cannot understand which policy will be suitable for you. In that case, the customer care executives will help you understand your needs and find the most suitable policy for you.
Understanding Different Clauses:
Often, the policy wordings of an insurance product contain certain terms and conditions that we cannot understand. Again, if you do not have a clear idea about those clauses, you will face complexities in the future. In this situation, you do not have to worry. Just contact the company's customer care service, and they will make you understand those clauses in a lucid and placid manner. 
Logging In To Account:
Almost all the leading insurance companies have come up with online services. Shriram General Insurance is not an exception. To avail of the online facilities of the company, you need to create an online customer portal under the insurer. You may face different glitches while signing in or logging in to your account. All these problems can be smoothly resolved if you contact the company's customer care service.
Branch/hospital/garage Locator:
Though the company has come up with an online facility through which you can easily locate the official branch, network hospital, or cashless garage of the insurer, still, if you are naïve in terms of using the internet, you can contact the customer care of the insurer, and they will help you to locate the nearest branch, garage, or hospital within your vicinity. 
To Avoid Misleading:
The number of frauds has increased, especially in the field of the insurance industry. Therefore, anytime, if you get a call from someone claiming that he/she is an agent from Shriram Insurance, you can immediately verify the authenticity of the person from the company, by calling their customer care executive.