Renew in just 5 mins.
No Inspection.
No Paper Work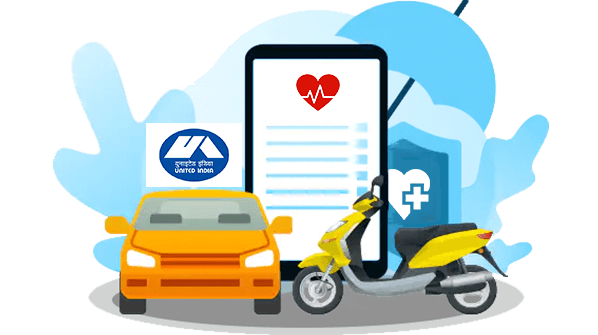 Compare

Car Insurance Plans
United India Insurance Customer Care (Toll Free Numbers)
United India Insurance Co. Ltd. provides a variety of insurance products including two-wheeler, four-wheeler, health, life, and other different insurance types. If you want to learn more about the auto insurance alternatives they provide or if you have any questions or issues about them, you can contact their customer service staff, who can provide you with the best options. Customers can register their claims and check on their status online, and the insurance provider provides best-in-class customer support and service. 
The sales and support staff of United India Insurance can be reached in several ways, including the ones listed below:
Customer Care Details of United India Insurance Company
Toll Free Number
1-800-425-33333
Email
customercare@uiic.co.in
Website
https://uiic.co.in/
Grievance Redressal Number

Toll-free: 1-800-425-33333

Timings: 10.00AM TO 5.45PM – MONDAY TO FRIDAY

Twitter Handle
Twitter[@]UnitedIndiaInsu
Head Office

United India Insurance Co. Ltd.

#19, Nungambakkam High Road, IV Lane,

Chennai – 600034

Ph :91-044-28575200

Registered Office

United India Insurance Co. Ltd.

24, Whites Road,

Chennai – 600014
United India Insurance Branches & Contact Details
Though there are multiple branches across India, we have listed a few major yet popular ones to get an idea. If you want to locate the nearest branch, visit https://uiic.co.in/en/branch-locator today!
Office Code
Office Name
Address
Telephone Number & Mail Id
41781
MO YAMUNA VIHAR
Mo Yamuna Vihar, Vardhman Complex, 202, Floor No.2, Block-C2, Yamuna Vihar, Delhi-110053, Delhi, New Delhi

Name: KANTI PARSAD

Designation: Micro OfficeIn-Chargee

Mobile No: 9818518804

Mail ID: kantiparsad@uiic.co.in

Office Mail-ID:041781@uiic.co.in

41381
MO JANAK PURI
Mo Janak Puri, G-22 Vardman, Janak Market Csc, A-2 B Janakpuri, Delhi-110058, Delhi, New Delhi

Name: VIKAS BHARDWAJ

Designation: Micro Office In-Charge

Mobile No : 8527679656

Mail ID:vikasbhardwaj@uiic.co.in

Office Mail-ID:041381@uiic.co.in

42381
MO KALKAJI
Mo Kalkaji, Govindpuri Extension,1770-A-4/8,Kalkaji, Govindpuri, Delhi-110019, Delhi, New Delhi

Name: HIMANSHU PAINULY

Designation: Micro OfficeIn-Charge

Mobile No: 8958874506

Mail ID:himanshupainuly@uiic.co.in

Office Mail-ID:042381@uiic.co.in

200201
BO AMRITSAR
Bo Amritsar, Floor No.1, Railway Link Road, Amritsar-143001, Amritsar, Punjab

Name: Hardip Singh

Designation: Sr Branch Manager

Mobile No : 9814958783

Mail ID:hardipsingh@uiic.co.in

Office Mail-ID:200201@uiic.co.in

60091
MOTOR OD ROAD
Motor Od Road,United India Bhavan-Floor, Floor No.1, Ashram Road, Near Income Tax Circle Navrangpura, Ahmedabad-380014, Ahmedabad, Gujarat

Name:SHIVAM MUNDOTIYA

Designation: Deputy Manager

Mobile No : 9529632937

Mail ID:shivammundotiya@uiic.co.in

180300
DO 1 VADODARA
Do 1 Vadodara,Ramkrishan Chambers,6a,Floor No.6, Productivity Road, Alkapuri, Vadodara-390007, Vadodara,Gujarat

Name: NILADRI THAKUR

Designation: Sr Divisional Manager

Mobile No: 9411153916

Mail ID: niladarithakur@uiic.co.in

Office Mail-ID:180300

290301
BO ABUROAD
Bo Aburoad, Palanpur Highway, Abu Road-307026, Sirohi, Rajasthan

Name: Sunita Bhati

Designation: Deputy Manager

Mobile No: 9828563444

Mail ID:sunitabhati@uiic.co.in

83000
DO ALIGARH
Do Aligarh, Kuber Abode, B-96 Hig., Swaran Jayanti Nagar, Aligarh-202001, Aligarh, Uttar Pradesh

Name: HARI OM VERMA

Designation: Sr Divisional Manager

Mobile No: 7305098029

Mail ID: hariomverma@uiic.co.in

Office Mail-ID :hariomverma@uiic.co.in

171381
MO SATHYAMANGAL
Mo Sathyamangal,S K S Complex,,Floor No.1, Mysore Trunk Road, Rangasamudram Post, Sathyamangalam-638402, Erode,Tamil Nadu

Name: K.SENTHILVEL

Designation: Admn Officer

Mobile No: 9443046467

Mail ID:ksenthilvel@uiic.co.in

Office Mail-ID :171381@uiic.co.in

20100
DO 1 MUMBAI
Do 1 Mumbai, Universal Insurance Building, Floor No.1, Sir P M Road, Fort, Mumbai-400001, Mumbai, Maharashtra

Name: RADHAI RAVICHANDER

Designation: Sr Divisional Manager

Mobile No: 9820882143

Mail ID:radhairavichander@uiic.in
United India General Insurance Company Customer Support Features
Here is the list of the benefits of choosing customer support from United India General Insurance comapny. 
Providing a range of avenues and contact possibilities
Customers must understand how to contact support quickly if a problem arises. Customers in the insurance sector must have fast access to customer care since interactions with them beyond the initial consultation are frequently problem-driven. An insurance provider like United India can provide their clients with a variety of communication channels, including email, social media, their website, and phone calls.
Promote Transparency to Break Down Barriers
Customers frequently don't understand what they purchased in their insurance coverage, which is a common occurrence in the sector. The language used in products and plans can be difficult for someone who isn't familiar with insurance terms to fully understand. Customers should have immediate access to information about what their policy covers in detail. Each consumer should receive a clear explanation from the issuer regarding what is and isn't covered. Customers can decide to buy a more comprehensive package as a result of this.
Prioritizing the Customers' Needs
To make sure that the customer care experience they receive is personalised to meet their issues or concerns, it is crucial to comprehend the demands of the consumer. Setting priorities and paying close attention to what the client wants can help to build a clear line of objectives and a comprehension of what has to be handled.
In the support and service phases, strike a balance between people and technology.
Customers want three things when they contact customer service: a personal, quick, and simple experience. To meet this expectation, United India General Insurance combine traditional contact methods with digital ones. Customers still expect easy phone access to helpful and courteous insurers, but they also want to be able to reach them online through channels like email, chat, and even self-service. When customers are looking for insurance coverage, both analogue and digital channels are crucial.
Maintaining Positive Relationships
Potential clients don't want to think of themselves as just another insurance policy to their insurance company. Maintaining a line of communication can assist assure customer retention and provide a more personalized experience. Initial consultations and claim-based interactions are typically the points of contact between the issuer and the customer. A healthy relationship between the client and your company can be maintained by initiating and being proactive with communication.