Renew in just 5 mins.
No Inspection.
No Paper Work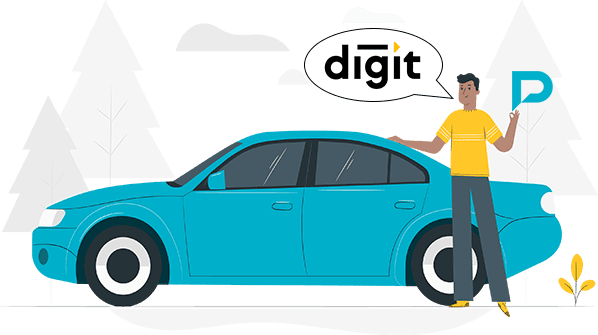 Compare

Car Insurance Plans
Digit Car Insurance Policy Download
With the growing demand for digitalization, almost all insurers have come up with customer-friendly online facilities that have made the job of handling insurance policies easier and simpler. Digit Insurance Company is not an exception as well. After going through the benefits of the plans, you may have bought a car insurance policy from this insurer. But your responsibility does not end there. The next thing you need to do is that download the policy document for future reference. And for this, you do not have to go to the official branch of the company rather, you can do it online, according to your convenience and pace. Today, we are going to talk about every detail that you need to know about the process of downloading the Digit Car Insurance policy.
Procedures To Download Digit Car Insurance Policy Download
Digit has made its website in such a way that even an internet blind can download the car policy very swiftly and effortlessly if you follow the steps properly. So have a look at the below steps carefully.
Through Digit App
At first, you need to download the 'Digit Insurance App' that is easily available on Play Store or App Store.
Then, you need to log in to the app using your registered mobile number. Remember, only use that mobile number that is already registered with the company.
After that, scroll down a bit. On the right-hand side of the landing page, there will be the My Policies option. Click on that.
Now, you can view all of your policy documents.
Select the policy that you want to download and click on the Download option.
Your job is done here. The policy will be downloaded without any hassle. And, you can find it in the storage of your mobile.
Through WhatsApp
Digit Insurance has a Digit Self-Serve WhatsApp number, 7026061234. You can use this number to download your policy documents.
Send 'Hi' to this number, using your registered mobile number.
Immediately or shortly, you will receive a message to choose how you want the insurer to help you.
Reply '2' to that message.
That is it. Your policy document will be right there with you, safely downloaded.
How To Contact Insurer If You Face Any Problem Downloading Car Insurance Policy?
Though you should not face any glitches in downloading your Digit car policy document if you follow the above-mentioned steps religiously. Even if you face any issues, you can contact the insurer by following any of the below methods.
You can directly call the company using their contact number, 18002585956.
You can also write to the insurer using their official mail ID, hello@godigit.com. In that case, you may have to provide certain details such as your policy number, your contact number, etc.
You can contact the insurer through their WhatsApp number, 7026061234. Remember, this number cannot be used for calling.
Apart from the above online methods, you can also go to any of the official branches of the company. Their customer executives are knowledgeable and experienced enough to resolve your problem related to downloading the car policy document.