Renew in just 5 mins.
No Inspection.
No Paper Work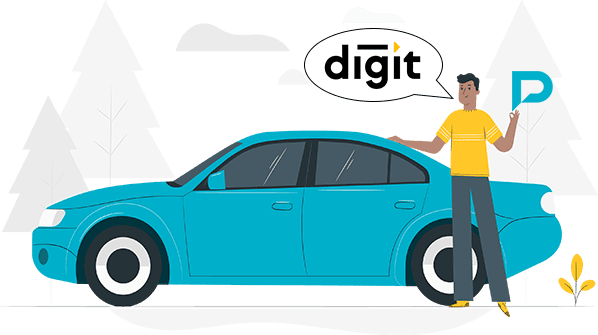 Compare

Car Insurance Plans
Digit Third Party Car Insurance
As third party car insurance is a mandatory insurance plan in India as per the Motor Vehicles Act, if you are a vehicle owner, you are probably looking for an insurance plan that will be suitable for you. Your search ends here, as Digit Insurance Company has come up with a magnificent third party car insurance plan that can provide you with the maximum security against the third party liabilities, and also it possesses a good claim settlement ratio, 74.91% according to the IRDA Annual Report in the financial year of 2020-2021. To know more about Digit Third Party Car Insurance plan, have a look at the following content.
What Is Covered Under Digit Third Party Car Insurance Policy?
This plan is all you need for your third party liabilities protection. Here are the mentions of the benefits and inclusions of the plan, below.
This plan offers you coverage up to Rs. 7.5 lakhs if any damages caused by your car to a third party vehicle.
Personal accident cover is mandatory by the law in India. Here, the owner driver will get compensated if he suffers any bodily injury or unfortunate demise.
If your car meets an accident and the third party receives any bodily injury or untimely demise for the same, this policy will compensate for the loss up to unlimited liability.
Premium Calculation of Digit Third Party Car Insurance
Before buying any policy, it is very important to check the premium amount for the chosen one, so that you can plan your budget accordingly. So, for your better understanding, here is the premium calculation of this policy.
Suppose, Mr. Dey has bought Digit Third Party Car Insurance Policy for his Hyundai car. Let us find out, how much premium amount he has to pay for buying this policy.
Model name
Variant
Place
Registration date
Claim last year
No Claim Bonus (NCB)
Personal accident cover
Total premium (Excluding 18% GST)

Cost break up

(Excluding 18% GST)

Hyundai i10
Sportz Diesel 1120.0
Kolkata
5th June 2022
No
0%
Yes, Rs. 15 lakhs (Valid for 1 year only)
Rs. 10, 860
Third party premium – Rs. 10,640
Add-ons premium – Rs. 220
Digit Third Party Car Insurance Policy Exclusions
This is a basic policy, which comes with certain exclusions, and for purchasing a policy, it is very important to know about the exclusions as well to avoid future complexities. So, to have a comprehensive idea of this plan, here are the general exclusions.
This policy does not provide any coverage for the damages to the owner's car.
If your car caused an accident while the driver was driving under the influence of drugs, alcohol, or any other intoxicating substances, the company will not take any responsibility for that.
If the car is not properly registered, or you do not have a driving license, in that case too, the policy will be of no help, if the car meets an accident.
Any contributory negligence, such as driving through a flood, will not be covered by the policy.
If the accident is intentional or the accident happens while committing suicide or attempting suicide, that will also fall under the category of exclusions.
If the damages or losses happen to the own car due to fire, natural calamity, etc., the company will not compensate for that.
Theft of the car, doorstep pick-up, or drop are not covered by this policy as well.
Difference Between Digit comprehensive & Third Party Car Insurance
In the following table, the difference between a comprehensive and a third party car insurance policy has been discussed, to clear your confusion. Have a look.
| | | |
| --- | --- | --- |
| Parameters | Comprehensive policy | Third party policy |
| Scope of coverage | This policy provides overall all-around protection against all the possible risks of your car. | This is just the basic policy that protects you against third party liabilities. |
| Mandatory | This is not a mandatory plan | This is a must have plan if you are a car owner. |
| Cost effectiveness | This is costlier than the third party policy. | It is cheaper and pocket-friendly. |
| Flexibility | This plan is flexible. You can customize the plan as per your need. | No customization is possible with this policy. |
| Limitations | This policy offers you wider coverage. Therefore, fewer limitations are there. | This policy comes up with more limitations and exclusions. |
| Inclusions | This policy includes the party liability cover. | This policy does not include anything except the third party liability cover. |
Frequently Asked Questions