Renew in just 5 mins.
No Inspection.
No Paper Work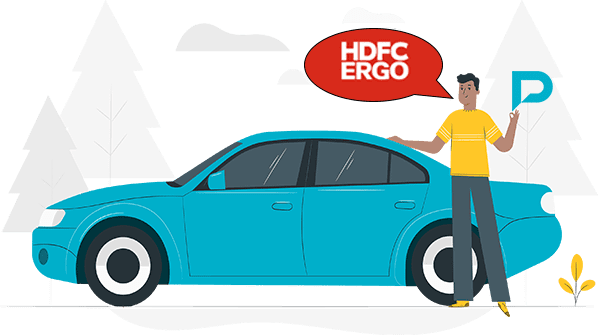 Compare

Car Insurance Plans
HDFC ERGO Car Insurance Claim
If you own a car, you must purchase auto insurance. The purpose of purchasing this insurance is to ensure that you are covered for any losses that may occur as a consequence of theft or an accident. Buying insurance coverage, on the other hand, is pointless if you don't know how to file a claim. 
Prominent insurance providers like HDFC ERGO are known to offer a simple, timely claim filing process for car insurance. Claiming car insurance gives you the compensation that relieves you of the financial stress while also giving you peace of mind. Let's take a look at the steps to make cashless and reimbursement car insurance claims by HDFC.
How To Make an HDFC ERGO Cashless Car Insurance Claim?
With HDFC Ergo, you can make a cashless vehicle insurance claim in the following way. Here are the steps that you need to follow.
Step 1: Intimation of Claim
When filing a cashless vehicle insurance claim, this is the first and most important step. As soon as possible, notify your insurance company of the situation. Give the HDFC agent the details and information by calling 022 6234 6234.
Step 2: Acceptance of Claim Request
You will receive a self-inspection link on your registered mobile number after you have been notified of your claim.
Step 3: Assessment and Documentation
In the event of an accident, HDFC Ergo will dispatch a surveyor to inspect the damage and offer you a claim estimate.
Step 4: Claim Settlement and Repair
The claim will be paid directly to the network garage by the insurance company. You can return the car after making the payment and paying the applicable deductibles.
How To Make HDFC Ergo Reimbursement Car Insurance Claim?
You can make a reimbursement car insurance claim with HDFC Ergo by following the below-mentioned steps. Here's the list of the steps that you need to follow for a successful car insurance claim.
Step 1: Make an Intimation Claim
This is the most crucial stage. You must promptly notify your insurance carrier of the accident. All you have to do is call HDFC Ergo at their toll-free number 022 6234 6234 to report the occurrence and provide your policy number. Also, you can get in touch with them on WhatsApp at 8169 500 500.
Step 2: Determine the extent of the damage
HDFC Ergo will dispatch a surveyor to your site to assess the damage and offer you a pricing estimate for repairs.
Step 3: Have Your Automobile Repaired
Take your car to a garage of your choice and get the repairs completed.
Step 4: Repairs Reimbursement
After collecting all of your receipts and invoices, the insurance company will reimburse you for the claim amount you are entitled to. After that, after paying the necessary deductibles, you can return the car.
List of Documents Needed While Claim Settlement
Documents Needed in Case of Theft
Original Certificate of Registration (RC)
Authentic Policy Documents
Warranty Card, Duplicate Keys, and other items
Complete policy information
Request a Discharge Voucher
First-Class Judicial Magistrate (JMFC)
Regional Transport Office Theft Declaration
Payment Receipts for Taxes
Report of Initial Information (FIR)
Definitive Police Report 
The insured person's signature on Forms 28, 29, 30, and 35
Subrogation letter
Documents Needed In Case of Accident
A copy of the insurance policy is required.
Completed and signed claim form
Original/Copy of Driver's License
Original/Copy of Registration Certificate (RC)
Tax receipts in their original form
A copy of the First Information Report is required (FIR)
Receipts for payments and bills for repairs
An estimate of the cost of car repair
Request a Discharge Voucher
In case of a Legal Liability Claim:
A properly completed and signed claim form
Certificate of Registration (RC)
The person driving at the time of the accident's driver's license.
A copy of the original policy
A copy of the FIR (First Information Report) filed with the local police station
Important legal information (if any received by you)
Vakalatnama – a legal document that authorizes you to handle your case on your behalf.
Frequently Asked Questions
Here's the list of the frequently asked questions related to HDFC Car insurance claims: