Renew in just 5 mins.
No Inspection.
No Paper Work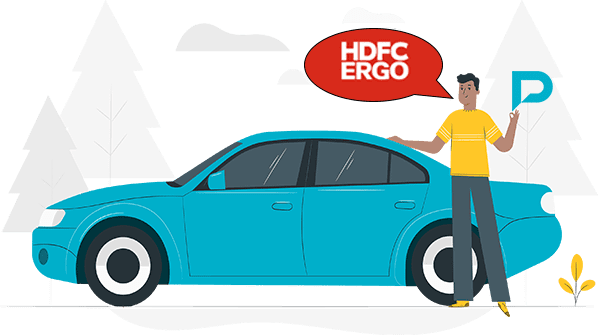 Compare

Car Insurance Plans
HDFC ERGO Car Insurance Renewal
Did you know that India's road traffic laws are governed by the Motor Vehicles Act of 1988? This Act also includes a requirement that you have insurance coverage on your car before driving it. As a result, having car insurance is a legal obligation. At the same time, it is critical that you renew your auto insurance on a regular basis to ensure that you have complete coverage.
If you own an HDFC car insurance policy, then you may rest assured that your insurance renewal is hassle-free. When you renew your policy at regular intervals, you can get protection against theft, damage, third-party injuries, and more. Read on to know the HDFC Ergo car insurance renewal process.
How To Renew Your HDFC Car Insurance Policy?
If you are looking to renew your HDFC car insurance policy, it is relatively easier as the entire process can be completed online. Here are the steps that you should follow while renewing your HDFC car insurance policy.
Step 1: Visit the website of HDFC ERGO General Insurance. 
Step 2: Click on "Renew- Renew Your HDFC ERGO policy" in the box just below the banner.
Step 3: After that, you will see a box wherein you need to enter your registered number or registered email ID, or policy number, either way.
Step 4: Once you have successfully entered the required details, you will receive a One Time Password (OTP) for verification on your registered mobile number/email Id.
Step 5: Search for add-on covers that will enhance the coverage that is provided to your car. Select the add-on covers that you require.
Step 6: After that, you need to fill in the required details and the premium that you need to pay gets generated and displayed on the screen
Step 7: Finally, you will need to make the payment with online banking or a credit card.
Reasons You Cannot Avoid to Renew Your Car Insurance
Here are the reasons that you cannot overlook to renew your HDFC Ergo car insurance policy.
If you do not renew – You'll Break the Law
The Motor Vehicles Act of 1988 is the first and greatest reason to renew your HDFC Ergo car insurance plan on time. A person caught driving a car without valid insurance can be fined Rs 2,000 for the first offence and Rs 4,000 for consecutive offences under this rule. Furthermore, you could be sentenced to up to three months in prison. Regardless of whether your four-wheeler is on or off the road, it must be covered by at least a third-party vehicle insurance coverage.
Lapse of the NCB
If the car owner does not file a claim during the HDFC Ergo car insurance policy period, the insurance company may offer a no-claim bonus (NCB), which can amount to up to 50% of the annual premium. However, if the insurance policy expires, the NCB may become inactive. To take advantage of the NCB, you must renew your car insurance coverage on schedule.
Theft, Vandalism and Other Threats
Theft is one of the most common crimes in India, and vehicle theft is on the rise. Did you know that in Delhi alone, over 125 cars are stolen every day? Every year, 2.5 lakh incidences of car theft are reported across the country. Car insurance is a must in this day and age, especially with the rising crime rate.
Insurance can safeguard your car from these dangers and reimburse you for any expenses or damages. As a result, it is critical that you protect your car against these risks by renewing your car insurance policy on a regular basis to ensure that it never lapses and that your vehicle is always covered.
Rejection of a Claim
You cannot predict a mishap, whether it is brought on by a tragic accident or even a tree falling on the car. If you wish to file a claim against your HDFC Ergo car insurance policy, it is crucial that you renew the insurance. Your claim will be rejected without further inquiry if the auto insurance is not renewed and you file a claim after it has expired.
What paperwork is required to update my HDFC ERGO car insurance?
Your HDFC ERGO vehicle insurance coverage can be renewed without the need to submit any paperwork. To renew the policy cover, simply enter your policy number on the website and pay the renewal charge.
What happens if I forget to renew my policy by the deadline?
If you missed the deadline to renew your HDFC ERGO car insurance policy, you still have 90 days from the expiration date to do so. However, the insurance provider will need to inspect your vehicle before renewing this type of policy.